Welcome to my Lucky Party app review!
I have recently discovered Lucky Party, which is a sweepstakes app developed by a Chinese developer called Jamie Yonng. He claims you can try your luck by playing free scratch cards and win rich rewards.
As of writing, it has been installed over 1 million times on Google Play and rated 3.8 out of 5. Despite the positive overall rating, a significant number of people regret wasting their time with this app.
In this review, I will show you everything you need to know about this application and give you my honest opinion about it. Is it a scam or a legit app? Discover why you need more than luck to win prizes!
Before you leave, don't forget to discover the step-by-step program that helped me work remotely and generate $1,600 per month! 
Lucky Party App Review
Developer: Jamie Yonng
Eligibility: Worldwide
Minimum Payout: $50
Price: Free (no in-app purchases)
Overall Rating: 

1/5
What is Lucky Party? 
Lucky Party is an Android application that gives you the chance to win cash rewards just by playing free scratchers and other games.
If you browse the Google Play store, you will find over 30 similar apps such as Lucky Money, Lucky Scratch, and Lucky Time. This is the most popular scratch card app on Google Play!
It's important to understand that Lucky Party is funded by advertising. Therefore, every ad you watch inside the game will generate revenue for the app developer.
What they are doing is enticing you to pay for a chance to win money. It doesn't means you will!
How Does Lucky Party Work? 
Lucky Party is only available on Android devices. Once you launch it, you will find a list of free scratchers and also other games you can play.
The scratch cards are updated daily so you can always have more opportunities to win.
Each card cantains cash or token prizes. Select the card, and if you match 3 symbols, you will win the prize. However, even if you're not a winner, they will give you some tokens that can be exchanged for cash later.
You can always double your earnings by watching a brief clip, which is how the developer is generating revenue. Ads will also appear occasionally while scratching cards or playing other games.,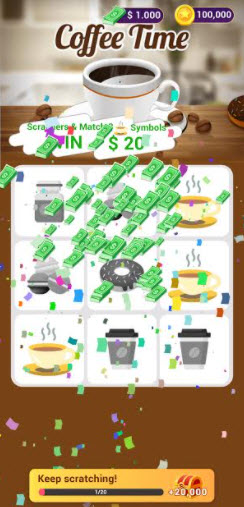 There is also the Lucky Wheel, slot of cash, and lucky card. You can play any of these games for "free" initially, but later, you will have to either watch a clip or place tokens.
Unfortunately, Lucky Party doesn't state the odds of winning. According to the Terms of Service, it says winners are selected at random by a computer algorithm. However, it's always safe to assume that the higher the prize, the lower the odds of winning. Also, it seems more difficult to win when you get closer to the payout.
If you are searching for legit game apps to make real money, check out this post and search for the ones that are "likely to pay".
Payment Options
You will accumulate virtual cash and coins by playing all the different games the Lucky party has to offer. Keep in mind that the virtual cash you earn inside the game is worth 10 times less than actual money.

For example, you can cash out $50 via PayPal once you have earned $500 in the game or 10,000,000 coins. You can also exchange 10,000,000 coins for a $50 gift card (coupon) from Starbucks, Domino's, Amazon, Nike, and Addidas. The company claims that payments are processed within 5 – 15 business days.
Is Lucky Party Legit? Will You Get Paid? 
In my opinion, it's very unlikely that you will receive your cash reward once you collect $50 or 10M tokens. If you check the reviews on Google Play, you will find lots of people who waited for 15 days and didn't get paid.
The amount of negative reviews doesn't surprise me anymore! I have reviewed hundreds of apps that don't live up to people's expectations. They are always advertised as quick money makers, but that's just a clever marketing strategy to get as many ad viewers as possible.
As you probably know, app developers are making profits from the ads you watch in the game. But unfortunately, very few of them will be willing to share the ad revenue with you.
Nevertheless, I cannot say the Lucky Party app is a scam for the simple fact that the company has what is called "Terms and Conditions". When you start playing the game, you automatically accept their TOS, which states the following:
"We reserve the right to refuse service, terminate accounts, terminate your rights to use Company Services, remove or edit content, or

cancel Tokens in its sole discretion."

"

Tokens are not real money

and do not have a monetary value."
"

You have no property interest, right or title in or to any such Tokens."
Conclusion
Your chances of making real money with the Lucky Party app are extremely low. That is not only because you rely on luck, but also on the goodwill of the company, which has total freedom to deny your payment.
The only sweepstakes app that I recommend is called Daily Raffle, which gives you free tickets for entering genuine prize draws. You can check the integrity of their results by using the HMAC generator, which proves that their algorithm is pulling up random numbers.
Earn a Full-Time Income Online
Time is a valuable thing! Why waste it away with games that will not create the life of your dreams?

If you don't want to rely on luck anymore, I suggest building an online business so you can make money on your own terms.
Thanks to this excellent step-by-step program, I created a lucrative site without any previous experience. Today, it allows me to set my own schedule and work from anywhere
Final Words
Thanks for taking the time to read my Lucky Party app review. We want to hear your valuable opinion! If you played this game, let us know how it went for you in the comment section below.
Stay safe and peace out!

This reward platform is going viral! Cash out via PayPal, Visa, Gift Cards, and in-game currencies - Click here to find out how to generate an extra $10+ per day! 
Read Also

Lucky One App Review – Is it Legit? More than Luck Required!