Welcome to my Lucky One app review!
I have just found another mobile app where users can play scratch cards and other games in exchange for virtual coins and tokens.
The way the app was developed and advertised makes people think they can eventually convert their virtual currency to real money.
However, from what I can see in the reviews on Google Play, no one seems to get paid! 
So, is Lucky One a scam or a legit app? Will they let you cash out via PayPal or Gift cards?  In this review, I will explain how Lucky One works and give you my honest opinion.
If you want to work remotely and earn a full-time income online, don't forget to check out my #1 recommendation. This is the same program that helped me reach $1,600 per month and quit my job in 2019. 
Lucky One App Review
Name: Lucky One
Developer: Lucky One Team
Minimum Payout: ?
Membership Eligibility: Worldwide
Price: Free to join (no in-app purchases)
Overall Rating: 1/5
Recommended? No 
What is Lucky One?
At first glance, Lucky One seems like another sweepstakes app where you can play the scratcher, lucky wheel, and lucky spin for a chance to win real prizes. Users can also enter free raffle tickers
However, if you read the app description, it says the Lucky One App is an entertainment game where you can win tokens and coins.
Nothing is said about what users can do with the virtual currency that you will collect while playing. Is it just a simulation?
If so, who in their sane mind would waste time playing a scratcher simulation just to earn worthless tokens?
Is Lucky One Legit? Does it Pay?
I assume the reason why Lucky One has been installed over 1 million times is that people have the expectation of earning real money. After all, there are lots of "lucky" apps that supposedly let users cash out via PayPal and Amazon eGift cards.
The problem is that the Lucky One app doesn't provide an option to redeem your tokens for cash. I tap on the coin balance at the top, but nothing shows up. Also, there is no cash out option on the menu, which is very disappointing!
The Terms and Condition states that Coins have no monetary value and that you can exchange them with digital goods at the company's sole discretion.
In other words, there is no guarantee that you can earn real money with the Lucky One app.
If you check the reviews on Google Play, you will find a crowd of disappointed users who think this is a complete waste of time and data.
The fact is that you will watch a lot of advertising and help app developers make profits at the expense of your valuable time.
So, is Lucky One a scam?
I don't think it can be called a scam because their business model is backed by the Terms and Conditions, which doesn't guarantee winnings. Unfortunately, most people learn the hard way.
If you are curious to know how Lucky One works, keep reading. Otherwise, skip to my #1 recommendation for making money online.

How Does Lucky One Work?
Installation and Registration
You can install Lucky One on Google Play and start playing the games straightway. You don't need to register and there are no in-app purchases.
Scratcher Game
Every day, you will get over 50 scratchers that you can play for a chance to win coins and tokens. As I said, they have no value so don't expect to exchange them for real money.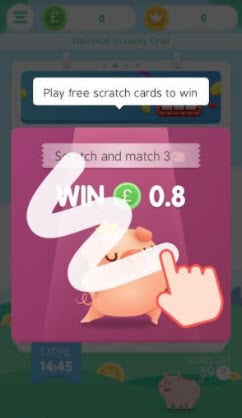 Scratch the card and if you match 3 symbols, you will win the virtual prize. After playing 3 or 4 times, you must watch a video to unlock another scratcher.
If you click on the little question mark, you will find a list with the probability of winning each prize. For example, the odds of winning $300 are 1:10000.
You will always earn a small number of tokens even if you don't match 3 symbols.
Lucky Dice
The lucky dice is a kind of monopoly game where you can roll the dice and collect more coins and tokens along the way. Every day, you have the chance to roll it 40 times.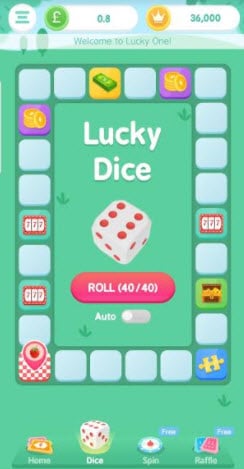 I played it for a while and hit many prizes in the first two rounds, but to be honest, I don't think the dice is fair.

Lucky Spin
You can play the Lucky Spin for free and earn more virtual prizes. I called it "rigged spin" because your chances of winning anything higher than 8000 tokens are extremely low. I played 4 times and hit 1000 tokens in all attempts.
Raffle 
With the Lucky One app, you can enter hourly, weekly and monthly raffles for a chance to win cash prizes and tokens.
According to the company, the winner will be determined in a random drawing from all eligible tickets. The odds of winning depend on the number of eligible tickets.
Depending on the raffle, you can get a free ticket without watching a video. To get more tickets, you must watch a video until the end.

This reward platform is going viral! Cash out via PayPal, Visa, Gift Cards, and in-game currencies - Click here to find out how to generate an extra $10+ per day! 
How Do You Get Paid? 
There is currently no way to request your payment because if you click on your balance at the top, nothing will show up.

Is There an Alternative to Lucky One? 
Yes, there is! This excellent raffle app lets you play for free and get real chances of winning up to $1000.
You can collect free tickets by watching videos, but the difference is that you get to choose your lucky numbers.
If you match 4, 5, and 6 numbers in the same order, you will win $125, $250, and $1,000 respectively.
What I like about this app is that they are very transparent and will let you check the integrity of the contest by using the HMAC-SHA512 Algorithm.
This Coin Pusher game is also a great choice for residents in the US and the UK, but the odds of winning are slim.
Earn a Full-Time Income Online
Why rely on luck if you can make a consistent income with your own online business?
There is a widespread misconception that creating a website and turning it into a profitable machine is only for big companies and expert marketers. That can't be further from the truth!
Creating this type of business is very cheap and simple, but it requires a lot of work and patience to build a significant audience.
If you are willing to provide helpful content and work consistently, check out my top recommendation to get proper training and expert support.
That's the same program that helped me build a solid foundation for my business and quit my job last year.
Final Words
Thanks for reading my Lucky One app review and I hope you it helps you make an informed decision. If you want to leave your own review of Lucky One, feel free to use the commend section below.
Stay safe and peace ou!