Welcome to my Rewarded Play app review!
You a regular reader of my website, you know that I constantly review money making apps that pay users for simple activities.
One type of application that has become very popular is the one you play sponsored games in return for PayPal cash or eGift cards.
Most people play games just for entertainment, so why not earn some free money in the process?
The problem is that finding a trustworthy app is harder than finding a needle in a haystack, which is why you are searching for more information about Rewarded Play.
In today's review, I will show you how Rewarded Play Works and give you my frank opinion. Is it legit? Will they pay you or not?
If you want to work remotely and earn a full-time income online, don't forget to check out my #1 recommendation. This is the same program that helped me reach $1,600 per month and quit my job in 2019. 
Rewarded Play App Review
Name: Rewarded Play
Company: Influence Mobile, Inc.
Price: Free (no in-app purchases)
Membership eligibility: Worldwide (+14)
LEGITIMATE
Overall Rating:

4

/5
What is Rewarded Play? 
Rewarded Play is an android app that allows you to earn points for trying sponsored games on your phone. Some of the free games you can play include Yahtzee, Wheel of Fortune, Mahjong, and Solitaire, and more!
I discovered Rewarded Play while reading reviews of a similar reward app. One person said it was trusted and much better, so I had to put it to test.
The application is owned and operated by an American company called Influence Mobile, Inc. It has other apps such as Racing Rewards, and Beauty Rewards.
Is Rewarded Play Legit? Will You Get Paid? 
Rewarded Play has been installed over 1 million times on Google Play and rated 4.3 stars. Many app developers pay for positive reviews, so I wouldn't pay attention to the overall star rating.
Instead, you should read what people have to say about their experience earnings points and cashing out. If you see lots of complaints, it's likely you will struggle to make money as well.
Luckily, that's not the case with Rewarded Play!
If you take the time to read the reviews on Google Play, you will find lots of people who received the payment. It's rare to find a similar app with so many positive and reliable reviews about payments.
Here are two positive reviews from users who cashed out.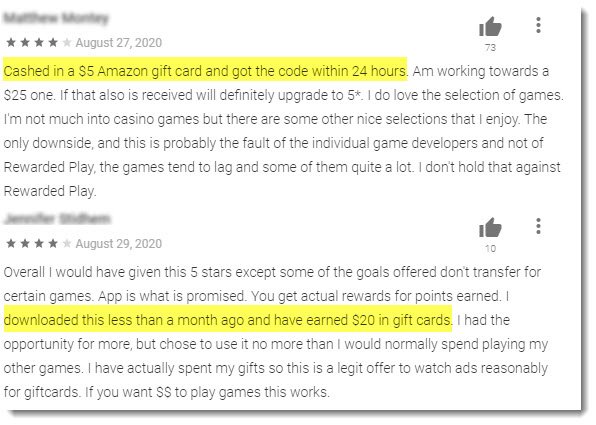 That being said, not everyone has a positive experience like any other app or product. Some people complain about not getting credits for playing specific games.
So, is Rewarded Play legit? Yes, it's not only legitimate but very reliable.
Will you get paid? You will probably get paid once you collect enough points. However, payments are never guaranteed.

According to the terms and conditions, the company can void any points or rewards at its sole discretion.
Pros and Cons
Pros
There are not many negative reviews compare to similar apps.
There is a good selection of games.
Quick payouts.
Excellent customer service.
You can create up to 4 accounts per household.
Cons
Low pay – You have to play for a long time to earn a decent number of points.
It's only available for US and Canadian residents.
PayPal is not available.
How Does Rewarded Play Work? 
Rewarded Play is funded by advertisers who promote their mobile apps through the platform.
The company shares a percentage of its ad revenue with players when they install a game and completing specific goals.
You can only use Rewarded Play if you are 18 years of age and you are a resident of the US or Canada.
How Much Are Points Worth? 
Once you accumulate 45,000 points, you can redeem for a $5 gift gard to your favorite stores, such as Amazon, Target, eBay, and more!
Play Games and Earn Rewards
On the dashboard, you will find a selection of games that you can install and play in exchange for points.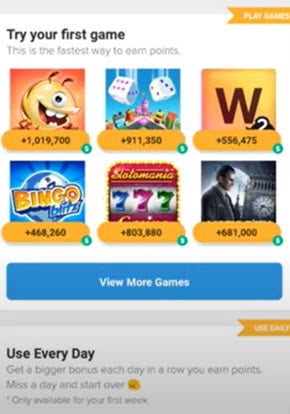 Each game is offering hundreds of thousands or even millions of points ($100+), which is a lot!

Just keep in mind that the number of points represents the maximum you can earn by completing all the goals.
For example, a puzzle game called "Best Friends" is offering 1,019,700 points worth $113. However, many of the goals involve making in-app purchases.
The problem is that your points will cover only a small percentage of the money you have spent on the game. So, they can only be used as rebates.
You don't need to spend any money to collect points if you don't want to. You can collect points by focusing on free goals only.
Free goals usually involve reaching specific levels in the game or playing it for some time.
Please note that you can only earn points for playing new games. So, if you have already installed a game through another reward app, it's impossible to get rewarded twice.

This reward platform is going viral! Cash out via PayPal, Visa, Gift Cards, and in-game currencies - Click here to find out how to generate an extra $10+ per day! 
Claim Bonus Points
In addition to playing games, you can earn bonus points just for logging into the app on consecutive days.

How Do You Get Paid? 
As I mentioned, Rewarded Play will let you redeem points for a variety of vouchers such as Amazon, Target, Walmart, eBay, and more!
To get paid, open the menu and tap on "Rewards".
The minimum payout threshold is $5 (45,000 points) for most gift cards.
How Much Money Can You Earn?
The amount of money you can earn with Rewarded Play depends on the number of games and goals you accomplish.
Unless you are a hard player or you spend money on apps, it will take you a long time to cash out $5.
One user said she made $5 after 7 months, but some people report earning gift cards every week. So, it depends!
Conclusion
In my opinion, Rewarded Play is one of the best apps for those who want to get paid for playing new games.
After reading lots of positive reviews, I can see that the company is not messing around with people's time as other apps do.
The cash incentives are low, but that's how it's supposed to be. At least you are very likely to receive your gift cards!
You should not trust any website or app offering lots of money in return for completing simple tasks. This is an example of what to avoid.
There are two major downsides of Rewarded Play: It doesn't pay through PayPal, and it's only available in the US and Canada.
Verdict: Legit
Is There an Alternative to Rewarded Play? 
There is an incredible number of apps like Rewarded Play, especially for Android devices. The best ones are PlaySpot, CashApp, cashKarma, and Mistplay.
The great thing about the first three apps is that they all process fast payments via PayPal and are available worldwide. As for Mistplay, it's available in many countries and pays via gift cards and Visa Prepaid.
You can find a complete list of game apps that allow you to earn money here.
It's important to have realistic expectations when trying to make money with these apps because they are all prone to errors. You may waste a lot of time and end up uninstalling the app with nothing to show for it.
Earn a Full-Time Income Online

If you want to create a reliable source of income from home, I suggest building your own internet business.
The business model that I use involves creating helpful content for my website and promoting products as an affiliate.
Lots of people have the misconception that building a profitable site is difficult. Well, there is a learning curve like anything else in life, but it's something that doesn't require any special skills.
In 2015, I joined this excellent step-by-step program where I learned how to set up a WordPress site, create optimized articles, get traffic, and generate excellent commissions.
It took me 2 years before I started making a decent amount of money, but it was worth it. Today, it allows me to work whenever and wherever I want!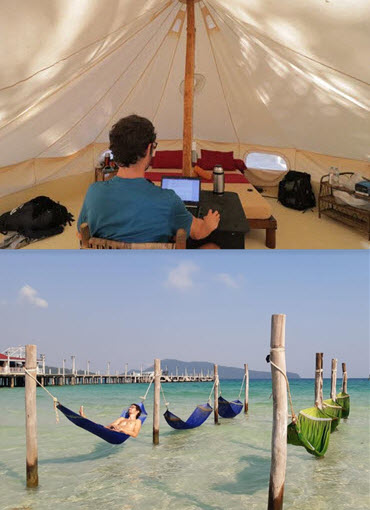 Click here to learn more and build your online business!
Final Words 
Thanks for taking the time to read my Rewarded Play app review. I hope it gives you a clear understanding of how this app works. If you have any questions, just let me know in the comment section below.
Peace!