Welcome to my Cash'em All app Review!
Millions of people are installing mobile apps in hopes to earn free cash via PayPal and gift cards.
By free I mean getting paid for things they already do daily such as playing games, watching videos, and even walking!
Cash'em All is another Android application claiming you can earn money by discovering and playing new games.
After reviewing so many apps and getting disappointed with all of them, something tells me that this one won't be any different.
In this review, I will cover everything you need to know about Cash'em All and give you my sincere opinion. Is it legit? Will they let you cash out or not?
Before you leave, don't forget to check out the step-by-step program that helped me reach $1,600+ per month working remotely (no special skills required). 
Cash'em All App Review
Name: Cash'em All
Company: JustDice GmbH
Minimum Payout: £1 (PayPal)
Price: Free
Overall Rating:

2.7/5
What is Cash'em All?
Cash'em All is a reward app that gives you coins for installing and playing sponsored games on your device. According to the app description, you will earn virtual tokens for every second you play.
Once you collect enough coins, you can trade them for real cash rewards via PayPal, and eGift Cards from major retailers such as Amazon, Steam, iTunes, Starbucks, and Zalando.
Cash'em All is operated by JustDice GmbH, which operates dozens of similar apps such as this viral loyalty app for gamers.
The app is available worldwide, but you may not find as many games compared to residents in the U.S, Canada, or the U.K. Keep in mind you can only register if you are over 18 years of age.
Is Cash'em All Legit? 
Yes, all of the apps developed by JustDice are legitimate as there are lots of users who get paid with no issues. He is one positive review from Google Play:

I have personally cashed out once when I was testing one of their other apps.
However, not everyone has a positive experience because of unexpected errors, missing apps from the list, and cashout problems.
If you check the reviews on Google Play, you will see roughly half positive and half negative feedback. So, you may have a 50% chance of success with the Cash'em All app.
It's important to read the sentence in terms and conditions which states that Cash'em All does not guarantee any winnings and that you have no right to payouts.
This statement seems to contradict the app description, which says you will get fast and guaranteed payouts.
Just have a look: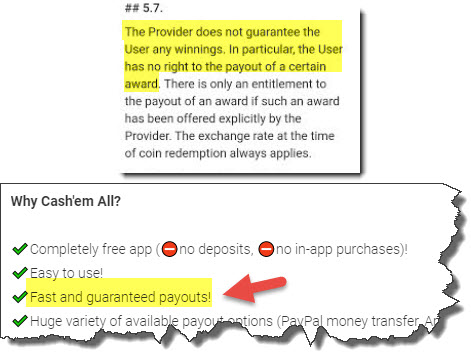 What we can learn from this is that JustDice way never process your payment even if you play by the rules.
So, if you get an error trying to cash out, maybe you are part of the group who will not get paid I'm afraid.
That doesn't mean Cash'em All app is a scam, but in my opinion, they should tell the truth in the app description.
How Does Cash'em All Work? 
Cash'em All receives a commission from app developers whenever you try their games for the first time.
Part of the revenue earned by Cash'em All is shared with participants in the form of coins, which can be traded in for cash rewards.
Next, I learn how to register with the app and start collecting coins!
Registration
Cash'em All is only available for Android devices. After installing the app on Google Play, you must agree with the Terms of Use and create a free account.
You can sign up for free using your email, Facebook, or Google account. Right after registration, you should grant Cash'em All access to your usage data so the app can detect your playtime.
Select the app from the link and activate "Allow usage trekking".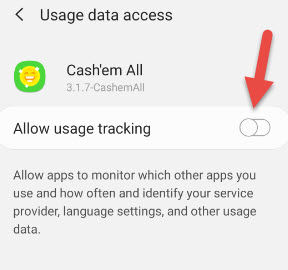 In the UK, you will get 5555 coins as a welcome gift, which is equivalent to £0.43.
How Much One Coin is Worth? 
Before choosing the game you want to install, you should know exactly how much money you will earn per minute of gameplay.
Visit the payout section and check the number of points you need to cash out a specific amount of cash reward.
If you choose PayPal, you can exchange 12669 coins for £1. Therefore, 1 coin equals roughly £0.000079. Then, calculate the amount of money you will earn per minute by dividing coins/minute by 12669.

This reward platform is going viral! Cash out via PayPal, Visa, Gift Cards, and in-game currencies - Click here to find out how to generate an extra $10+ per day! 
How to Earn Coins
In the dashboard, there is a list of sponsored mobile games and the coin reward per minute of gameplay.
For example, the Wizard of Oz was offering 61 coins per minute.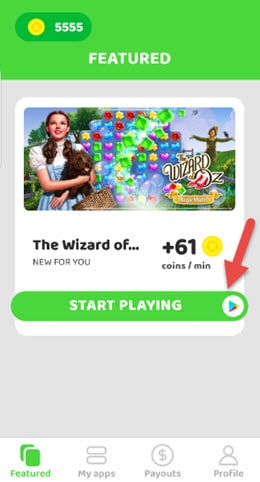 Tap on the "Start Playing", button, install the game on Google Playstore, and have fun!
All installed games will be displayed on your "My app" section, from where you should open the app and start playing.
Different from app offers, you don't need to achieve any score or level in order to get credits. Just play with no strings attached.
When you first open Cash'em all, you may just find one game available on the list. However, other apps will probably appear after you install this first one.
Diminishing Rewards
Lots of people download reward apps like Cash'em all with the false idea of earning unlimited coins.
The truth is that there is a limited number of coins you can collect per game, and the more you play, the less you will earn.
In other words, the coin/minute ratio doesn't stay the same. It gets smaller and smaller as you play a specific game until there are no more coins left.
At this point, you must install and play another game on the list to keep on earning. Some people may get stuck if there is no other sponsored game on the list.
This is not cheating, but the company should be more transparent and explain to users what will happen after they play the game for long enough. Otherwise, users will have the wrong expectation about rewards.
In the example above, when the user sees the reward as 61 coins/minute, they will naturally think they will make 3660 coins by playing Wizar of Oz for 1 hour. It doesn't work like that because the earning rate will drop.
Invite Your Friends
In your profile page, you can click on the plus sign and invite your friends using any social media network.
You will earn 250 coins per referral or £0.019. Additionally, you will earn 25% of their earnings and your referral will earn 25% of your earnings.
How do You Get Paid? 
Once you earn enough coins, tap on "Payout" and select a PayPal or eGift card amount.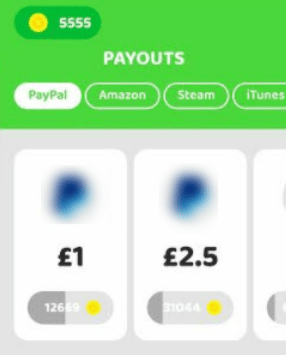 In the Terms of Use, the company states you will have to submit a selfie before you can request your payment.  This is a security measure to check whether the bonus was claimed by a real person.
Whether a selfie is really necessary or not we will never know. The fact is that many users don't feel comfortable with this requirement. I wouldn't either!
How Much Money Can You Earn With Cash'em All
You cannot expect to earn a lot of money with this app, but it doesn't take too long to reach your first payout of £1.
The drawback of Cash'em all is the limited number of games, which will prevent you from earning more coins. Besides, you can eventually experience errors while trying to withdraw your money.

Pros and Cons
Pros
Easy money.
Low payout threshold.
Earn 5555 as a welcome gift.
There is a generous referral program.
Cons
Low pay.
You have to take a selfie using the app before you get paid.
There are not many games.
You may lose your points if you uninstall the app
Your installed apps may disappear from the list after an update.
Users report that they are not earning coins for their gameplay.
Some people report errors.
Conclusion
Cash'em All is currently one of the best apps to earn cash rewards for playing games on your phone.  Unfortunately, lots of users report errors that prevent them from getting paid.
On the other hand, there are lots of positive reviews from people who received the payment multiple times. So, try your luck if you want, but don't set high expectations because there are no guarantees. 
I always advise people to use this type of app only if they already play games on their phone. If you are just doing it for the money, then you might just waste your time.
If you need a little extra money, but you don't want to put in much effort, maybe completing surveys and offers will work best for you.
Depending on your country, you can earn over $100 per month using this top-rated reward site. 
Now, if you are prepared to pull up your sleeve to achieve something greater, I recommending reading the next section.
Earn a Full-Time Income Online
There are different ways you can work remotely and earn a substantial income from home, but in my opinion, affiliate marketing is one of the best options.
As an affiliate, your job is to provide helpful content to the internet and promote products and services via links.
It's important to create a solid foundation for your online business so you are better prepared to thrive in your niche market.
That's why I recommend learning from expert marketers who know what really works in order to avoid trial and error.
This excellent step-by-step program helped me grow a successful affiliate website and quit my job last year. Bear in mind I had no background in marketing or website design!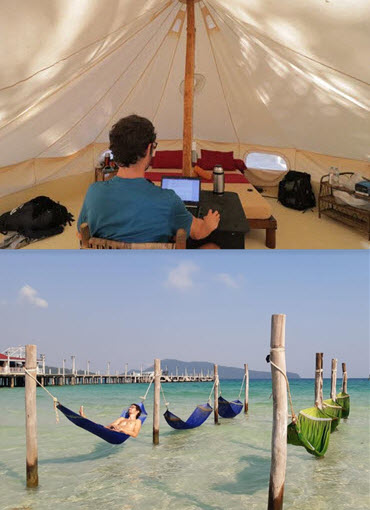 Success doesn't happen overnight, but if you take massive action, and stick to the plan, you can eventually enjoy time and location freedom. 
Final Words
Thanks for reading my Cash'em All app review. If you have any questions about this mobile application, leave me a comment and I will reply as soon as possible.
Also, kindly share with us your honest review if you have used the app. Let us know if you cashed out or not.
Stay safe and peace out!