The Lucky Winner app supposedly rewards users for playing different games such as Coin Dozer, Lucky Plinko, Lucky Knife and many others. The app is advertised as an opportunity to win real prizes and even get rich as you can see in the screenshot below.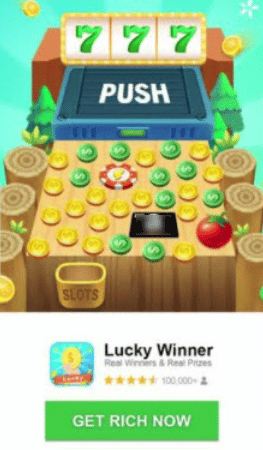 As of writing, Lucky Winner has been installed 100,000 times on Google and has been rated 4.6 stars. Despite the excellent rating, lots of users are disappointed with this app because they cannot cash out.
So, you are probably wondering – Can you really make money with the Lucky Winner app? Is it legit or another fake app? Check out my honest review below to find out.
Lucky Winner App Review
Name: Lucky Winner
App Developer: Real Games Tech
Eligibility: Worldwide
Type: Entertainment (no financial risk)
Price: Free
Overall Rating:

1

/5
How Does Lucky Winner Work? 
Lucky Winner is available for free on Android and iOS devices. Right after launching the app, you will get $30 as a bonus, which seems too good to be true!
The app has incorporated several popular games that allow you to collect virtual cash and coins.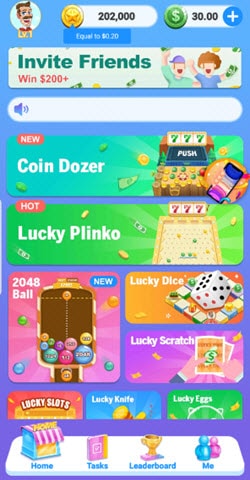 Below, you will find an overview of each game and how much you should expect to earn.

This reward platform is going viral! Cash out via PayPal, Visa, Gift Cards, and in-game currencies - Click here to find out how to generate an extra $10+ per day! 
1. Coin Dozer
This game is inspired by the arcade-style coin pusher. Tap on the screen to drop nickels and push them off the platform.
Whenever a coin drops inside the wooden container, it triggers the slot machine, giving you a chance to collect coins and virtual cash.
>> This legit coin-dozer game operates real sweepstakes.
2. Lucky Plinko
This is another classic Plinko-style game where you have to drop coins from the upper section of the pegboard.
The goal is to gather as many coins as possible by making them fall into containers at the bottom.
Light up all the bulbs to activate the slot machine and earn more cash and tokens.
3. 2048 Ball 
In this addictive game, players have to combine identical balls. Whenever two balls with the same number collide, they merge and form another one with a bigger number.
Rinse and repeat until you unlock the number 2048. While merging balls, you will collect coins and virtual dollars.

4. Lucky Dice
Throw the dice to move the pin around the board and earn more coin and cash prizes. Every day, Lucky Winner lets you roll 30 times for free.
5. Lucky Scratch
Simply scratch the cards, and if you match the three symbols, you will get more rewards. This is probably the most popular scratcher for android and iOS devices.
6. Lucky Slots 
Select how many coins you wish to wager and press the spin button to win prizes. For example, if you get 3 watermelons, you will multiply your initial bet by 10 times!
7. Lucky Knife
Throw the knife into the round object that keeps turning and avoid hitting the other knives. From time to time, you must watch a short video before collecting your winnings.
There are lots of similar games on Google Play, but I think this knife-throwing game is the only one that actually pays.
8. Lucky Raffe
By watching a video and spinning the wheel, the Lucky Winner app awards you free tickets to participate in the following raffles:
3 Minutes Raffle – Win 500K coins.
15 Minutes Raffle – Win $5.
Hourly Raffle – Win $20.
Daily Raffe – Win $100.
Weekly Raffle – Win $1000.
Monthly Raffle – Win $5000.
9. Lucky Day – Win iPhone 11 
If you click on the smartphone icon on the right side, they allow you to spin the wheel for a chance to win $0.50, 8000 coins, Amazon Gift cards, and iPhone pieces.
As expected, you will have to watch a short video before every turn. Then, if you collect ten iPhone 11 pieces, you can supposedly claim it.

10. Complete Tasks and Invite Friends
Lucky Winner also gives you the opportunity to receive cash by referring friends.
If someone opens the link to download and install the app, you will earn rewards based on the number of people that you invite. For example, it pays you $1 per referral until the 10th invitation.
In addition, 5,000 – 10,000 coins are awarded by completing specific tasks such as Merging 20 balls and playing 2 rounds in the Coin Dozer.
How do You Get Paid? 
If you tap on the "Me" section, you will find the withdraw button. You can only redeem virtual cash for a $100 or $200 Amazon gift card.
As for coins, 1,000,000 coins can be traded in for $1.
Lucky Winner app claims to process your payment within 3 – 7 business days.
Is Lucky Winner Legit? Will They Pay You? 
I cannot claim that Lucky Winner is a scam, but I don't think you will get paid. If you have a look at the reviews on Google Play, you will probably be discouraged with so many complaints.

The main issue is that no one seems to earn any money or prize with this app.
A user said she reached $100 and couldn't redeem her Amazon gift card because it had been unavailable for the last 5 days. They tell users to go back tomorrow and never let them withdraw.
Also, a group of people reported that they could never reach $100 or enough puzzle pieces to win the iPhone 11. It's not a surprise to me, as I've already reviewed lots of apps that use the same tactic.
Another thing that worries me is the fact that Lucky Winner doesn't provide the "Terms of Service". That's a bad business practice, especially in this industry where thousands of people are playing games with the expectation of earning money.
Conclusion 
Lucky Winner app is just a simulation, which means that virtual currency has no monetary value. Although they say you can cash out, this is all part of the simulation. After reading lots of reviews on Google Play, I didn't find anyone who received the money.
To make matter's worse, almost every action will trigger a 30-second ad, which is very annoying! By playing Lucky Winner, you are just wasting your time to make the developer richer.
The app could be played just for fun, but the abusive amount of advertising defeats the purpose.
Verdict: Not Recommended 
Earn a Full-Time Income Online
If you want to make a substantial amount of money online, I recommend building an online business. As a content creator, you can work from your laptop without having to report to a boss or customer.
Thanks to this excellent step-by-step program, I created a lucrative affiliate site with no previous experience. Today, it allows me to work from home without depending on any job to pay my bills. Therefore, it gives me the freedom to take time off and travel whenever I want.
Final Words
Thanks for taking the time to read my Lucky Winner app review. I hope it was helpful. If you have any questions, just let me know in the comment section below.
Take care!