Welcome to my Pusher Mania app review!
Pusher Mania is a coin pusher game developed by a Hong Kong-based company called Shape Keeper. They are promoting the app as if players could earn stacks of money and get rich just by tapping on their phone screen.
The advertising shows a game where you can push coin off the edge and win hundreds and even thousands of dollars.
Perhaps you also saw this ad while playing another misleading game that didn't pay you.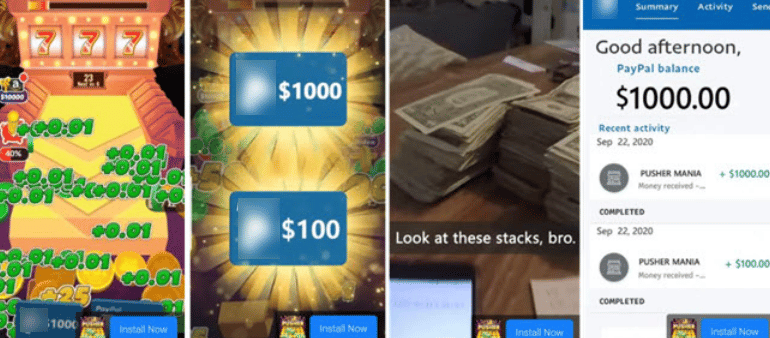 While you are playing Pusher Mania, they will advertise other games that supposedly pay real money via PayPal.
Don't trust any of them!
I have reviewed lots of apps that turned out to be a complete waste of time and internet data. Some of them were developed by Shape Keeper itself, which is why I am very skeptical of any game offering cash via PayPal.
So, does Pusher Mania pay real money? Is it a legit or another fake coin pusher app? Check out my review below to find out! 
Sick of apps that don't pay? Wanna make real money? This step-by-step program helped me build my own online business and generate $1,600+ per month. It's free to join!
Pusher Mania App Review

This reward platform is going viral! Cash out via PayPal, Visa, Gift Cards, and in-game currencies - Click here to find out how to generate an extra $10+ per day! 
Name: Pusher Mania
Company: Shape Keeper
Eligibility: US Residents
Minimum Payout: $2 (Amazon Gift card), $100 (PayPal)
Price: Free (no in-app purchases)
Type: Entertainment (no financial risk)
Overall Rating: 

1/5
How Does Pusher Mania Work? 
Eligibility 
Although you can install and play Pusher Mania from any country, only residents of the United States are considered eligible. That means only Americans have the opportunity to exchange tokens and virtual cash for real rewards.
Isn't it weird that a company based in Hong Kong only rewards American users? Yes!
Well, I suspect this is a strategy to protect the company against possible lawsuits coming from Hong Kong citizens. But who knows?
Unfortunately, only people who take the time to read the "Terms of Service" will find the eligibility criteria.
Nevertheless, even if you don't live in the USA, Pusher Mania will show you sponsored videos and profit from your views. How unfair!
Installation 
Pusher Mania is only available for Android devices and doesn't require registration.
After launching the app, they will show you a quick tutorial on how you can play the game and collect earnings.

How to Play Pusher Mania
Tap on the screen to drop the nickels in the direction you want them to fall. As a result, the dozer will push the coins off the edge and you will earn rewards.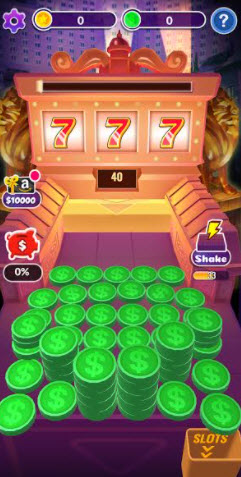 You will earn virtual cash and tokens whenever green coins and yellow coins get pushed off the edge.
Green coins are usually worth $0.01, $0.02, and $0.05, whereas yellow coins range between 1 and 500 tokens.
If you push the coins into the yellow box in the front, Plusher Mania will trigger the slot machine.
As a result, you will have the chance to win green coins, yellow coins, and fruits. In the "Rules & Tips", you will find the probability of willing each prize.
Two tools can help you earn faster:
Shake: it will push coins faster and also help you push coins that are stuck on the screen.
Wall: it will prevent coins from falling off the sides.
You will always get 1 extra nickel every 10 seconds. Alternatively, you can get 40 nickels at once by watching a video.
If you have lots of green coins on the board, don't forget to set up a wall to avoid wasting cash rewards.
How Do You Get Paid?
Open the reward section and you will find 4 ways to redemption options:
2 GBP Amazon Gift Card: collect 500,000 tokens.
777 GBP Amazon Gift Card: Match three green $777 in the slots.
100 GBP PayPal: collect 100 green coins.
10000 GBP Amazon Gift Card: Collect all 36 fruits.
According to Pusher Mania, rewards are processed within 7 business days.

Is Pusher Mania Legit? Does it Pay?
Pusher Mania lets you grow your cash balance very fast until you get to around $80. After that, your earnings will drop dramatically as green coins will become rarer and rarer.
Then, you will probably get stuck somewhere between $95 – $98, and you won't get paid.
If the slots were fair, players would continue to accumulate cash rewards and eventually reach $100. But that's not how the game behaves.
Pusher Mania's algorithm gives you fewer and fewer green coins as you get closer to $100.
You will experience the same with fruits, and they will never give you the last one remaining for the £10,000 prize.
There is an incredible number of negative reviews reporting the same pattern. The game's algorithm works pretty well for the app developer as players end up spending a long time watching clips without ever reaching the minimum payout threshold.
After testing hundreds of games like Pusher Mania, this is not a surprise to me anymore! Almost every game they advertise uses the same tactic to maximize revenue.
One player said he took 2 weeks to go from $89 to $90. As for coins, he made it to 500,000 and requested the $2 Amazon gift card, which still didn't arrive.
I did my best to find someone who received the money or voucher, but I couldn't find any success story.
So, no. I don't think you will get paid even if you live in the US. If you don't live outside the US, there is no chance!

It's important to know that if you are playing the game, the company will assume that you accepted the Terms of Service, which states the following:
By playing Pusher Mania, eligiable persons, have the opportunity to win vistual tokens and coins, which can be used to in Pusher Mania's sole discretion, exchange with other vistual goods, including discounts, gift cards and other services. Tokens and Coins are not real money and don't have monetary value.
In other words, the company is free to decide whether they will pay you or not. That's why Pusher Mania may not be considered a scam by the authorities despite how they handle the reward system.
Pros and Cons
Pros 
Realistic mechanics.
Nice graphics.
Cons
It gets boring after some time.
There is no evidence that Pusher Mania is processing payments.
Slots are rigged and will stop giving you green coins and fruits at some point.
There are lots of complaints – No one seems to get paid.
Users report glitches.
Conclusion 
Pusher Mania is another reprint of other coin pusher games. The game is addictive and fun as long as you think you can withdraw real money to your PayPal account. Unfortunately, it's very unlikely that you will get paid even if you collect enough tokens and press the cash out button.
The way they advertise Pusher Mania is outrageous, and the cause of too much frustration!
Naturally, you may wonder why Pusher Mania has been rated 4.6 stars. I suspect one of the reasons is that players are asked to rate the app in the beginning, when the game is still giving away lots of cash.
The company could also be using paid review services available on the internet as many other app developers do.
I don't recommend anyone to play Pusher Mania as it's a complete waste of time.
Verdict: Not Recommended
Is There an Alternative to Pusher Mania?
There are lots of similar games like Pusher Mania, but as far as I know, only Coin Dozer is rewarding players. This sweepstakes app allows multiple entries for a chance to win weekly prizes ranging from $2 to $1000.
The main downside is that the odds of winning any prize are very slim!
If you want to earn a little extra money by playing games, I think the best way is to join a GPT platform and complete app offers. Some game developers pay a few dollars to try their games, which is a pretty decent rate.
Now, if you don't want to spend a lot of time just to earn pocket money, I encourage you to read the next section.
Earn a Full-Time Income Online
In the current world crisis, depending on a job to put food on the table is too risky. Therefore, I recommend using your free time to build your own online business, which can help you earn hundreds and even thousands of dollars on the side.
Growing this type of business takes time, but if done properly, can generate passive income for years to come!
Thanks to this excellent step-by-step training, I created a profitable affiliate site that is covering all my living expenses. It takes time and effort to make the business generate the level of revenue you want. However, with proper training and mindset, you can reach your goals.
If you are willing to put in the work as I did, sign up for free and start your online business today!

Final Words
Thank you for reading my Pusher Mania app review!  If you want to share your opinions about this game, leave us a comment below.
Peace out!
Read Also
Cash Mania Club App Review – Does it Pay When You Reach $50?