Welcome to my Lucky Gift app review!
You may have discovered Lucky Gift while searching for an opportunity to make some extra cash from your phone. With the Lucky Gift app, you can supposedly win big rewards by scratching cards, entering prize draws, spinning the wheel, and more!
Virtual money and tokens will accumulate in your account, and you can later request payment via PayPal or Gift Cards.
It's not a coincidence that most apps like Lucky Gift have the magic word "Lucky" on the front. For example, Lucky Day is one of the most popular sweepstakes apps on Google Play.
The problem with this type of app is that its algorithm controls your earnings, making it hard or even preventing you from reaching the minimum payout amount. As a result, most people waste a lot of time, causing anger and frustration.
So, can you make real money with Lucky Gift? Is it legit or a scam app?
Sick of apps that do not pay? Wanna make real money? This step-by-step program helped me build my own online business and generate $1,600+ per month. It's free to join!
Lucky Gift App Review
Name: Lucky Gift
Developer: Lucky Gift Team
Eligibility: Worldwide
Minimum Payout: $25
Price: Free (no in-app purchases)
LEGITIMATE
Overall Rating:

2/5
How Does Lucky Gift Work? 
Installation 
Lucky Gift is available worldwide for Android users, and it's 100% free to use. After installing the app on Google Play, you can launch it immediately with no registration or permissions.
Scratchers
Once you open the app, they will give you a list of 40 scratchers with cash and token prizes. Cash prizes range from $5 to $2,000, whereas token rewards are as high as 350,000.
Scratch the card, and if you match 3 symbols, you will earn the big prize. Even if you are not the winner, Lucky Gift will give you around 1000 tokens, equivalent to 1 tenth of a cent ($0.001).
Remember that you will have to watch a video ad for every 2 – 4 scratchers, which will consume your time and your internet data.
Spin 
You can spin the wheel for a chance to win tokens and cash rewards ($0.50 – $5). To spin, you must either watch a short video ad as usual or spend 6K tokens. If you buy spins, your tokens will likely vanish as the chances of landing on 200, 800, 2K, and 4K are very high.
According to the Terms and Conditions, the chances of winning $5 is 1 in 2000.
Pick Numbers
Every day, you can pick 6 numbers for a chance to win the following prizes:
1 m

h

atc = 50,000 tokens
2 match = 250,000 tokens
3 match = 500,000 tokens
4 match = $5
5 match = $100
6 match = $100,000
This table shows you the odds of matching the numbers and winning the prizes: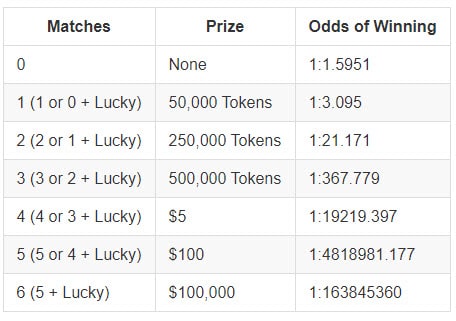 I don't trust it unless they prove to me that the numbers are selected randomly.
As far as I know, only this sweepstakes app allows participants to check the integrity of the raffle by using an HMAC generator.
Unfortunately, Lucky Gift does not give you this option, and therefore, the developers can manipulate the winning numbers with no one knowing. I doubt they will let anyone match the six numbers and win the jackpot!
Complete Offers 
If you enter the "Tokens" tab, you will find two offer walls – Tapjoy and Fyber. These 3rd party platforms allow you to complete offers from advertisers and earn tokens. For example, you can get tokens by installing apps or subscribing to free trials.
Depending on your country, you will not find any offer available.
Invite Friends
Another way to earn cash and tokens is to share your lucky code with your friends. For example, if they install Lucky Gift and enter your code, you will earn $1 for the first friend, $0.20 for the next ten friends, and 10,000 tokens each after.
How Do You Get Paid?
Once your cash balance reaches $25, you can withdraw the money to your PayPal account. You can also redeem 25,492,500 tokens for a $25 gift card to your favorite retailers such as Amazon, Walmart, Best Buy, and Target.
Is Lucky Gift Legit? Does it Pay?
If you check the reviews on Google Play, you will notice that many people struggle to cash out. Here are the main reasons:
Players earn very little money.

Cash rewards decrease over time.

Prizes are not added to the cash balance. 

People lose their tokens and even their accounts for no reason.

The app stops working.
Surprisingly, I found some people who received the gift card after using the app for a few months. So, I believe there is a slight chance of getting the reward.
It's crucial to set realistic expectations rewarding this application to avoid frustration.
If you read the terms and conditions on the website, it says you have neither right to tokens, which have no monetary value. Besides, they can terminate your account for any reason whatsoever.
The problem is that the developer didn't include the link to the Terms and Conditions inside the app. Therefore, very few people will take the time to visit the official website to read that document. 
Conclusion 
Lucky Gift is another reprint of other countless "Lucky" apps available on Google Play. Unfortunately, it's challenging to reach $45, and even if you do, you will probably have to email the company asking where your gift card is.
Based on many reviews on Google Play, I think very few people manage to cash out and receive gift cards. Instead, many users struggle to reach $25 and give up.
I don't think it's worth the time if you ask me!
Verdict: Not Recommended
Earn a Full-Time Income Online
I never liked relying on lucky or easy tasks to make money online. I'd rather work for myself than use mobile apps. 
One of the best benefits of the internet is that it allows anyone to build their own online business for very cheap and make thousands of dollars per month.
Thanks to this excellent step-by-step training, I created an affiliate website that attracts many visitors and covers all my living expenses. With proper training and mindset, you can reach your goals too!
Final Words
Thank you for reading my Lucky Gift app review! If you want to share your opinions about this app, leave us a comment below.
Peace out!