Cash Mania Club is a mobile app that allows you to not only play games for free but also earn money in the process. All you have to do is install the game and reach milestones to collect tokens. They claim you can cash out $50 via PayPal once you rack up 50,000 tokens.
It seems too good to be true, right? Well, games can be provided for free as long as players watch adverting. That's a sustainable business model that has been working for many years.
However, the opportunity to make $50 just for playing sponsored games seems very realistic! So, is Cash Mania Club a legit app? Does it pay or not? Read my Cash Mania Club review to find out!
Tired of making pennies online? Don't forget to check out the step-by-step program that helped me go remotely and generate $1,600+ per month. No special skills required! 
Cash Mania Club App Review
Name: Cash Mania Club
App Developer: Elsa Crane
Eligibility: Worldwide
Price: Free
Overall Rating:

1.5/5
How Does Cash Mania Club Work? 
Cash Mania Club works just like many other android apps like FunTap, PlaysPot and Mistplay. Explore new games on your mobile device and earn real cash and Amazon Gift cards.
Registration
You can launch the app with no need for signing up. Unlike other similar apps mentioned above, they didn't ask permission to access usage data, which is odd. Without this permission, I don't know how Cash Mania Club can track your gameplay and give you tokens.
Earn Tokens
Simply tap on "Play and Earn", install the game on Google Play and start playing. The company doesn't state how many tokens you will earn. They just claim that you will earn cash for passing levels or reaching specific milestones depending on the game.
For example, with Piggy Bank, you will earn tokens every time you merge a new pig: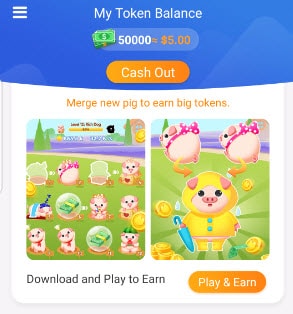 I tried installing a game to see how much money I could earn but unfortunately, Cash Mania Club was not directing me to Google Play. The screen kept loading forever, preventing me from testing the app properly.
From what I have seen on review, the algorithm follows the same pattern of similar apps. The more you play the game, the fewer tokens you will earn. It's very frustrating!
How do You Get Paid? 
Once you collect 50,000 tokens, you can click on the "Cash out" button at the top and select your payment method. You can exchange 50,000 tokens for $50 paid via PayPal, Amazon or Google Play gift cards. According to the Terms of Service, your prize will be processed within 30 business days, and they can cancel your payment to avoid fraud and other risks.
Is Cash Mania Club Legit? Will You Get Paid? 
Cash Mania Club is legit, but it doesn't mean you will get paid. As per the Terms of Use, your tokens have no monetary value, and there is no guarantee that the company will convert them to real cash rewards.
The prospects of making real money with the Cash Mania Club are bleak. The app has been read 3.4 stays and collected hundreds of complaints on Google Play. Lots of users say it's a complete waste of time!
The closer you get to the minimum payout, the fewer tokens you will get. Besides, even if you reach 50,000 tokens and try to cash out $50, they may never process your payment.
It's always up to the company to decide whether they will pay you or not, and there is nothing you can do about it. I think you must be very lucky to get paid because if you check the reviews, you may not find anyone who received the money or voucher.

Conclusion
My experience with the Cash Mania Club app was very disappointing! After reading so many negative feedback, I have the impression that they are making it very hard for players to cash out.
It doesn't surprise me anymore! I have reviewed hundreds of reward apps that don't live up to people's expectations. They always give us useless tokens that are unlikely to convert to real cash. Maybe they select a few random winners, but we will never know.
App developers never guarantee that you will make real money. However, that doesn't prevent you from choosing apps that are more likely to pay. Just keep in mind that reward apps can never give you a decent amount of money. You are certainly undervaluing your time by using any them.
Earn a Full-Time Income Online
I know how frustrating it is to collect points only to realize the company is not willing to pay you. That's why I suggest you build your own online business. More specifically, growing a website will allow you to generate thousands of dollars in affiliate commissions and work remotely. 
Final Words
Thanks for your time to read my Cash Mania Club app review. I hope it was helpful!
So, did you manage to reach 50k tokens and cash out? Let me know in the comment section below!
Peace!