Lucky Woody Puzzle is a classic block puzzle game that gives you virtual currency every time you achieve high scores.
It claims you can cash out via PayPal or Amazon gift cards once you accumulate at least $100 in your account. It seems too good to be true, right?
There is an incredible number of mobile games that give you the expectation of earning $50, $100 and even $200.
Unfortunately, most app developers have no intention to pay, but instead of being upfront and say that you are not a winner, they use different tactics to deny payment.
For example, they can stop giving you virtual cash or they can cause an error while trying to log in or cash out. They are very ingenious! So, can you really make money with the Lucky Woody Puzzle app? Is it a scam or a legit application? Keep reading to find out!
Before you leave this page, don't forget to check out the step-by-step program the help me build my own online business and generate $1,600+ per month. No special skills required! 
Lucky Woody Puzzle App Review 
Name: Lucky Woody Puzzle
Company: V Long Technology Inc.
Eligibility: Worldwide
Minimum Payout: $100
Price: Free to join (no in-app purchases)
Overall Rating:

2/5
How Does Lucky Woody Puzzle Work?
Lucky Woody Puzzle is funded by advertising, so even though the app is completely free, the developer is making profits by showing you annoying videos ads.
You can start playing the game right after accepting the Terms of Use. Lucky Woody Puzzle is all about fitting wooden blocks of different shapes and sizes into the 10×10 grid.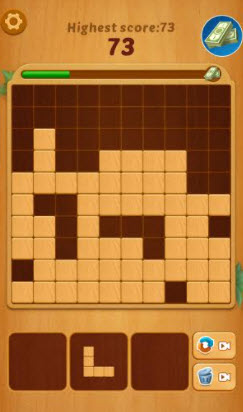 Every time you fit a block into the grid, you will get a score proportional to their size. For example, you will score 4 if you fit a block made up of 4 pieces of wood.
Also, whenever you fill up a vertical or horizontal line with wood, you will eliminate the entire row or column and score anywhere between 12 and 19.
Unlike the traditional Tetris-style game, you cannot rotate the blocks. The game is over once you cannot fit any block into the grid.
Earning Virtual Cash
Lucky Woody Puzzle will give you virtual cash every time you achieve a specific score. In the beginning, you will get $10 – $8 per level, but the longer you play, the less money you will earn.
Once you get to $80, your earnings will drop drastically from $1 to just a few cents per level. This pattern doesn't surprise me anymore as over 99% of money-making games work the same way.
For example, this puzzle game I reviewed recently also decreases your cash rewards over time. It's so frustrating!
Is Lucky Woody Puzzle Legit? Will You Get Paid? 
I cannot say Lucky Woody Puzzle is a scam without solid proof, but based on my experience and lots of user reviews, I don't think you will get paid. Everyone seems to get stuck before reaching $100 because of diminishing rewards.
They will make it nearly impossible to reach $100, and "force" you to watch an obscene number of videos.
Even if they let you cash out, it doesn't mean you will get the money. They can simply ignore your payment request as many other apps do.

The Terms of Service states that the use of virtual currency is limited to the redemption of online game products and services provided by itself, not for payment or purchase of physical objects. So, from what I understand, you can never cash out. 
By playing Lucky Woody Puzzle, you are just making the developers richer by watching hundreds of adverts. It's not a good feeling!
Pros and Cons 
Pros
The game is challenging and helps to pass the time.
Nice graphics.
It's free.
Cons
There are lots of ads.
Diminishing rewards – you may never reach $100.
You are unlikely to get paid.
Conclusion 
Don't play Lucky Woody Puzzle with the expectation of making real money or you run the risk of smashing your phone against the wall. You are unlikely to get paid and the only guarantee is that you will watch a ton of videos!
The game itself is not that bad. I really like Tetri-style games to pass the time, but the main downside is the insane amount of advertising.
In my opinion, Lucky Woody is a complete waste of time for those who wish to make money online.
Earn a Full-Time Income Online
If you dream of making a decent amount of money online, I suggest you build your own online business as I did.
You don't need to be an expert in any subject, but you must be prepared to learn a few things and put in practice the strategies that are proven to work.
Thanks to this excellent training program, I created an affiliate site from scratch that attracts thousands of visitors per day. This is an actual business that is covering all my living expenses!

Final Words
Thanks for your time to read my Lucky Woody Puzzle app review. I hope it was helpful!
So, did you managed to reach $100 and cash out? Did you get paid or not? Kindly share your experience with us in the comment box below.
Peace!