Lucky Home – House & Interior is another match-3 puzzle game that gives you virtual cash rewards for passing levels.
You will also collect diamonds you can use to decorate rooms and collect furniture.
The app was developed by TUYOO, which has two other identical games called Fish Blast and Panda Cube Smash. They just rebranded the game and included this home decoration feature, but the game is almost the same.
Lucky Home App Review
Developer: TUYOO
Eligibility: Worldwide
Minimum Payout: $150
Price: Free (no in-app purchases)
Overall Rating: 

2/5
How Does The Lucky Home App Work?
Lucky Home is an addictive blasting puzzle game where you have to match two or more cubes of the same colour. You must finish the level by collecting target cubes that are displayed at the top of your screen. For example, to finish the first level, you must collect 7 blue cubes.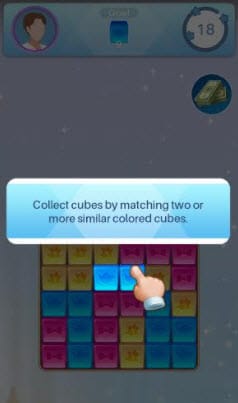 When you match 5 or more cubes, you will form boosters such as fireworks, TNT, and spinning top. These boosters can blast lots of cubes at once and help you finish the level faster.
Keep in mind there is always a limited number of moves, so take advantage of boosters whenever you can.
You can get 5 extra moves by either spending 200 coins or spinning the wheel after watching a video.
The good news about Lucky Home is that they don't show you lots of videos like other games do. You can play many levels without wasting too much time.
Rewards – You May Never Reach $150!
In the beginning, Lucky Home will give you a decent amount of virtual cash every time you pass the level. Your cash balance will grow very quickly, but unfortunately, you cannot withdraw until you reach $150.
They say you must reach $150 to cash out via PayPal or Amazon gift card. In the beginning, it doesn't seem like a douting task considering you will start getting 10 USD per level. The problem is, as you achieve higher levels, your cash reward will decrease and you will start earning pennies after a couple of levels.
One player said she reached level 370 with a cash amount of $95.80. At level 300, she said she was making a measly $0.01 every 10 levels. If this rate stays the same, she would have to pass thousands of levels in order to cash out. Unfortunately, even if she reaches $150 and request the payout, the company can simply ignore her.
This bitcoin blasting puzzle is one of the rare games that pay instantly to your Coinbase account. Unfortunately, you may have to play the game for a month only to buy one candy.
Diamonds
You will also earn diamonds, which serves no other purpose other than decorating rooms. You cannot convert diamonds to cash rewards, so if you are just playing for the money, just ignore it.
Is the Lucky Home App Legit? Does it Pay? 
I cannot claim the Lucky Home app is a scam without proof, but your chances of receiving the money in your PayPal account are pretty slim. Take a look at Google Play store, and you will find a staggering number of negative reviews.
Lucky Home has the same algorithm that makes it nearly impossible to reach the minimum payout. You can play the game for months and you may never reach $150.

Conclusion 
Lucky Home is a challenging blasting puzzle game you can play to pass the time.
Sadly, people get very frustrated when they realise they need to play over 1000 levels to reach the minimum payout requirement. That's because the game will start giving just 1 penny after a couple of levels.
App developers know people love instant gratification and easy money, which is why they include virtual cash rewards in the game. The thing is, even if the incentive was 100 times smaller, that would still be considered a lot of money.
Playing games should only be seen as entertainment and not a money-making strategy. If you are serious about making money online, don't waste your time playing the Lucky Home app. 
Earn a Full-Time Income Online
You can make thousands of dollars per month by creating a website and promoting other people's products as an affiliate. 
Thanks to this excellent step-by-step program, I learned the proper strategies to rank high on Google and attract a large audience to my site. Today, it allows me to work anytime, anywhere I want as long as I have a laptop and internet connection.
Final Words
We want to hear your valuable opinion about the Lucky Home – House & Interior App. Did you managed to cash out, or you got stuck due to diminishing rewards?
Thanks for taking the time to visit my website and for reading my review!
Stay safe and peace out!