Lucky Toss 3D is a ring toss game that makes you think you will eventually trade virtual cash for real money via Paypal. Not only that, but you can also collect puzzle pieces to win several prizes such as iPhone 11, Gucci Bag, Nike, and a nice Versace watch.
The app has been installed over 1 million times on Google Play, which is remarkable! I am sure if the company keeps advertising the game as an opportunity to make a lot of money, it will probably reach 10 million installs very soon. 
You are here because you don't want to waste your time tossing rings and watching hundreds of videos for nothing!
In this review, I will show you what is likely to happen if you play Lucky Toss 3D for long enough. Can you reach $200? Will they pay you or not?
Lucky Toss 3D App Review
Developer: MiniJoy Group
Eligibility: Worldwide
Minimum Payout: $200
Price: Free (no in-app purchases)
Overall Rating:

2/5
How Does Lucky Toss 3D Work?
Installation
Lucky Toss is available for free on Google Play or App Store. When you launch the app, they will ask permission to make and manage phone calls and access your location. Please, deny these permissions because the developers don't explain what they are planning to do with your data. It's not safe! 
The Game
Lucky Toss 3D is probably one of the most addictive ring toss games available on Android and iOS devices. All you have to do is take your aim and throw the ring to catch objects, cash, and puzzle pieces.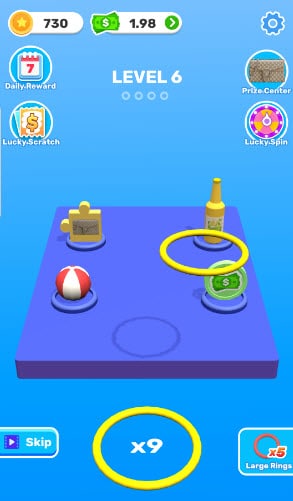 When you throw the ring around the green coin, you will collect virtual cash that adds up to your account.
Every time you click "Get", the app will show you a short video, which is usually about another fake game.
Keep in mind that you can only withdraw the money via Paypal once you reach $200.
Apart from cash, you will also collect puzzle pieces of different prizes including an iPhone 11.
You must collect 10 or 20 pieces in order to redeem the prize. Every time you pass the level, you will unlock another set of objects, and hence, more opportunities to get rewards.  
Lucky Toss 3D also has the Lucky Spin and the Lucky Scratch, which gives you the chance to win puzzle pieces and extra coins. They always require you to watch a video before you can play. 
The downside of these games based on "Luck" is that they don't mention the odds of winning. Their algorithm usually works against players, especially when they are very close to the payout requirement. That's why it's so difficult to win.
Payment
If you are lucky enough to reach $200, you can request your payment via PayPal. According to the official rules, Lucky Toss 3D will confirm your withdrawal within 10 working days.
After confirmation, the company will pay the amount of cash to your PayPal account. Note that your withdrawal is on a first-come, first-served basis. The reason is that there is a limit to the number of users who can withdraw on a given day. The problem is that this gives them the excuse to deny your payment based on this limitation.
Also, if there is any system failure, they are not obligated to make any compensation to you.
Is Lucky Toss 3D Legit? Does it Pay? 

I cannot say Lucky Toss 3D is a scam, but your chances of earning $200 just for playing a game and watching videos are very slim.
If you check the reviews on the Google Play store, you will find hundreds of people saying the app will never let you win any prize.
It starts giving you a decent amount of virtual cash so that you get excited and keep playing. Unfortunately, the more you play, the less you will earn just like this popular balls merge game. The algorithm is designed to stop giving rewards so you may get stuck before reaching $200 or 10 puzzle pieces.
One person claimed that after he reached level 236, there were no more cash rewards on the board. So, he got stuck at $120. He also could not find the last puzzle pieces to win any of the prizes available.
Conclusion 
Luck Toss 3D is a fun game to pass the time, but you should not expect to make any money from it. There are tons of negative reviews, and no one seems to get paid.
It gives players the false expectation of making fast and easy money, but unfortunately, the virtual cash you earn in the game has no monetary value and you have no rights to the payouts.
In reality, the developer has an advertising machine that makes him money on autopilot. What about you? You just make them richer at the expense of your precious time!
Earn a Full-Time Income Online
Playing games is not the ultimate solution to making money online and will never be. If you need money, you must change the mindset and become a creator instead of a user or a consumer. My advice? Build your own online business so you can benefit from the digital economy!
Thanks to this excellent step-by-step program, I created a lucrative website without any previous experience. Today, it allows me to work independently from anywhere I want as long as I have a laptop and internet connection. If you want to learn more about the same business model that I use to make a full-time income online, click the link below.

Final Words
We want to hear your valuable opinion about this game. Did you reach $200 or enough puzzle pieces to win the prize?
Thanks for taking the time to read my Lucky Toss 3D app review!
Stay safe and peace out!