Welcome to my Lucky 2048 app review!
I have just found Lucky 2048, an addictive game that supposedly gives you real money once you collect 100,000 diamonds.
Thousands of people get hooked by the opportunity to earn easy money with similar apps and end up wasting a lot of time. 
As they are all funded by advertisers, the more you play, the more money the developer is making out of your views.
Lucky 2048 is not innovative! I have reviewed a similar merging ball game that claims you can earn $100. That's just an illusion because everyone seems to get stuck at $99.8!
With this game, you can supposedly earn $5 once you collect 100.000 diamonds, which seems way more realistic!
So, can you make real money with Lucky 2048 game? Is it a scam or a legit app? Read my review to avoid potential frustration.
Quick note: Before you leave, don't forget to check out this online entrepreneurship course, which helped me build my own internet business, and reach $1,600 per month. 
Lucky 2048 App Review 
Name: Lucky 2048 – Merge Ball and Win Free Rewards
Developer: LBL Games Inc.
Availability: Worldwide
Minimum payout: $5
Price: 100% free to play
Overall Rating:

1.8/5
What is Lucky 2048?

This reward platform is going viral! Cash out via PayPal, Visa, Gift Cards, and in-game currencies - Click here to find out how to generate an extra $10+ per day! 
Lucky 2048 is a mobile game that consists of merging balls and earning diamonds (tokens) that you can supposedly exchange for cash rewards.
Every time two equal balls collide, they are replaced by another ball with a different colour and double the previous number.
As you merge the balls and accumulate points, you will trigger the slot machine and earn diamonds. You will always have to wait for the ad before you can play the slots or double the number of tokens.
According to the app developers, you can withdraw $5 via PayPal once you earn 100,000 diamonds.
Lucky 2048 is operated by a Hong Kong-based company called LBL Games, which has other reward apps on Google Play such as TATA, Lucky Popstar and Lucky Puzzle.
Next, I will show you exactly how Lucky 2048 works and whether you can really make money with this game.
How Does Lucky 2048 Work? 
Installation
You can install Lucky 2048 on your Android device and start playing without any registration.
However, if you want to get access to the reward page, you must sign in with your Facebook account.

Once you launch the app, you will get a bonus of 50 diamonds. You can earn higher daily bonuses if you sign in on consecutive days. On the 30th consecutive day, you are supposed to earn 1000 diamonds.
How to Play Lucky 2048
Simply drop the balls and try to merge two identical balls (same number, size and colour).
As I mentioned, the two balls will merge into another ball with double the number, which will accumulate as points.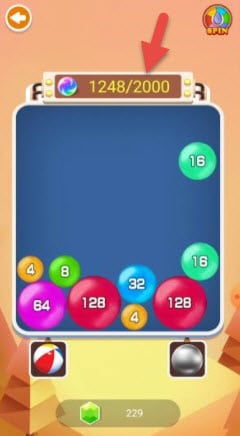 There is always a new goal at the top, and once you reach the number of points required, you will trigger the slot machine.
Just keep in mind that you can only play the slots by watching a video first. The result of a spin equals the number of diamonds you will earn.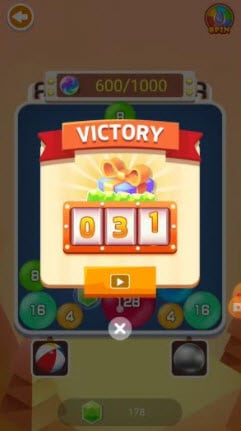 In the example above, I earned 31 diamonds.
Continue playing until you unlock the last ball number 2048 or until you reach enough diamonds can cash out.
It's a big challenge to finish the game since you cannot let any ball pass the top. As as you will see, you may never cash out if the company stops showing ads.
Also, accumulating over 90,000 diamonds takes a very long time and may require watching hundreds of ads.
How to Earn More Diamonds?
You can collect more diamonds by playing other lucky games such as the Lucky Wheel, the Scratch Game and the slots.

In the Treasure Hunt section, you can complete app offers and earn a ton of diamonds. Most offers consist of installing a game and playing until you finish specific levels.
Some users complain that Lucky 2048 didn't credit diamonds after the offer was completed. 
Convert Diamonds to Real Money
At the top, you can see the number of diamonds and the equivalent value in dollars.
When you click on your balance and sign up with Facebook, you will find a list of PayPal gifts worth between $5 and $200.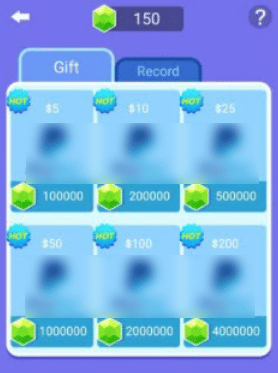 You must have at 100,000 diamonds to request your $5 payment through PayPal.
Is Lucky 2048 Legit? Does it Pay? 
Most "money-making" games on Google Play have a card up their sleeves to avoid payments. 
I am talking about diminishing rewards, several errors, unavailable payouts, unprocessed payment requests, and the list goes on and on.

In the case of Lucky 2048, one of the main problems seems to be with unavailable ads. 
As you already know, you will need to watch a commercial before you can activate the slots and earn gems. But what if the ads stop working?
What, that's the issue lots of users are experiencing as you can see in the review section on Google.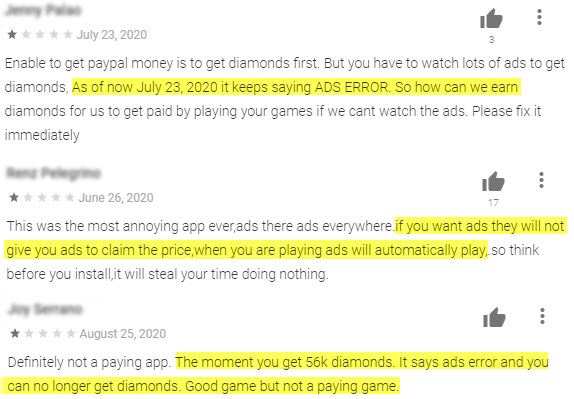 After many days playing Lucky 2049, you can get stuck because of an ad error. At this stage, there is nothing you can do about it.
I couldn't find any positive feedback about payments, which means that making real money with this app is a matter of extreme luck or even a pipe dream.
It's important to read the Terms of Service, which says tokens do not have monetary value and that you can only exchange it for other virtual goods at the company's sole discretion.
In other words, it says Lucky 2048is free to decide whether the will pay you or not.
The fact that there is no payment guarantee explains why many people are having issues.
So, does it mean Lucky 2048 is a scam? Not really because the company doesn't promise to pay.
Final Thoughts
Lucky 2048 is an interesting puzzle game to pass the time, but the amount of advertising is unbearable!
The most important thing to take from this review is that Lucky 20148 is not an app to make money. Just play it for fun, or uninstall it.
Maybe the company let a very small number of users to cash out, but we will never know. So far, I couldn't find any person who made money with this app, so your chances are very slim.
Earn a Full-Time Income Online
One of the best ways to make money online is by providing helpful content to your own website. Quality content ranks on Google and allows you to attract readers all over the world.
You don't need to be a professional writer, a web designer or a highly skilled individual to create a website and provide helpful content.
Do you see the type of content that I create? This can be applied to any topic of your interest!
With simple step-by step-instructions, you can build a profitable website and earn a full-time income online.
If you dream about working remotely and having more time to do the things you love, then click here to learn how to start your own online business today.
Final Words
Thanks for reading my Lucky 2048 app review. If you have any questions or would like to share your thoughts about this app, just leave a comment section below!
Stay safe and peace out!