Welcome to my 2048 Balls Merge app review!
I have recently watched an ad promoting 2048 Balls Merge, a mobile game that supposedly let players win real money and cash out via PayPal.
The ad was showing a fictitious PayPal balance growing quickly while the game was running. It makes people think they can make a killing just by playing games on their smartphones!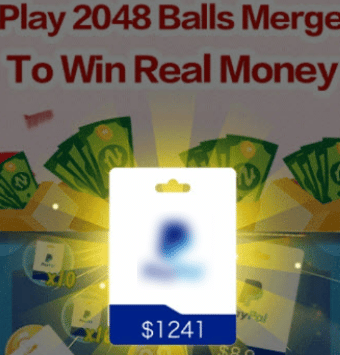 Google Play is jam-packed with extremely addictive money-making games. They give you a lot of PayPal coupons in the early stages of the game to entice you to play more and more!
Then, they start dishing out pennies once in a while so you can never fulfill the requirement.
You are probably wondering – Is 2048 Balls Merge a legit or another scam? Will they let you cash out and receive the payment?
Let's find out!
Quick note: Before you leave, don't forget to check out this online entrepreneurship course, that helped me build my own internet business, earn $1,600 per month, and quit my job in 2019.
2048 Balls Merge App Review
Name: 2048 Balls Merge
Developer: Gold Win Studio
Availability: Worldwide
Minimum payout: $100
Similar apps: Lucky 2048, 2048 Balls 3D
Overall Rating:

2.2/5
What is 2048 Balls Merge?
2048 Balls Merge is a cool game with a simple rule: Merge balls with the same number until you reach 2048. It's very similar to Lucky 2048, and 2048 Balls 3D.
Every time you collide two balls with the same number, they will be replaced by one ball with double the previous number.
Also, every time you merge two balls and form a new higher number, you will earn virtual cash that will accumulate in your account.
The game says you need to have 100 USD to cash out, which seems easy to reach when you get $66 on your very first merge. But as you will see, this is just a bait!
2048 Balls Merge is a game operated by Gold Win Studio, which has another even more popular "cash" app called Gold Win.
Keep reading the next section if you want to understand how to play the game and whether you can really make money.
How Does 2048 Balls Merge Work? 
After installing 2048 Balls Merge on Google Play, you can start playing without creating an account. 
First, you just have to swipe your finger and drop the ball number 2 anywhere. Then, the goal is to combine two balls of the same number or colour.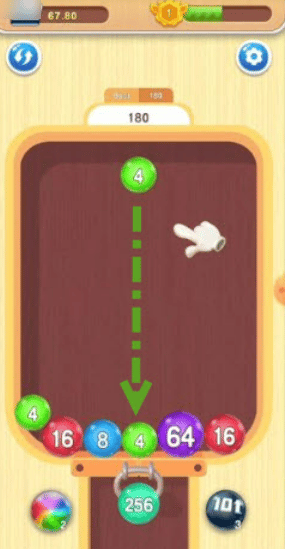 Once two balls collide, they are replaced by another ball which has double the number. You can continue merging the balls until you finally unlock the last ball 2048.

It requires some strategy as the balls keep piling up and you cannot let any of them reach the top.
Watch this video to see how to play the game:
You can use the 10t or multi-colour ball to blast multiple balls or any balls respectively.
When you blast lots of balls at once or unlock a new ball, you will see a PayPal logo and a "get" button. After you tap on this button and watch the ad, you will receive virtual cash rewards.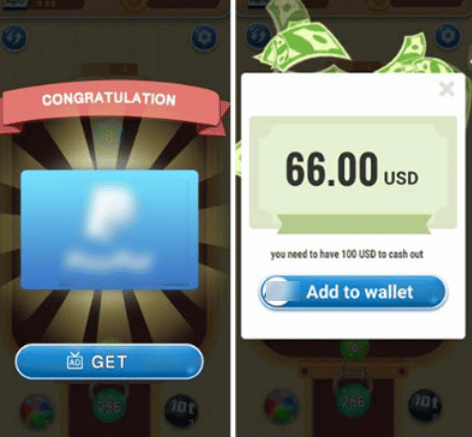 Is 2048 Balls Merge Legit? Does it Pay? 
Just like hundreds of games on Google Play, the closer you get to cash out, the cash rewards get smaller and smaller. 
2048 Balls Merge will give you $66 after your first ball merge, but once you reach $90, you will be making pennies.
The more you play the game, the more difficult it gets to unlock the next number.
Many people pushed forward and reached $99.98 only to find out the game is not willing to give them the last $0.02. When you get the PayPal reward after watching the video, it says $0.00. Nice reward, huh?

So, it's possible that you will unlock the last ball of the game (2048) before they let you reach $100, which means you may never get paid.

The game is cool, but I believe the only person who is making money is the developer. As you can see on Google Play, lots of people have rated it 1 star for the lack of 0.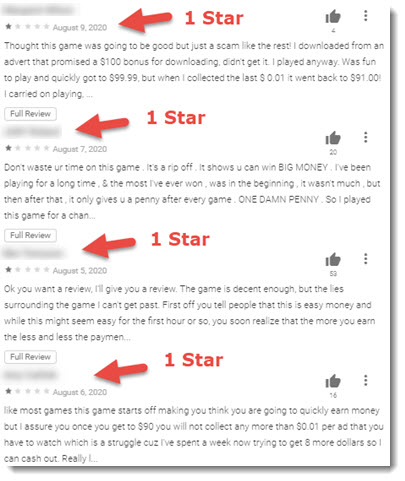 Pros and Cons
Pros
It's a fun and addictive game.
It's free.
Cons
Excessive amount of ads.
You will probably get stuck at $99.98.
The advertising is deceptive because it makes people think they can make lots of money.
Conclusion

This reward platform is going viral! Cash out via PayPal, Visa, Gift Cards, and in-game currencies - Click here to find out how to generate an extra $10+ per day! 
2048 Balls Merge is a very addictive game which is great for killing time. However, it's very unlikely that you will make $100.
I doubt the app developer has enough funds to pay everyone, operate the app and still make decent profits. The reason is that they don't make so much money with in-app advertisement.

You can see the same frustrating pattern in most "money-making" games on Google Play such as this puzzle word game and this trendy balls game.
They will dish out lots of virtual dollars during the first 10 – 30 minutes to make you happy and willing to watch the ads they throw at you.
Sadly, the rewards get smaller and smaller, forcing you to play a lot longer than you previously thought you would. This infuriates lots of people who were playing and watching lots of videos in hopes to cash out.
So, here is my advice: If you want to play 2048 Balls Merge, do it for the gaming experience and forget about the dollar signs. If you want money, then you need to avoid wasting time with games and other reward apps.
Earn A Full-Time Income Online
Making a decent amount of money online requires a shift of mindset and focus on providing value to the internet.
If you are ready to put in the time and effort, you can achieve hundreds and even thousands of dollars per month.
You can do it by creating a content-based business and promoting other people's products as an affiliate.
I have been using this business model for many years to supplement my income, and save for my travels. In 2019, I quit my job and travelled to SE Asia.
Since then, I have been working from hostels, coffee shops, bamboo huts, buses and even boats!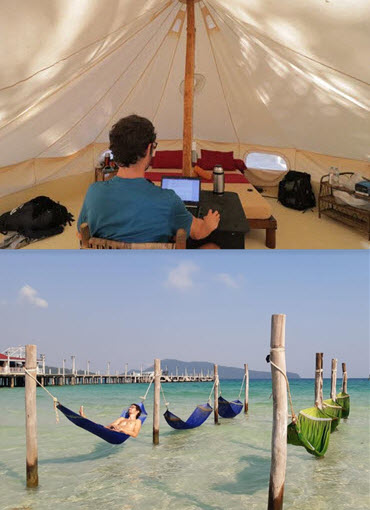 If you dream about having more time and freedom to do the things you love, whenever you want, then building an online business can be the answer for you.
I started my affiliate site by following this  step-by-step program, which has been turning newbies into a successful online entrepreneur since 2005.
From personal experience, it's crucial to join a structured program that will give you the knowledge and support you need so you can avoid unnecessary trial and error.
You can actually join for free and start the foundation of your business today – Click here to learn more! 
Final Words
Thanks for taking the time to read my 2048 Balls Merge review. If you have any questions or would like to share your results after playing the game, let us know in the comment section below!
Stay safe and peace out!