Welcome to my GetRich app review!
I was searching for money-making opportunities on Google Play when I discovered GetRich.
This Android application allows you to collect points for completing simple tasks from your phone. Once you get enough points, can supposedly redeem via gift cards and PayPal.
There are lots of naïve people on the internet who really think they can become rich by using such apps. But, no! Not in one million years!
In reality, many users are frustrated because they couldn't make any money!
You are here because you need more information to decide whether you should use GetRich or stay away. Is GetRich a scam or a legit application? Does it pay or not?
Keep reading to find out!
Before you leave, don't forget to discover the step-by-step program that helped me reach $1,600+ per month from my laptop and quit my job. No special skills required! 
GetRich App Review
Name: GetRich
Company: J.force Entertainment (part of J.force Group)
Eligibility: Worldwide
Earning Potential: Very low
Similar apps: appKarma, FeaturePoints, Bituro
Overall Rating:

1/5
What is GetRich?
GetRich is a mobile application that supposedly pays you to complete sponsored offers, watch videos, and do other simple tasks.
As a member, you will earn points that can be exchanged for real cash rewards and items. They also claim that the price to redeem gift cards will drop as a result of more people using the app.
Their official page on Google Play claims that J. Group is the largest corporation in Singapore. Well, that cannot be further from the truth!
This statement is a good reason to look at the application with a high level of scepticism. But for now, let's give it the benefit of the doubt and focus on what the app has to offer.
How Does GetRich App Work?
Installation
The GetRich app is available for free on Google Play, and you don't need to sign up to start using the app. All you have to do is accept the Terms and Conditions.
Coins vs Rewards
You can redeem your coins for cash rewards once you reach the minimum payout threshold. The minimum payout and the number of coins required for redemption is as follows:
PayPal – $8: 7,990 coins.
Amazon – $10: 9,990 coins.
Steam – $5: 4,990 coins.
Google Play – $10: 9,990 coins.
How to Earn Coins?
There are different ways to collect coins with this the GetRich app. Once you open the dashboard, you will see your coin balance and a list of tasks available.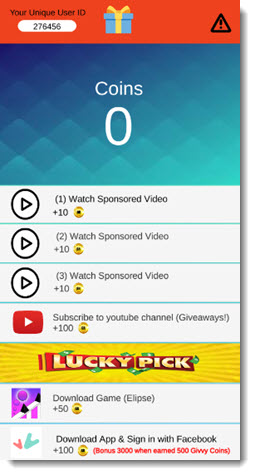 Keep in mind that coins can take up to 5 minutes to be updated after you complete a task.

Watch Sponsored Videos
Earn 10 coins for watching YouTube videos. The app doesn't explain how long you must play the video, but I received the coins with less than 3 seconds.
Subscribe to a YouTube channel
Earn 50 – 100 coins just for subscribing to YouTube channels. Unfortunately, you are limited to watching 20 videos per day.
Like and follow
 Earn 100 coins just to press the like and share button on the GetRich Facebook page.
Complete offers
You can earn over 50 coins by downloading apps from advertisers. Some offers require not only that you install the app, but also reach a specific target.
For example, there is an offer that asks you to download the Givvy app in exchange for 100 points. Givvy is another reward app similar to GetRich. Then, they promise to give you an extra 3000 coins if you earn 500 Givvy Coins. You can read my Givvy review here.
They also have the Swagbucks offer whereby you must create a free account and earn at least 500 SB. With this offer, you will earn 10,800 coins. This is the highest-paying task inside the GetRich app at the moment.
Share GetRich with your friend
You can also earn 100 coins by sharing GetRich with your friends and family. The person doesn't need to install the app
Invite Friends
Another way to earn money is to refer friends using your invite code. You will earn 6000 coins for each friend that download the app, use your code and earn at least 5000 coins.
Lucky Draw
You can also enter the Lucky Draw (Lucky Pick) for a chance to win a Golden Ticket, which you can exchange for expensive items such as Playstation 4, iPhone 11, Nintendo Switch, Apple Airpods and more.
You will get 2 free spins daily and up to 3 more extra spins by watching videos.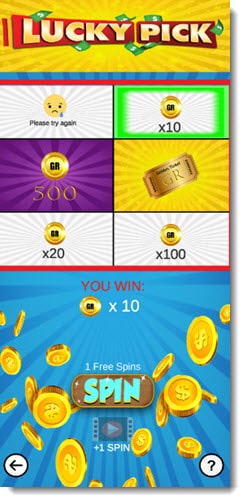 According to the company, the odds of winning are the following:
No Rewards: ~ 30%
10 coins: ~ 40%
20 coins: ~ 20%
100 coins: ~ 6%
500 coins: ~ 3.5%
Golden Ticket: ~ 0.5%

Is GetRich Legit? Does it Pay?
I cannot call GetRich app a scam as all I have in my hands are user reviews, which does not count as proof.
However, the large number of complaints on Google Play suggests that there is a risk of not making any money with this app.
Lots of people are frustrated because they didn't receive coins after completing the offers. For example, these users collected 500 coins on the Givvy app but didn't get their bonuses.
Also, lots of users left a negative review as they have been waiting for the payment for many days. This girl claims that she tried to redeem twice, but the GetRich did not pay her.

This reward platform is going viral! Cash out via PayPal, Visa, Gift Cards, and in-game currencies - Click here to find out how to generate an extra $10+ per day!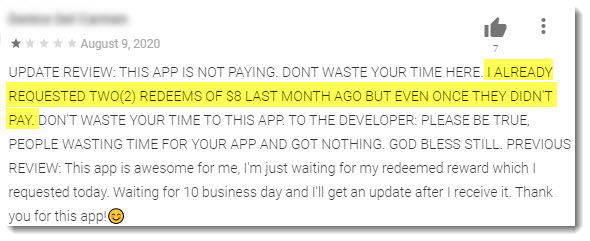 Pros and Cons
Pros
Get paid via PayPal and gift cards.
Cons
Lots of users complain about missing coins and payments.
You cannot watch more than 20 videos per day.
It takes months to reach the minimum payout threshold.
You will have to watch frequent video ads while you are using the app. This will consume your battery and internet data.
There is no bonus for joining.
Conclusion
I am still not confident to recommend the GetRich app as an opportunity to make money online.
There are lots of complaints, and to be honest, I didn't find any person who received the payment!
It's a shame that many mobile applications hook people with the expectation of making money while making it almost impossible to cash out.
Is There an Alternative to GetRich App?
Be aware that it's very difficult to find a reliable alternative to the GetRich app. In my opinion, the least worse reward app, but there is always a risk of not getting the points after completing offers.
The reality is that 99% of "money-making" apps on Google play have a strong potential to frustrate you.
Instead of using mobile apps, I recommend joining a reputable GPT site to make sure you cash out once you collect enough points.
How I Prefer to Make Money Online
Instead of using reward apps and sites, I'd rather spend my time operating my own internet business.
The reason is simple: This type of business pays me commissions that cover all my living expenses and allows me to work whenever and wherever I want!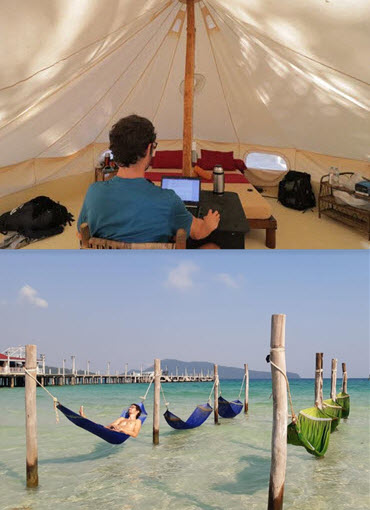 Most people think they must have special skills and knowledge to grow such business. Not really!
The reality is that this opportunity is available to anyone who can follow simple instructions and take massive action!
It's not for those who expect quick results, which is probably why don't see many people around you who quit their jobs to work remotely.
But if you really want the time and location freedom, you have to sacrifice your time today to reap the rewards later.
The business is all about creating helpful content to the internet and promoting other people products. If this is something you would like to try, I suggest this excellent step-by-step program.
This is the training platform that I used to create a WordPress website and turn it into an income-generating asset.
Final Words
Thanks for visiting my blog and reading my GetRich app review. I hope it helps!

If you have any questions or you want to share your experience with this app, leave us a comment below.
Stay safe and peace out!