Welcome to my TV-TWO app review!
I have reviewed many apps and sites that reward users for watching videos. The problem is they are either ads or sponsored videos that we have no interest in watching.
Today, I installed and tried the TV-TWO app, which rewards users for watching their favorite YouTube channels.
I personally breathe YouTube, so I was excited to test this app which could be a great source of a passive income!
In this review, I would like to cover how TV-TWO works and give you my frank opinion. Is it legit? Does it pay or not?
Before you leave, discover the step-by-step program that helped me build my own internet business and quit my job in 2019.
TV-Two App Review
Name: TV-TWO
Developer: TV-TWO GmbH
Type: Reward app
Availability: Worldwide
Minimum payout: 100 TTV Tokens (Approx. $0.12 USD)
Overall Rating:

2.2/5
What is TV-TWO? 
TV-TWO is a mobile app that pays you crypto for watching YouTube videos and installing other apps, completing surveys, and inviting new users. You can use TV-TWO from any country on Android, iOS, Samsung, or LG Smart TVs.
What is unique about TV-TWO is that it allows you to search for your favorite creators and get paid for watching the videos that you would see anyway. This is incredibly innovative! 
According to the company, TV-TWO offers payouts simply by sharing a percentage of the advertising revenue back to its users.
Is TV-TWO App Legit? Does it Pay? 
Yes, TV-TWO is 100% legit. The app was created by Philipp Schulz and Jan Phillip Hofste, two young German entrepreneurs with the mission to revolutionize the entertainment industry.
The Startup has been featured in prominent media outlets such as Forbes, Entrepreneur, and Vice.
Despite the strong reputation within the entrepreneurial community, the review section on Google Play is full of complaints, mainly because of payment issues.
Lots of people are disappointed as they have been waiting for the payout for weeks and even months! That's strange, considering that payment transactions using blockchain are usually very fast. The Bermi app paid me 0.000226 ETH ($0.03) within less than 5 minutes!

Some people complain that they didn't get credited after completing a survey or offer, which is common with other reward apps.
Not only that, but users also complain about the unresponsive customer service. Lots of users reported that they tried to contact the company but were ignored.
How Does TV-TWO Work? 
Installation and Registration 
TV-TWO is available for Android, iOS, and Smart TVs (Samsung or LG).

You can link the Smart TV app with your smartphone by scanning the QR code using your phone's camera.
The company allows users to install the app on just one phone and one TV per household to avoid phone farming. Besides,
TV-TWO can detect and ban users who are trying to use more devices at the same time. Also, make sure you are not using a VPN to avoid getting banned.
Reward System  
As I mention, TV-TWO uses blockchain technology to reward users, which means you must have an Ethereum wallet that supports TTV Etherium Tokens.
TV-TWO recommends you install the Nexo wallet and open your crypto banking account. However, I checked for alternative wallets on the internet and found that you can also use Exodus, TrustWallet, Coinomi, among others.
By watching YouTube videos and completing offers, you will earn credits that can be converted to TTV Tokens.
You must collect 100,000 credits to request your first payout of 100 TTV Tokens. According to the company, allow three business days to receive the tokens.
Once you get your tokens, you can trade them for national currencies via Coinbase or another online exchange platform. Finally, your money can be transferred to your PayPal or Bank Account.
How Much is 1 TTV Token Worth? 
The value of 1 TTV Token fluctuates according to the market value of the cryptocurrency, which you can check on Coinmarketcap.
As of writing this review, the value of 1 TTV is $0,001213 USD. After a simple calculation, we can find that the value of 1 credit is $0.000001213. That's extremely low!
It's important to get these numbers right so you can calculate how much money you are earning per video or task.
Next, I would like to explain how to earn credits using the TV-TWO app, starting with the most trivial option. In addition, I will show you how much money you can expect to earn with each method.

Watch YouTube Videos
When you open TV-TWO, you will see a list of recommended YouTube videos. You can pick any of those or search for your favorite YouTube Channel. The videos will be sorted from newest to oldest, which is ideal.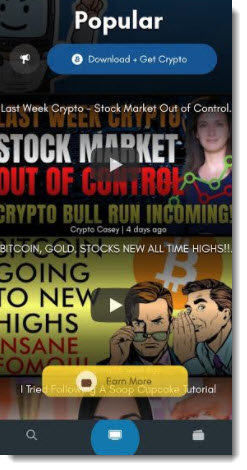 The main downside of using TV-TWO is that you will miss out on the recommended videos provided by YouTube.
You will earn one credit per second, but it's important to know that there is a cap of 500 credits per video, which is 8 minutes and 33 seconds.
500 credits are currently worth $0.00060 USD. To give you an idea, you will need to watch approximately 16 videos of over 8 minutes each to get 1 penny! 

This reward platform is going viral! Cash out via PayPal, Visa, Gift Cards, and in-game currencies - Click here to find out how to generate an extra $10+ per day! 
If you just rely on videos, I am afraid that you will have to watch 28.5 hours of YouTube videos to cash out a measly $0.12 USD.

Complete Offers
If you tap on the yellow "Earn more" button, you will find other ways to earn credits and reach the minimum payout faster. In the balance section, tap on "More Rewards" to find another huge selection of offers.
The highest-paid task involves downloading apps and following the instructions. You must be a new user to receive the credits. For example, TV-TWO is giving 20,880,000 credits if you download King of Avalon and complete stronghold level 17. That's $25.32 USD!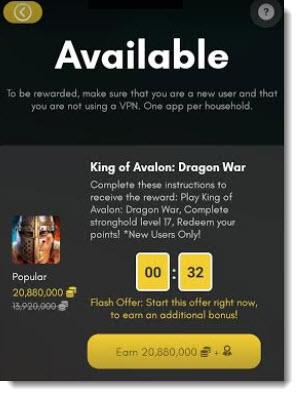 Another very common type of offer requires you to enter a prize draw by subscribing using your name and contact details. Some of these offers will give you over 500,000 credits, which is a great incentive. The downside of this type of offer is that you may receive lots of marketing emails and calls.
Be aware that there is always a high risk of not receiving credits after completing offers.

Complete Surveys
You can also find survey opportunities from different marketing research companies such as Yuno and SaySo Rewards.
You just have to complete the survey to receive the reward, which ranges from 50,000 to 1,000,000 credits ($0.06 – $1.20) depending on your country.
If you are more into surveys, check out the best survey apps that pay cash through PayPal.
Invite New Users
Share your referral link w h your friends or post it on the internet. You will earn 200,000 credits for each user that installs TV-TWo and reach 50,000 credits by completing offers.
A new user will receive a bonus of 555 credits if they join through your link.
Daily Reward
Simply check in every day to collect 500 credits. No other action is required.
Pros and Cons
Pros
Earn crypto by watching your favorite YouTubers.
There are lots of offers
It works on your smartphone device and smart TV.
Cons
Low pay.
Many people reported that TV-TWO didn't pay them.
You can only cash out via TTV tokens. No PayPal.
There are lots of complaints.
Only one app per household.
Conclusion
TV-TWO had everything to be one of the greatest reward apps, but the reviews on Google Play tell me that something went very wrong.
I wish I could make some money by watching my favorite YouTube videos and maybe installing some apps, but I got discouraged after reading the reviews. There is nothing more frustrating than using an app for days and don't receive the payment.
Not everyone has a negative experience with this app, so maybe TV-TWO works well for you. The only way to know is by trying.
Is There an Alternative to TV-TWO?
As far as I know, there is no other app that rewards users for watching YouTube videos.

However, you can try this other app that pays you to watch viral videos.
Lots of platforms pay you to watch sponsored videos, such as Prizerebel, FeaturePoints, and Swagbucks. However, the cash incentive is always appalling, which is why you are much better off focusing on their surveys and offers.
Another popular app called Viggle pays you to watch live TV and movies on your phone. It's been getting lots of complaints lately, so I don't think it's a good alternative.
Personally, I wouldn't spend my time and internet data watching videos to earn a fraction of a cent. In the next section, you will discover my recommended strategy for making money online.
Work Remotely and Earn a Full-Time Income Online
It sounds like a cliche these days to recommend people to build their own online business.
But the fact is that the internet is built upon online entrepreneurship, and it's in your hands to take advantage of this opportunity!
Without the content from those who dream of working from home, the internet would be another tentacle of mainstream media.
Instead of wasting hours using apps that don't pay, I suggest building a website where you can attract a large audience and generate affiliate commissions.
This is the exact business model that I use to make a living online. And yes, I work whenever and wherever I want to – be it a cliche or not!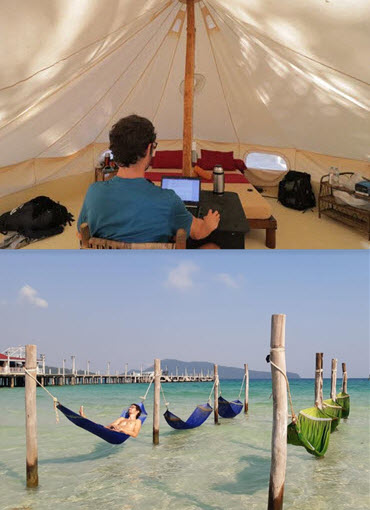 I started my online business in 2015 using this well-structured program that I still recommend 5 years later.
Joining this well-structured program will help you avoid trial and error, saving you time and even money. Besides, it will help you continually improve your business to keep up with the competition.
Final Words
Thank you for taking the time to read my TV-TWO app review. If you have any questions or would like to share your results after using this app, let us know in the comment box below!
Stay safe and peace out!