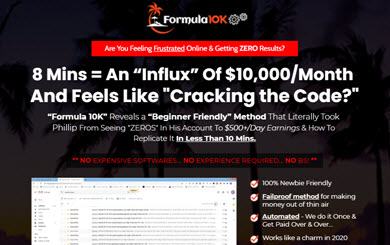 Welcome to my Formula 10K Review!
The creators of Formula 10k wants to reveal a newbie-friendly method that anyone can use to generate hundreds of dollars per day.
Not only that, but they claim to make over $11,000 per month by working just a few minutes per day.
I always cringe when I see this type of promotional pages because it makes people think they can make money fast with very little effort.
Another problem is that they try to sell you training without actually exposing the business model behind it.
But anyway, you are here because you want to know if 10K Formula is a scam or a legit course. Is this a new and effective method?
I decided to research Formula 10k thoroughly and give you my honest opinion.
Before you leave, don't forget to discover my #1 recommendation for making money online. It's a realistic approach to building a profitable online business that helped me quit my job in 2019.
Formula 10K Review
Name: Formula 10K
Website: https://formula10k.com/
Creators: Phillip and Brendan Mace
Strategy: Affiliate marketing (free traffic)
Price: $12.93 (frontend) + Upsells
LEGITIMATE
Overall rating: 

2.4/5
The Sales Page
Formula 10K by Brendan Mace and Phillip has been advertised as a brand new method to make big daily profits while working just a few minutes per day.
According to the sales page, this is the same method used by top marketers to make huge profits in much less time.
The method is kept secret and the only useful information they give you is that it involves free traffic methods. The rest is pure marketing!
The lack of transparency encourages people to buy the product without having the chance to make an informed decision.
Luckily, we have what's called freedom of speech on the internet, where individuals can share their knowledge and opinions about any topic and product.
Still, it's difficult to find an unbiased option about this type of product because every content creator seems to be promoting it.
Recommended Read: How to Make Money Online and Survive The QUARANTINE
What is Formula 10K?
Formula 10K is a video training where a former Plumber called Phillip shows you what he is doing to bring in 5k – 10k a month.
Does that mean you will be able to replicate his success? Well, it's possible, but there is no guarantee that you will be able to reach the same results within a short period.
As with any online business, success depends on many factors including the amount of time you put into your business and how well you apply the strategies.
So, what is this course all about? What is the strategy?

Formula 10K Strategy
The main strategy behind Formula 10K is all about creating review videos on YouTube and promoting money-making products as an affiliate.
If viewers purchase the products through your affiliate link, you will earn a commission.
Phillip will go over all the details on how to apply the method from start to finish. The process includes searching for the best products to review, creating videos that rank high on YouTube, capturing buyers emails, and more.
There are lots of training programs that teach the same business model, so this method is definitely not something new. For example, this is another similar training by Brendan Mace.
As you may know, YouTube and affiliate marketing has been around for many years.
The advantage is that it focuses on free traffic, which means you won't risk losing money with advertising.
On the other hand, you will have to compete side by side with lots of internet marketers who have been using the same strategy for many years including top seller such as Jono Armstrong and Art Flair.
Formula 10K Training
The video course consists of 15 videos:
#1 – Welcome – income proof: In this introductory video, Philipe will welcome you and show screenshots of his commissions.
#2 – Mindset – This is crucial
#3 – Important – Ensure your success
#4 – Overview of my proven method
#5 – Overview of product launches: Where to find the right products to promote.
#6 – Getting organized: Use google calendar to plan and execute the method.
#7 – How to get approved for 50 – 100% commissions
#8 – How to set up your channel
#9 – How to create bonuses and bonus pages: Learn how to create your bonuses using Commission Gorilla to increase your conversion rates.
#10 – Capture buyers email: Using a "hack" to capture the email from buyers so you can later perform email marketing.
#11 – Making the video: This is a basic tutorial on how to create a YouTube video.
#12 – Editing, Uploading, description and Thumbnail
#13 – How to rank faster
#14 – Method Number 2: Learn to get traffic from Facebook.
#15 – 3 x your earnings: Learn how to scale the strategy and triple your earnings.
Can You Make $10,000 Per Month? 

The sales page claims you can replicate Phillip's result and make 10k per month in less than 10 minutes. 
That's very unrealistic!
I have no doubts you can make 10K by reviewing digital products as an affiliate, but it will require a lot more than 8 minutes per day.
The reason is that competition is fierce and you will have to build trust not only with YouTube but also your subscribers. It may require years of dedication to your channel and still, it can be a struggle! 
Also, doing reviews of digital courses and software can be challenging when you are starting out. The reason is that product owners may not give you a free version to test unless you have lots of subscribers.
So, how can you create lots of reviews and compete with the top affiliates without spending a lot of money on these digital products?

This reward platform is going viral! Cash out via PayPal, Visa, Gift Cards, and in-game currencies - Click here to find out how to generate an extra $10+ per day! 
Don't get me wrong. I am not discouraging you from buying the course and creating your channel.
However, it's important to have realistic expectations and be aware of the challenges ahead.

Formula 10K Upsells
After you purchase the frontend product for $12.93, they will try to sell you expensive done-for-you funnels, money pages, email marketing campaigns and high-ticket integrations.
Lots of people will be tempted to get these upsells in hopes to skip the hard work and maximize their profits.
My advice is don't buy these products by impulse! If you want to buy Formula 10K, that's fine because it's an affordable training that is good value for money.
However, don't hand more money until you achieve some level of success with the frontend. The reason is that if you don't succeed with the main training, the upsells won't make any difference!
Conclusion – Is Formula 10K a Scam?
Formula 10K is not a scam, but there is no magic formula or secret to making 10K per month online.
I'm not saying it doesn't work. It does, but you must be patient, have some decent communication skills and work consistently to achieve your goals.
To have an idea of what it takes to build a profitable channel reviewing those type of products, type in "Formula 10K review" on YouTube. Then, choose some of the top results, and browse old videos of these YouTubers.
Many of them have created over 200+ video reviews, which I am sure didn't take just 8 minutes per day to create.
As for the training, it does a very good job of explaining the method from start to finish. It's concise, but it has all the crucial information you will need.
You can apply what you learn inside the training, but don't expect to start making a lot of money in a short time.
The good news is that you have a 30-day money-back guarantee. So, you can ask for a full refund if you don't like the training and/or you think it's not worth the price.
Verdict: Legit
Final Words
Thanks for taking the time to read my Formula 10K review. If you have any questions or thoughts about this training, just let me know in the comment section below.
I wish you good luck with your future endeavours.