Welcome to my Cash Walking app review!
The developers or Cash Walking claim you can earn cash rewards for every step you take. If it was so easy to make money, I am sure this app would be more popular than Candy Crush!
According to the app description, it takes just a few days to collect 50w coins and redeem for $10 via PayPal.
I have already tested a couple of step counting apps that didn't live up to my expectations. They usually have a card up their sleeves to prevent us from receiving our rewards.
So, can you really turn your steps into cash with Cash Walking? Is it a scam or a legit application?
In today's post, I will share with you crucial information about this app and hopefully save you a lot of time.
If you want to work remotely and earn a full-time income from home check out my #1 recommendation. This is the same program that helped me reach $1,600/mo and quit my job in 2019. No special skills required!
Cash Walking App Review 
Name: Cash Walking
Developer: DM19
Website: www.cashwalking.top
Type: Reward app
Price: Free to join (no in-app purchases)
Minimum payout: $5 (Amazon Gift Card), $25 (PayPal)
Overall Rating: 

1/5
What is Cash Walking All About? 
Cash Walking is an android application that tracks your steps and gives you gold coins and virtual cash that you can exchange for real money.
There are many other reward apps that reward you for walking or running such as Winwalk, Runtopia, and the most popular of all – Sweatcoin.
With the Cash Walking app, you can also win coins by checking-in daily, spinning the wheel, and playing the scratch cards.
Once you reach the minimum payout threshold, you can request payment via Amazon gift cards or PayPal respectively.
Cash Walking has been installed over 100,000 times and is very similar to this pedometer app developed by NewmanVictor. 
How Does Cash Walking Work? 
Installation
The Cash Walking app works only on Android devices, and thus, can be installed for free on Google Play.
To access the app, you just need to accept the Privacy Policy. Registration is not required.
Rewards
It's important to know there are two balances: one for cash and one for coins.
When you click on your cash balance, you can only find the cashout amount of $25. So, you must reach $25 before you can withdraw the money to your PayPal account.
As for the coin balance, Cash Walking gives you the option to redeem your coins for $5, $10, and $20 Amazon gift cards. The current conversion rate is 1 USD = 100,000 coins. 
In the reward page, it says the withdrawal will arrive in your account within 7 working days. But as you will see, users have been waiting for months! 

Earn Coins by Walking
Cash Walking uses your device's accelerometer (sensor) to detect your movement and count your steps. Because it doesn't rely on GPS, it works indoor and outdoor.
The app will be constantly running in the background of your phone counting your steps wherever you go.
Then, your steps can be converted to coins by clicking on the "Exchange Coins" button.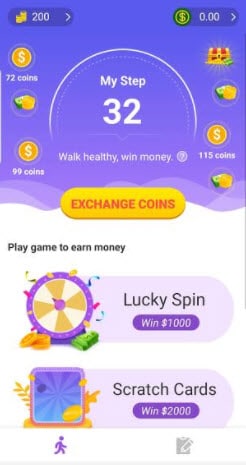 Keep in mind that you can only exchange a maximum of 1000 steps per day. The counting will always reset to 0 at 12 pm.
Cash and Coin Bubbles
From time to time, you will see cash and coin bubbles around your step count. When you tap on the bubble, you will have to watch a video before collecting your reward.
Daily Check-in Bonuses
Check-in 7 days in a row to collect the following coin rewards: 200 (day 1), 400 (day 2), 600 (day 3), 1000 (day 4), 2000 (day 5), 5000 (day 6), and 8000 (day 7).
Lucky Spin
Cash Walking allows you to play the Lucky Wheel for a chance to win more cash and coins.
In the dashboard, it says you can win $1,000, but in reality, the only rewards that I can see on the wheel are coins and the following cash amounts: $0.01, $0.07, $0.35, $0.7, and $2.1.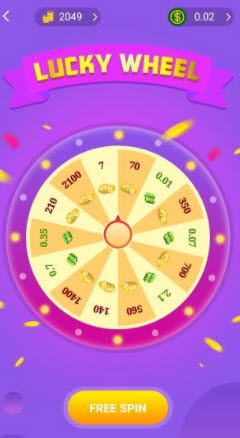 The first two spins are free. After the second spin, you must watch a sponsored video to play.
The app developer doesn't show you the odds of winning each prize, which is a bummer! However, it's safe to assume most spins will land on coins with very little value.
Scratch Cards
Every day, you can try your luck with 60 scratchers. If you match the 3 symbols, you will win a specific amount of cash or coins stated on the card.
After scratching 3 cards, you will receive a message saying you must watch a short video to get another scratcher.
As you can see, Cash Walking will make you watch lots of ads while you are collecting your rewards. That's how the company makes money and supposedly splits the revenue with users.

This reward platform is going viral! Cash out via PayPal, Visa, Gift Cards, and in-game currencies - Click here to find out how to generate an extra $10+ per day! 
Is Cash Walking Legit? Does it Pay? 

At first glance, the Cash Walking app seems like a great opportunity to earn a little extra money while exercising or simply going about your day.
Except for the annoying task of watching videos, it feels like passive income! 
However, you are probably wondering why I rated Cash Walking just 1 star. Well, the reason is that it's unlikely to pay! 
If you check the user reviews on Google Play, you probably won't find anyone who received the Amazon Gift card or the cash payment via PayPal.
In a time when lots of people are struggling with lockdowns and strong economic recession, it's disheartening to see them wasting time with these apps.
Lots of users have reported what happened after using the Cash Walking for long enough. After using the app for many months and requesting the Gift card, they never received their voucher.
Apparently, sending an email to support is useless as they will probably either ignore you or send a generic message.
Here are some reviews on Google Play:



Even though there are lots of negative reviews, I cannot say the app is a scam.
Recommended: If you are searching for an alternative to Cash Walking, the Winwalk app is a great choice!
Coins and virtual cash have no value! 
The reason why Cash Walking is not a scam is that the company doesn't make any promises.
If you read the Terms and Conditions, it says coins and virtual cash have no currency value. Besides, you have no property or rights to virtual rewards.
In order words, the company can decide whether they will exchange earnings to real money or not.
Pros and Cons
Pros
No registration required.
Cons
Based on hundreds of reviews, no one seems to get paid.
It takes a very long time to reach the minimum payout threshold.
Unresponsive support.
There is no prize of $1,000 in the Lucky spin.
The odds of winning cash and coins in the Lucky Spin and Scratch Cards are kept secret.
Conclusion 
Cash Walking is another mobile application that will make you watch a ton of videos in return for tokens and virtual cash.
I haven't seen anyone who received the Amazon gift card or PayPal cash. So, based on hundreds of reviews, I don't think you will get paid.
The app has been rated 1.8 stars on Google Play, and if you just read the first 3 reviews, you will understand why.
So, now you know! Before installing any reward app, make sure you read the reviews to avoid wasting time.

Earn a Full-Time Income Online
When you use any "money-making" app or website, you are entering other people's property. So, you have to play by their own rules, which hardly ever work in your best interest.
As a user, you are always trading your time for very little or no money whatsoever!
If you are serious about making money online, I suggest you build your own online business. 
Yes, it takes time. Yes, it's not easy money! But if you learn the proper strategies and you work consistently, you can make thousands of dollars per month and change your life.
Today, I am glad that I made this decision and took massive action 5 years ago! This is me, working and enjoying the laptop lifestyle. 😉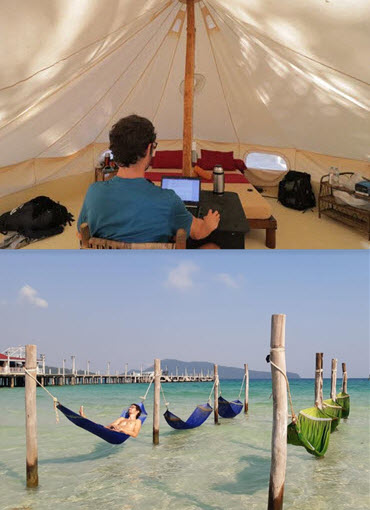 The business model that I use is called affiliate marketing. In short, I create helpful content that ranks on Google and attracts visitors.
If you want to start your internet business, this excellent step-by-step program will give you all the knowledge and support you need to keep succeed. This is the same program that I have been using since 2015 when first started!
Final Words
Thanks for taking the time to read my Cash Walking app review. I hope it was helpful!
So, what do you think about Cash Walking? Did you use this app? If so, did you get paid or not?
Let us know in the comment section below.
Stay safe and peace out!