Welcome to my Happy Golden Hen app review!
I was testing a reward application on my phone when I watched a commercial about this game called Happy Golden Hen.
The ad was showing some fictitious cash balance growing "at the speed of light", giving the expectation of easy money.
Not only that, but it said: "Withdraw instantly – No Limit". It reminds me of the advertising from this bubble sorting game that disappointed lots of users.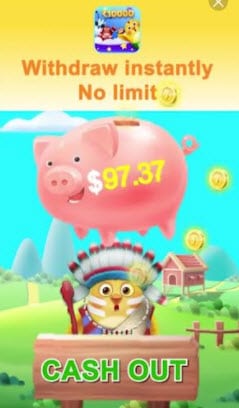 With Happy Golden Hen, you will earn virtual cash by merging hens and watching a ton of sponsored clips. But the question is: Can you really cash out? Is Happy Golden Hein a legit or a fake "money-making" app? 
Read my review below where I uncover all the details!
If you want to earn a full-time income working from home, don't forget to check out my #1 recommendation. This is the same program that helped me reach $1,600 per month and quit my job in 2019. 
Happy Golden Hen Review
Name: Happy Golden Hen
Developer: MiniJoy
Eligibility: Worldwide (13+)
Minimum Payout: $1 (but it's always sold out)
Overall Rating:

1/5
What is Happy Golden Hen?
Happy Golden Hen is a very popular game of merging hens and earning virtual cash rewards. The app is operated by Mini Joy, which is the same creator of MiniJoy, Dice Queen and this trendy word puzzle game.
The goal is to unlock a new kind of hen by combining two identical hens of the same level.
Whenever you unlock a new level, you will earn $1 that will accumulate in your account. The company claims that once you collect $10 and reach level 45, you will be able to withdraw the money via PayPal.
Not only that but if you reach level 100, they say you will get a mega bonus of $10,000.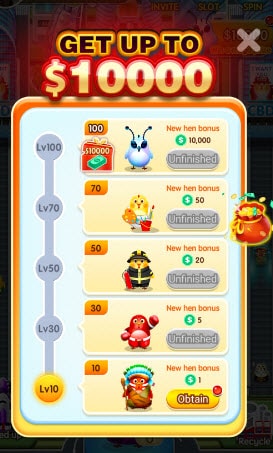 Wait a second… just for playing a merging game? Come on!
The game will also dish out coins that apparently has no value because you cannot redeem them for anything.
As you are playing happy Golden Hen, you will have to watch an incredible number of videos, which is how the developers are making profits.
I have reviewed a couple of similar merging games that supposedly allow players to withdraw real money via PayPal. With over 10 million installs, I believe this is the most popular merging game for Android.
There are merging puppies, cats, dogs, hens… What's next? 
Is Happy Golden Hen Legit? Does it Pay?

As a content creator, it would be irresponsible on my part to call any app or site a scam without solid proof.
What I can say that the app doesn't seem to pay!
If you check the reviews on Google Play, you will be shocked by the number of disappointed users who cannot cash out.
They get high user rating because they ask users to review the app after just a few minutes of gameplay. However, a positive rating doesn't mean people are getting paid.
After reaching the minimum payout amount and trying to withdraw, the PayPal reward is always sold out. 
Some people have reached the 100th level hen with no money to show for it. Do you remember the $10,000 mega bonus? Forget about it! There will be an error and the money won't be added to your account.
I can't even fathom the number of advertising that people have to endure during this process.
Many players complain video clips don't work sometimes, which is very annoying.
So, will Happy Golden Hen pay real money? In my opinion, your chances are close to zero! 
If you are sick and tired of wasting time earning fake money, I suggest building your own internet business to pursue a full-time income online.
How Does Happy Golden Hen Work? 
Installation
You can install Happy Golden Hen on your Android or iOS device. Before you can start playing, you must register using your Google or Facebook.

How to Play Happy Golden Hen
Swipe to merge two hens of the same level and form a hen of 1 level above.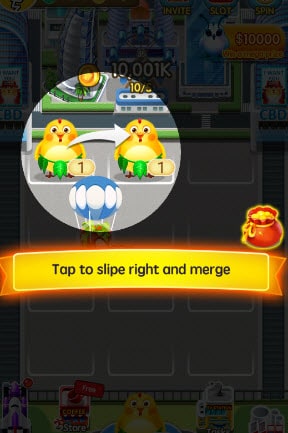 As I mentioned, every time you unlock a new hen, you will earn $1.
When you merge two hens, a new space for another hen will be vacant. Then, you have to buy another hen with the tokens that will accumulate during the game.
You can only buy hens at a lower level, so the more you play, the harder it gets to unlock a new hen.
Happy Golden Gen also provides other ways to earn virtual cash and coins. For example, you can complete daily tasks and growth tasks. You can also play the lucky spin and the slot machine.

This reward platform is going viral! Cash out via PayPal, Visa, Gift Cards, and in-game currencies - Click here to find out how to generate an extra $10+ per day! 
There is a golden bag on the right side of your screen, which you can open after watching a video. It can give you a few cents or extra coins.

Invite and Earn
Just like most reward apps, Happy Golden Hen encourages you to invite friends in exchange for referral commissions. However, the referral incentive is very unrealistic!
They say you can earn a specific amount of cash per referral depending on the total number of referrals.
For example, if you invite just 1 person, you will get $1.55, and if you refer between 204 – 781, you will get $1.96 each.
I would invite users through my blog if was confident users could cash out. Unfortunately, that's not the case!
If you want to get referrals, there is an option on the app to send your link via Facebook or Whatsapp.
Alternatively, you can copy your referral code and share it on the internet. I think this option is useless because there is neither a way to insert the code nor an incentive for doing so.
Cash Rewards
Tap on your cash balance to find all the redemption options available. There are 4 withdrawal options:
$1 – You must unlock level 35. This option is usually sold out.
$10 – You must unlock level 45. It's also sold out.
$200 – There is no level requirement, but it will probably be sold out too by the time you get closer.
$1000 – You will probably reach the last level way before you can accumulate $1000. So, this level of reward is just a pipe dream.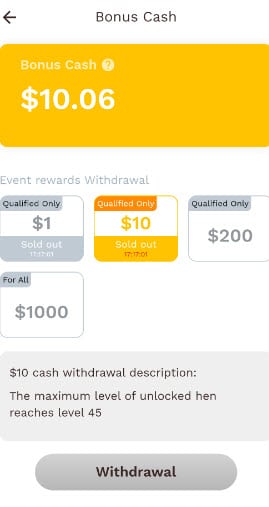 Final Thoughts
Happy Golden Hen is nothing more than a fun game to pass the time with a ton of advertising.
The money you see on the game has no currency value, and the company is unlikely to pay you.
By offering real money, they get more people to download the app and spend time playing the game.
I feel sorry for those who didn't read the reviews before installing apps in hopes of making real money.
It's a shame the way it has been advertised with no information about the "sold out" situation.
If you played Happy Golden Hen for a long time and you are unable to cash out, you are not alone.
Sadly, there is nothing you can do about it, and sending an email to the company is an additional waste of time.
Be careful with game apps that offer cash incentives. You will not lose money, but you can't turn back time.
Earn a Full-Time Income Online
If you want to make a decent amount of money online, you need to stop using other people's apps and sites and build your own online business.
Me, personally, I decided to create an affiliate site where I help people on topics related to "make money online".  However, you can build a thriving internet business focusing many other topics of your interest.
It takes time to start making money, but if you have a clear plan of action and you work consistently, this has the potential to change your life.
Creating an affiliate site was the best thing I did!  Today, I have the opportunity to work anytime, anywhere I want as long as I have a laptop and an internet connection.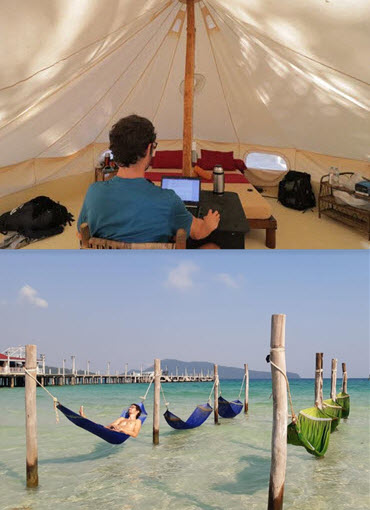 If you want to build your own online business but you have no experience, worry not! This excellent step-by-step program will take you by the hand and help you go from newbie to an authority in your niche.
Final Words
Thanks for visiting my blog and reading my Happy Golden Hen app review. I hope it was helpful!
So, what are your thoughts about this app? Did you manage to cash out, or it's always sold out? Leave your review in the comment section below to help others out.
Stay safe and peace out!