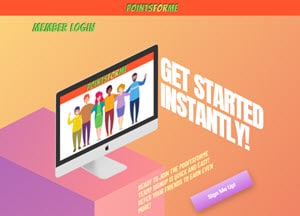 Welcome to my Pointsforme.com review!
I have recently discovered a promising GPT website that was launched just 3 months ago called PointsForMe.
When I opened the site for the first time, I was impressed with the amazing homepage, and I was wondering if the opportunities and rewards would live up to my expectations.
Just like other GPT sites, PointsForMe provides lots of ways to earn points. You can complete very simple tasks from any device, which means you have the freedom to earn money from home or on the go.
In this review, I am going to cover everything you need to know about PointsForMe and give you my honest opinion. Can you trust this new GPT site? Is it legit and worth joining?
Before you leave, don't forget to discover the step-by-step program that helped me build my own online business and reach $1,600+ per month. It's free to get started.
PointsForMe Review
Name: PointsForMe
Website: www.pointsforme.com.
Type: GPT (get-paid-to)
Membership eligibility: Worldwide
Price: Free to join

LEGITIMATE

Overall Rating:

3.5/5
What is PointsForMe All About?
In short, PointsForMe is a GPT platform where you can earn cash rewards for completing offers, taking part in marketing research, and referring friends. You can also get entries for weekly giveaways for a chance to win $20, which is great!
By completing offers and surveys, you will accumulate points redeemable for gift cards, PayPal and even Bitcoin.

This reward platform is going viral! Cash out via PayPal, Visa, Gift Cards, and in-game currencies - Click here to find out how to generate an extra $10+ per day! 
PointsForMe has partnered with lots of Offer Walls so that you always have opportunities to earn.
Nevertheless, it's not a place where you can earn lots of money because most tasks pay just a few cents. Besides, you will get disqualified from surveys, and waste a lot of time.
The great thing about PointsForMe is that the site works like a charm on any mobile device, so you can collect points anytime, anywhere you go.
Is PointsForMe Legit? Does it Pay? 
PointsForMe operates a legit business model. They earn revenue from third-party offer providers and share a percentage of their revenue with members who complete the tasks.
So, it's a sustainable business that doesn't raise any red flags. However, there are two things that concern me:
The lack of an "About Us" page, and the short Terms and Conditions, which doesn't cover critical information about points and rewards.
For example, it should be addressed whether PointsForMe can deny payments or delete points at their sole discretion. Will your points expire? If so, when?
As the platform is relatively new, there are not enough reviews on the internet. So, it's a bit early to know if this is a reliable site or not.

At FoxReating.com, there are three positive reviews showing proof of payment, which is a good start.
However, it's important to keep track and see how the platform behaves in the long-term. I will keep this review updated when I discover more information and testimonials about the site.
Recommended read: Discover the top-rated GPT site here!
Pros and Cons
Pros
Free and quick registration.
Mobile responsive – Complete tasks from your any device.
There are many Offer Walls.
Participate in giveaways.
Cash out with as little as $2.50.
Get paid via PayPal, Bitcoin, and gift cards.
No payout fees.
Receive payments within 24 – 48 hours.
Cons
The referral commission is low compared to other GPT sites.
No FAQ nd short Terms and Conditions.
Lack of transparency regarding the provider.
How Does PointsForMe Work? 
Registration 
To begin using PointsForMe, you must create a free account first. It takes less than 1 minute to sign up using your email or any social media account.
Next, you will need to activate your account by clicking on the link they will send to your email address.
Keep in mind you will now be able to log in using a VPN.
How to Earn Points
PointsForMe provides many ways to earn points inside the members' area. In the "Earn" tab, you will find 12 Offer Walls jam-packed with offers and surveys from sponsors.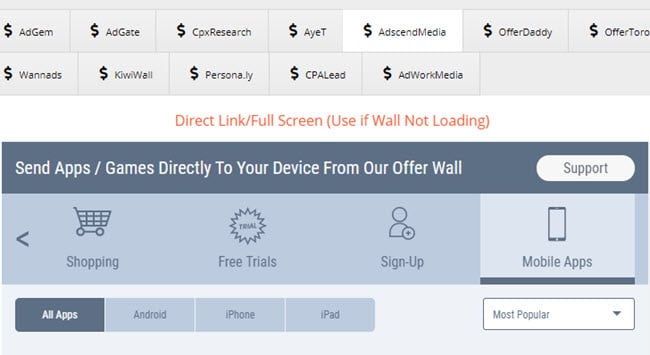 Click on each Offer Wall and pick the tasks that you want to complete.

IMPORTANT: If you use other GPT sites, you may find the same offers you will find at PointsForMe. However, you won't earn points if you have already completed the offer once or you are already registered with the advertiser's platform.
App Offers
If you are using your smartphone or tablet, you will find lots of app offers, which consists of installing apps and hitting specific goals.
For example, you can earn points by playing a mobile game and reaching a specific level. Or, you may be asked to install a reward app and earn a specific number of points.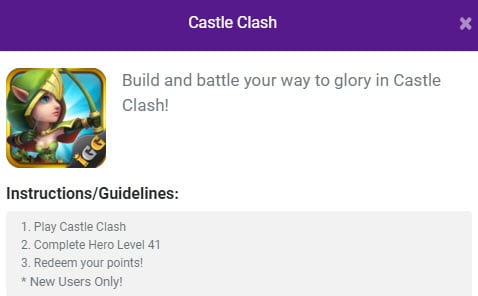 Traditional Offers
Traditional offers usually involve subscribing to free trials, signing up to free reward site, and entering prize draws.
Some offers may ask you to make a purchase. They usually give you more points to cover entirely or partially the money you will spend.
I would not invest any money because there is always a risk of not receiving points for completing an offer.

Online Surveys
You will find lots of survey opportunities inside most Offer Walls. Those survey routers like Yuno will ask you to complete qualifying questions before you can complete the survey.
Depending on your answers, you will not be eligible to participate in the study and you will get disqualified. You can waste half an hour just to qualify for one survey that will pay you $1 or even less.
That's why I gave up on surveys back in 2015 to build my own online business.
Watch videos
Some Offer Walls such as AdscendMedia allows you to earn points for watching videos from a third-party platform called Hideout.tv or the sister site ThePandaMe.
You can manually claim points once you watch at least 3 videos + ads.
Referral Program
At PointsForMe.com, you can share your affiliate link with people on the internet and earn commissions.
The first step is to register an affiliate account inside the "Referral" tab. Filling out the information is optional, so you can just click register.
You will get 10% on all your referral's earnings for life. Besides, if your referral signs up as an affiliate, you will earn an extra 25 points.
Other Ways to Earn Points
In addition to all of the options mentioned above, you will  earn points with the following activities:
Signing Up: 100 Points
Log In: 1 Point
Update your Profile: 5 Points
Add an Avatar: 10 Points
Add a Cover Photo: 10 Points
Yearly Membership Anniversary: 200 Points
Giveaway Or Cashout Review: 30 Points
Verify Your Profile: 100 Points
Refer A Visitor: 1 Point
Giveaways
PointaForMe also organizes regular giveaways. In the debut giveaway, three members were selected at random and won $20 each.
If you are a winner, you can choose to get paid via any Gift Card, PayPal or Bitcoin.
You can collect entries for the giveaway by completing specific tasks such as following PointsForMe on Facebook and YouTube.
PointsForMe Badges
Earn badges to unlock special giveaways and reward points! There are currently 3 badges:
Marketer
Level 1: Signup 10 Affiliate Referrals – Earn 50 Points.
Level 2: Signup 30 Affiliate Referrals – Earn 100 Points.
Specialist
Level 1: Upload Avatar, Cover Picture, Write Cashout Review – Earn 25 Points.
Level 2: Upload Avatar, Cover Picture, Write Three Reviews – Earn 100 Points. 
Starter
Level 1: Login 3 Times – Earn 20 Points.
Level 2: Login 20 Times – Earn 75 Points.
How do You Get Paid? 
To request your payment, click on "Redeem" and select the payout amount.
There are 3 options:
$2.50 – 650 points
$5 – 1100 points
$10  – 2000 points
You can redeem 650 Points for $2.5 on Paypal, Amazon, Bitcoin, iTunes, Robux, and more. Some gift cards are only available when you withdraw $5 or $10.

Finally, select your payment method,  fill out your payment details (PayPal email, BTC address, etc) and click "Add to cart".
Payment requests are usually processed within 24 – 48 hours.
How Much Money Can You Earn With PointsForMe? 
It depends on your country, the number and type of offers you complete. It's very difficult to estimate, but it's possible to earn over $100 a month if you live in a wealthy country and you are very active.
Members who live in countries where the dollar has a strong value can struggle to reach $50 per month.
Final Thoughts
Pointsforme.com has everything to become a popular GPT site in the near future if it proves to be reliable. It's still early to judge the website based on very few review, but it looks promising!
There are lots of Offer Walls, but in my opinion, they should include more survey routers such as Precision Sample, Tap Research, and Theorem Reach.
Also, I would advise the owners to increase the referral commission to at least 15%.
What I like about PointsForMe is that it has several payment methods and a low payout threshold.
Verdict: Legit
Similar GPT Sites
PointsPrizes Review – Is It a Scam or a Legit GPT Platform?
Earnably Review – Is it Legit? Inside Look!
Grabpoints Review – Is it Legit? Can You Make $500/mo?
Earn a Full-Time Income Online
Maybe you are sick as tired of spending hours on GPT sites and survey panels only to make pocket money.
If that's the case, I am glad to share with the business model that allows me to work remotely and earn a full-time income online.
It consists of creating helpful content and attracting a large audience to your own website. Then, you earn money by promoting products as an affiliate.
The more visitors you have on your site, the more money you can make!
If you want to create your own online business and make money on your own terms, this step-by-step training will show you the way.

Create a free account, watch the first 10 lessons and take massive action!
Final Words
Thanks for taking the time to read my PointsForMe.com review. I hope it was helpful!
If you have any questions or want to share your results using the platform, please leave us a comment below.
Stay safe and peace out!