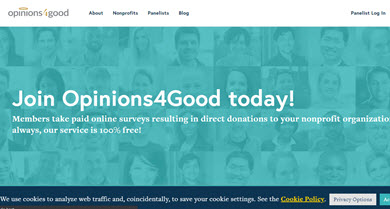 Welcome to my Opinions4Good review!
I was searching for money-making opportunities yesterday when I stumbled across another survey panel called Opinion4Good.
Funded in 2010, Opinions4Good allows you to complete paid surveys and donate to your favourite non-profit organization.
If you live in the United States, Canada, or the UK, you can sign up for free, and start participating in marketing research studies for a good cause.
In this review, I will show you everything you need to know about Opinions4Good so you know what to expect regarding survey opportunities, rewards and donations. Is it legit? Does it actually pay?
Before you leave my blog, you may want to discover the step-by-step program that helped me reach $1,600+ per month from my laptop and quit my job. It's free to get started.
Opinions4Good Review
Name: Opinions4Good (Op4G)
Website: https://opinions4good.com/
Company: Op4G, Inc
Strategy: Online Surveys
Membership availability: United States, Canada, and the United Kingdom (+17)
Price: Free to join
LEGITIMATE
Overall Rating: 

3

/5
What is Opinion4Good? 
Opinions4Good is a UK-based survey panel where you can get paid to take part in marketing research studies.
As a member, you can provide insights into a wide range of topics and thus, help brands make better strategic decisions.

This reward platform is going viral! Cash out via PayPal, Visa, Gift Cards, and in-game currencies - Click here to find out how to generate an extra $10+ per day! 
At the same time, you will earn cash via PayPal as well as donate a percentage of your earnings to your favourite charity. 
According to the company's website, Opinioans4Good has donated over $480,000 to 380 non-profit organizations across the UK, the US, and Canada.
Is Opinions4Good Legit? Does it Pay? 
Opinions4Good is not a very popular survey panel, which is probably why you may be wondering if this a legit and safe platform to join.
Considering the incredible number of fake survey and "work-from-home" sites, it's understandable why people hesitate to sign up and share their personal information online.
Let me assure you that Opinions4Good is a legitimate and reliable survey panel. Yes, it does pay!
After careful research on the forums and other blogs, I didn't see any complaints about missing payments and blocked accounts.
That doesn't mean you will have a great experience with the panel. Some members claim it's very hard to earn money and reach the $10 payout threshold. The reason is that surveys are scarce and usually hard to qualify.
Recommended read: 

How Opinions4Good Work? 
Registration
Not only Opinions4Good is 100% free to join, but you will also earn a $2 registration bonus.
If you want to complete surveys with this panel, click on the link "Become a Panelist today" and fill up the registration form with your name, email and password.
You will receive a confirmation link in your email. Just click on that link to activate your account and continue with the registration process.
Complete your profile
Next, Opinions4Good will require that you complete lots of profiling questions about your address, gender, education, career, income, health issues, and more.
Unlike other survey panels, you have to complete all the questionnaires before you can have access to surveys via the dashboard.
It's important to always keep your profile updated to get more chances of receiving survey invitations.
Complete Surveys
Opinions4Good will send you survey invitations via email. New surveys will be sent to you via email or member's area.
Receiving an invitation doesn't mean you are immediately qualified to complete the survey.
You will also have to answer a few qualification questions to see if you are part of the target group based on your specific interests and demographics.
Sometimes, the survey may be closed because the client has already received enough responses. Therefore, the company recommends that complete the survey as early as possible to make sure you don't miss the opportunity.

Completing surveys is the easiest of tasks. You just have to share your feedback on products, services and many other topics. Most surveys usually last for 10 – 25 minutes and pay $2 on average.
Be aware that Opinions4Good is regularly filtering quality feedback for their clients. Therefore, if you rush through the survey or provide inconsistent answers, you may get screened out halfway through the survey.
Many companies screen out participants even though they provide quality responses. Unfortunately, that's always a risk you have to take when completing surveys. 
When and how do you get paid?
Opinions4Good always issue payments on the first day of the month. You will get paid via PayPal if you accumulate at least $10 by the first day of the previous month.
For example, if you earn over $10+ by October 1st, you will receive your earnings on November 1st.
Your nonprofit contribution
You can donate part or even 100% of your earnings to your favourite non-profit organization. 
In your account, select one from hundreds of charities and donate 25%, 50%, 75% and 100%. If you don't want to contribute, simply click on "Stop Contributing".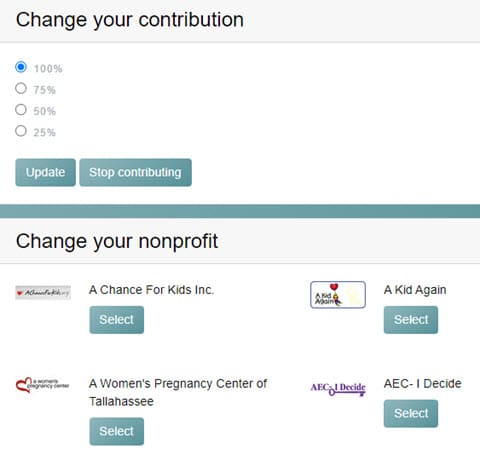 How Much Money Can You Earn? 
It depends on how many survey invitations you get, and how many surveys you qualify for. I believe $10 per month is an overestimation.
At SurveyPolice, one person from the United States said she has been a member for a couple of years and only made $15.
If you would like to complete more surveys and even get paid to complete sponsored offers, you can reach $100 per month using this excellent GPT site.
Pros and Cons of Opinions4Good
Pros
Get paid through PayPal – no confusing point rewards.
The cash incentives are okay.
The company promises to never send junk and irrelevant emails.
You can donate a percentage of your cash rewards to your non-profit organization.
Cons
It can be hard to qualify.
There are not many surveys.
It takes time to reach $10 and get paid.
Final Thoughts
Opinions4Good is a decent survey panel for residents in the US, the UK and Canada. However, you should not expect to earn a lot of money because there are few surveys, and you won't qualify for all of them.
I couldn't identify any red flags regarding payments, so as long as you read $10, you will get paid.
Is it worth joining Opinions4Good? Well, it is worth it for people who don't know or don't bother using better alternatives to earn more.
Verdict: Legit
Earn a Full-Time Income Online
Before 2015, I used to complete surveys to supplement my minimum wage at a time when I didn't know better. I have no idea how the internet worked, so I was stuck!
Luckily, I discovered this online business program where I learned how to build a website and earn affiliate commissions.
Instead of earning less than $3/hr from survey panels, now I write articles/reviews for my own website and earn a full-time income.
It allows me to set my own schedule, work from home and take as many holidays as I want. After all, I am my own boss!
If you want to create your own online business to make money on your own terms, this step-by-step training will show you the way.
Create a free account to watch the first 10 lessons and see if this is the best business for you.
Final Words
Thanks for taking the time to read my Opinions4Good review. I hope it was helpful!
If you have any questions, let me know in the comment section below and I will get back to you asap!
Stay safe and peace out!