Welcome to my Solitaire Tripeaks app review!
I came across Solitaire Tripeaks after watching an ad showing people earning colossal sums of money.
There was a guy on the video with stacks of cash in his hands saying "I won this 10 days, you need to download it". The ad also claims that you can withdraw the money at any time.
Here is a screenshot of the ad you might have seen while playing another game.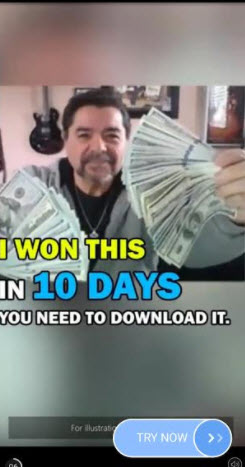 Well, most people don't realize the fine letters at the bottom which say: "for Illustration only". Therefore, everything you see on the video does not necessarily reflect reality.
Thousands of people get hooked by it and install the app with the expectation to make easy money. But will Solitaire Tripeaks pay you?
In this review, I will show you how the game works and give you a definitive answer to this question.
Before you leave, discover the step-by-step program that helped me reach $1,600+ per month from my laptop and quit my job. It's free to get started.
Solitaire Tripeaks App Review
Name:

Solitaire Tripeaks: Farm and Family

Website: http://tuyooglobal.com
Company: TUYOO GLOBAL LIMITED
Eligibility: Worldwide
Price: Free
Overall Rating:

1

/5
What is Solitaire Tripeaks?
Solitaire Tripeaks is a classic patient card game where players can earn virtual cash rewards after passing each level.
Inside the app, it says you can withdraw the money via Amazon gift cards or PayPal once you have $150.
The app is operated by TUYOO ONLINE LIMITED, which is the same company behind other "money" games, including this match-3 puzzle.
If you search for Solitaire Tripeaks on Google Play, you will find lots of similar games with the same name.
However, only the one developed by TUYOO provides virtual cash to entice more people to play.
Solitaire Tripeaks has been installed over 500,000 times and will probably reach one million soon.
Does Solitaire Tripeaks Pay Real Money?
Most people install Solitaire Tripeaks to earn money, so they must know the truth before it is too late.
Unfortunately, the developers do not provide any information about cash rewards in the app description.
They only give information about the cash incentive when you launch the app and click on the cash balance at the top.
It says you need to have $150 to exchange for Amazon gift cards or cash out with PayPal.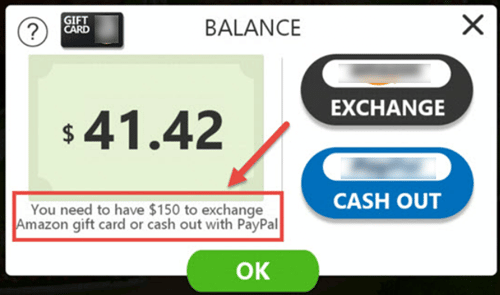 If you click on the question mark, it shows you the rules regarding cash rewards. In short, it says will earn cash whenever you pass the level, and that you can withdraw via PayPal or Amazon gift card when your balance reaches the cash-out standard.

However, if you open the Terms and Condition on the official website, it says:
 "Virtual Currency can never be redeemed for real money, goods, or any other item of monetary value from TUYOO ONLINE (HK) LIMITED or any other party.
In plain English, you can never make actual money by playing Solitaire Tripeaks!
Since users can only access the "Terms and Conditions" through the website, most of them probably don't even know this page exists.
As a result, they may play the game for months only to find out $150 was just a mirage.
The closer you get to $150, the less you will earn, which makes the goal unachievable.
Don't waste your time sending messages to the support team because they will not pay you. It's hopeless!
The most you can do is write a review to warn other people. However, I don't even recommend you waste your time since there are enough testimonials already.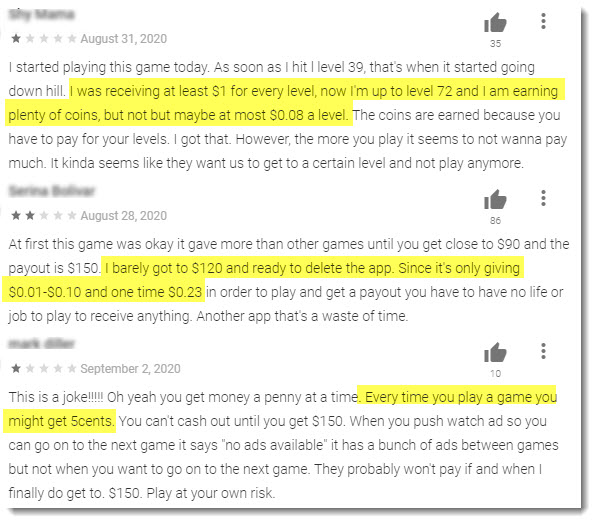 I believe Google will eventually impose rules to force app developers to be more transparent and honest regarding payments.
Until there, we will continue to see more and more complaints.
Is Solitaire Tripeaks a Scam? 
Solitaire Tripeaks want you to believe you can cash out, but, they are not willing to pay.
If your virtual currency can never be converted to real money as stated in the Terms of Service, then why give the option to cash out?

Why make people believe they can exchange $150 for cash via PayPal or Gift cards?
That's not right!
Solitaire Tripeaks will not scam you out of money, but in creating this illusion, they entice you to play for longer in order to maximize their profits.
Whether this business model is considered a scam or not, only the authorities can tell.
Similar posts 

This reward platform is going viral! Cash out via PayPal, Visa, Gift Cards, and in-game currencies - Click here to find out how to generate an extra $10+ per day! 
How Does Solitaire Tripeaks Work?

Installation 
You can download and install Solitaire Tripeaks for free on Google Play. Once you launch the app, it will ask permission to access photos, media, and files on your device.
Be careful as they don't explain why they need you to give this permission. It's best to deny this because you don't know their true intentions.
Next, you must agree with their Privacy Policy before you can play.
In my opinion, Solitaire Tripeaks should also ask users to read and accept the Terms of Service because it has key information about rewards.
How to Play?
The main goal of the solitaire game is to pick all the cards from the playing field. You can do so by tapping a card that is one higher or one lower than the card in hand.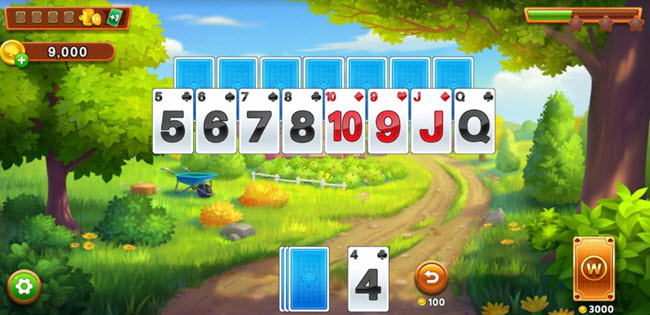 The rank from high to low is the following:
K Q, J, 10, 9, 8, 7, 6, 5, 4, 3, 2, A
Every time you pick all the cards and pass the level, you will receive a cash reward.
In the first level, you will get $10, but the more you play, the less you will earn!
You can build up $120 fast, but after that, you will get $0.10–$0.01 per level. Then, you will get stuck!
It's important to understand that even if you reach $150, you won't be able to cash out.
Once you pass each level, you will also earn bonus tokens that can use used to get extra cards.
Instead of spending your coins, you can watch a video in exchange for cards. You may also have to watch ads after passing levels.
Final Thoughts
The company behind Solitaire Tripeaks entices people to install their game by giving virtual cash incentives.
They advertise the app as if users were making real money, but the truth is that no one gets paid.
The "Terms and Conditions" states that Virtual Currency cannot be redeemed for real money.
Sadly, lots of people install the app without searching for reviews, let alone reading the terms and conditions!
Be aware that Google Play is full of games that will never convert your virtual balance to real money. The reason is that the advertising revenue the company is generating is not near enough to pay every user.
If the game is offering $50, $100, and even $150, there is a high chance it's fake!
My advice? Always read reviews before installing any mobile application. If it seems too good to be true, it probably is!
I've recently written a post where you can find game apps that are likely to pay you.  Unfortunately, those who pay cannot offer you a decent amount of money.

Earn a Full-Time Income Online
If you wish to work remotely and earn a full-time income online, I recommend building your own online business.
You can make thousands of dollars per month by writing content for your own website and promoting related products as an affiliate.
That's precisely the business model that I have been using for the last 5 years with success!
I didn't have any experience with affiliate marketing until I found this top-rated program, and started putting into practice what I learned.
This educational platform helped set up a WordPress site, rank on Google, and get lots of web traffic.
Today, I can bring my office with me wherever I go and make money on my own terms.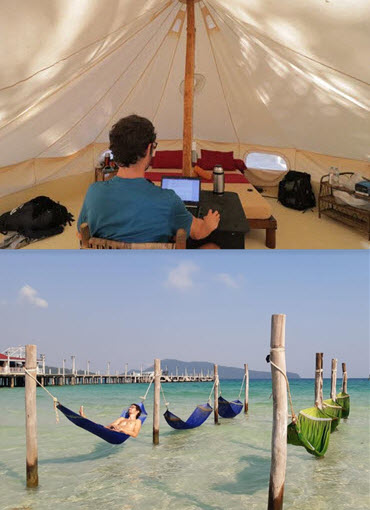 You can achieve great results too, but only if you work hard and have the patience to wait for your business to grow.
Final Words
Thanks for taking the time to read my Solitaire Tripeaks app review. I hope it was helpful!
If you have any questions or want to share your experience with this solitaire game, feel free to send us your message below.
Peace!