Welcome to my Fish Blast App Review!
I was browsing Google Play as part of my daily routine when I came across another "money-making" game called Fish Blast.
This is another mobile game that claims you can earn $100 by crushing blocks.
The company goes as far as to say you can win big prizes and become a millionaire! Seriously?
Can you really trust the company behind the Fish Blast app? Is it a scam or a legit application?
You made the right decision to search for more information before installing this app. Lots of people regret playing Fish Blast, and I will show you why!
Before you leave, discover the step-by-step program that helped me reach $1,600+ per month from my laptop and quit my job. No special skills required! Click here for full details! 
Fish Blast App Review
Name: Fish Blast
Company: Tuyoo Online (HK) Limited
Eligibility: Worldwide
Price: Free
Similar app: Panda Cube Smash, Prize Fiesta
Overall Rating: 2 stars
What is Fish Blast?
Fish Blast is a blast puzzle game like Candy Crush. The main difference is that it gives players the chance to earn real money, which explains why it has become extremely popular.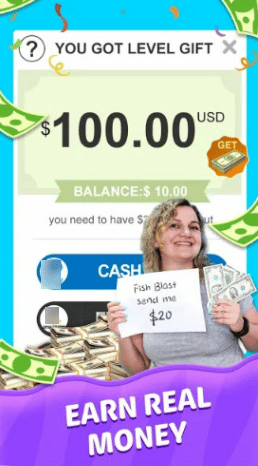 The app is almost identical to Panda Cube Smash, which was created by the same company.
All you have to do is match at least 2 cubes of the same colour to blast them.
The goal is to pass the level by reaching targets such as a blasting a specific number of red, white, and blue cubes.
Whenever you pass the level, you have the chance to get cash, which will accumulate in your account.
According to the app developer, you can cash out through PayPal or Amazon gift cards when your cash balance reaches $100.
Is Fish Blast Legit? Does it Pay?
I cannot call Fish Blast a scam without solid proof. However, I need to warn you that you may never cash out despite playing the game for weeks or even months!
In the beginning, the game will give you a generous amount of cash during the first levels, and you can reach $70 in less than 1 hour!
I assume the reason they do that is to give you the false expectation to cash out fast!
So, they hook you for a long time because the more you play, the less likely you are to give up on all your hard work.
Besides, the more you play, the more ads you watch, and therefore, the more ad revenue they make. They are clever!

The harsh reality of Fish Blast
The problem is that the closer you get from $100, the less money they will give you after each level. At some point, you will be earning a few cents after 5 levels or more!
Lots of people claim that after reaching $90, they started getting between 5 and10 cents every 5 levels.
At this rate, it will take ages to reach $100, and there is always a chance that your cash gets smaller and smaller. It's frustrating, to say the least!
This person has been stuck at $91.43 for a long time.

Pros and Cons
Pros
It's great to pass the time.
There are over 1200 puzzles.
It has excellent graphics.
Cons
Lots of people get stuck before reaching the payout.
The game drains your phone battery.
First, it says the minimum payout is $20, but after they increase the minimum amount to $100.
Every time you pass the level, you will have to watch an ad, not to mention the panda show.
How Does Fish Blast Work?
Installation
Fish Blast by Tuyoo Online is only available for Android devices. There is a similar Fish Blast available on the App Store, but that one doesn't offer the opportunity to win real money.
You can start playing the game right after installing the app on Google Play and accepting the Terms of Service.
How to Play Fish Blast?
It's very simple to play! You just have to collect cubes by matching two or more cubes of the same colour.
To pass the level, you must achieve a specific goal displayed at the top of your screen.

For example, you can complete level 1 by collecting 9 blue cubes. The difficulty increases level after level.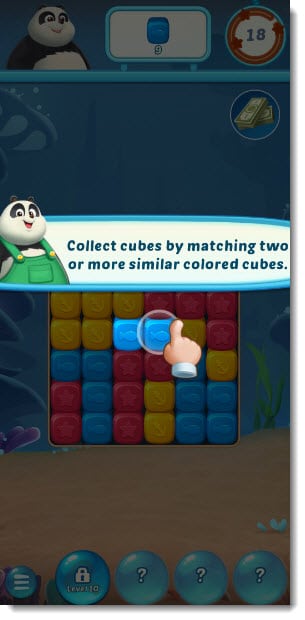 Keep in mind that there is always a limited number of actions per level. If you run out of moves, you can win more moves by spending 100 coins.
Alternatively, you can watch a video and spin the wheel for a chance to win extra moves.
When you match 5 or more cubes, you will activate boosters that will help you reach your goal faster.
For example, by matching 9 green cubes, you will create a spinning top that will blast all the green cubes of the board. It's also possible to merge two boosters and create a more powerful one.

This reward platform is going viral! Cash out via PayPal, Visa, Gift Cards, and in-game currencies - Click here to find out how to generate an extra $10+ per day! 
Fish Blast will always let you start the level with a free booster if you watch a video ad.
The game also offers many other features such as tools, gifts, tournaments and more!

Earning Cash Rewards
If you manage to reach $100, you should tap on the cash icon and select the payment method. You can choose to get paid via PayPal or Amazon gift cards.
As you already know, the game is designed to test your patience and you may never reach $100.
But, in the unlikely event that you beat the odds, there guarantee that the company will process your payment.
Conclusion
Fish Blast is a very addictive game that will keep you playing for hours if you are not vigilant. Besides, it has excellent graphics and cool features!
I am sure this game would be more popular than Candy-Crush if it actually paid $100.
Unfortunately, lots of people get stuck and give up once they realize how difficult it is to make money!
I would not call Fish Blast a scam because they didn't make any promises. But I don't believe people are able to reach $100 and get paid.
So, if you want to play Fish Blast, do so with no expectation of making money. I know there is always a hint of hope, but don't get frustrated when your cash balance gets stuck at $90 something.
This is not real money until the company decides to transfer it to your PayPal account.
Is There a Better Alternative to Fish Blast?
I believe this blast puzzle game is the only one that is processing payments for every player.
The cool thing about this app is that you don't need to reach a specific amount before you can cash out. However, the rate of pay is so low that most players only make fractions of a cent!
You can also make a little bit of money while watching funny videos with this app.
A much better alternative is to join a GPT site and make money by completing surveys and offers. Users are making over $100 per month with this reputable platform.
There are many alternatives to Fish Blast, but in the next section, I will show you the exact method I use to make a full-time income online. It takes a lot more effort, but it can transform your life!
Earn a Full-Time Income Online!
People all over the world are making thousands of dollars per month with a solid business model called affiliate marketing.
It consists of creating helpful content and promoting other products/services through affiliate links.
This is neither about creating your own product nor reselling it. Your job is to connect the customer with the merchant's products through your content.
There are many things you need to learn in order to attract visitors to your site and convert traffic to sales.

With so much information on the internet about different strategies, it's easy to lose track of the key factors that lead to success.
That's why I recommend a complete and structured training program that will guide you step-by-step.
I am glad that I could finally quit my job last year after following this excellent online business program and taking massive action.
Today, my affiliate site covers all my living costs and gives me the flexibility to work anytime,  anywhere I want.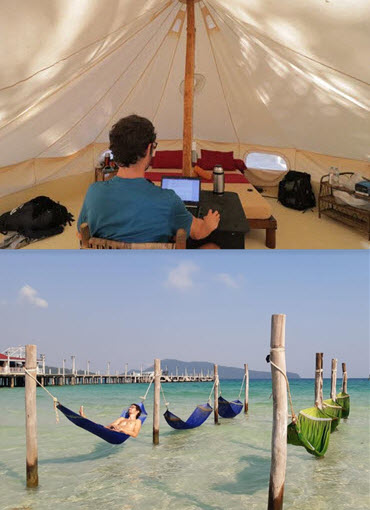 You can sign up for free today and start building your business with no strings attached. >> Click here to learn more!
Final Words
Thanks for dropping by and reading my Fish Blast app review. I hope it was helpful!
If you would like to share your thoughts about this game, feel free to use the comment box below. Did you reach $100 and get paid? Kindly share with us your experience.
Stay safe and peace out!