Welcome to Doggy GO app review!
The creators of Doggy Go are enticing you to play their cute merging game and earn real cash and Gift Cards.
All you have to do is drag and combine two dogs with the same level to form a new breed. Whenever you merge two dogs, you will unlock a new breed and earn virtual dollars.
Thousands of people are downloading this app with the expectation of making money while having fun. Unfortunately, the reward system will not follow the same pattern from start to finish, and you will struggle!
So, can you really make money the Doggy Go app? Is it legit and worth playing?
In this review, I will show you exactly how Doggy Go works and give you my frank opinion.
If you want to earn a full-time income working from home, don't forget to check out my #1 recommendation. This is the same program that helped me reach $1,600 per month and quit my job in 2019. 
Doggy GO App Review
Name: Doggy GO
Developer: Niuniu Studio Limited
Eligibility: Worldwide
Minimum Payout: $30
Price: Free
Similar apps: Puppy Town, Dog Condo
Overall Rating: 1 Star
What is Doggy Go?
Doggy Go is another merging game that is advertised as an opportunity to win real cash rewards.
Just like this popular dog merging game, the goal is to unlock new breeds by merging two dogs at the same level.
The game will dish out virtual cash whenever you unlock dogs, which you can supposedly withdraw via PayPal, Google Play and Amazon gift cards.
I searched on Google but couldn't find any information about the company behind it. Besides, Doggy Go doesn't even provide a Terms of Service to explain the rules and other important aspects of your account.
Pros and Cons
Pros
It's free.
Nice graphics.
The game is quite slow.
It's useful to pass the time.
New levels are added weekly.
Cons
They can increase the payout requirement at any time.
The app may stop giving you cash before you reach the required payout amount.
There are lots of complaints.
It drains your battery.
Ads are promoting untrustworthy "make-money" apps.
There are no Terms of Use.
Is Doggy Go Legit? Can You Make Real Money?
Doggy Go will give you virtual dollars while collecting dogs, but they require at least $30 before you can request the payment.
The minimum payout was $20 a few months ago, which means they can always increase this amount to make it harder.
Many people are claiming they got stuck at $12 because the game stopped giving them cash.  This is not a surprise to me as I have reviewed more than 40 games that do the same!
In the beginning, you will earn $0.20 – $0.50 whenever you unlock a new breed. So, it makes you think you will reach $30 quickly.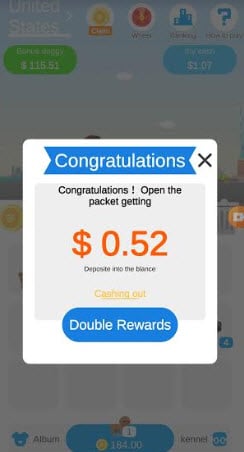 Not really!

The problem is that the more you play, the less you earn, so they make it almost impossible to cash out.
After playing Doggy Go for long enough, you may start earning a measly $0.01 per level. Also, the game may stop showing you ads so you cannot continue earning cash. However, this is not a rule for everyone.
Some people manage to reach $30, but they say they cannot fill up their PayPal email.
I cannot claim Doggy Go is a scam, but it's very unlikely that you will earn money.
The fact that the app doesn't provide a Terms of Use means that they can freeze your account or simply ignore the payment.
You are not the owner of your cash balance and the company has the power to limit your earnings whenever they want.
So, here is my advice. Don't play Doggy Go with the expectation of making money, or you might be very disappointed.
How Does Doggy Go Work?
Installation and registration
The Doggy Go app is available for Android deceives, and it is completely free. After installing the application on Google Play, you must sign up with using your Facebook account.
Unfortunately, there is no other sign up method available.
How to Play Doggy Go?
If you have never played a merging game before, it can take a few minutes to understand the mechanics. But the game is fairly simple!

You just need to drag a dog to another dog of the same breed or level. By merging those two dogs, you will form a new dog at a higher level.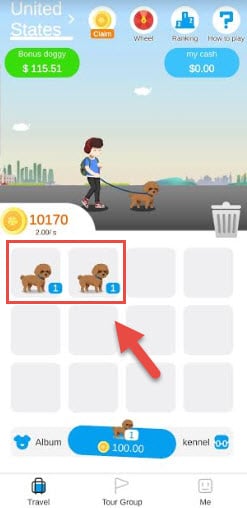 When you unlock a new breed of dog, you will earn cash.
As you achieve higher levels, you will be able to walk with your puppy in different cities.
Note that every dog is constantly generating a specific number of gold coins, which can be used to buy more dogs. The higher their level, the more coins they will provide.
Keep in mind that earning more coins does not influence the amount of virtual cash you will earn.

This reward platform is going viral! Cash out via PayPal, Visa, Gift Cards, and in-game currencies - Click here to find out how to generate an extra $10+ per day! 
However, dogs at higher levels are also more "expensive", so the more you earn, the higher your expenses.
Doggy Go reminds me of getting stuck in the rat race, where you always have to earn more to keep buying more expensive stuff.

Cash Rewards
As I mentioned, you must reach $30 to cash out, which may take forever!
I found some videos on YouTube where they were saying positive things about Doggy Go and showing income proof.
However, the money these YouTubers are making is probably the commission they earned for recording the video. So, it's basically a paid promotion!
It doesn't mean that you will also earn money unless you also create a promotional video.
In my blog, I write honest reviews, so I would never accept any commission to sell the idea of easy money.
Network Connection Failed
I played Doggy Go until I reached $1 and then closed the app to sleep. On the next, day I could not open the game anymore as it was showing "Network Connection Error".
I uninstalled it and cleared the cache in hopes to solve the issue, but it didn't work! So, I lost access to the game and all my earnings.
These technical issues can happen at any time, and there is no guarantee it will be fixed. This goes to show that you can also lose your account due to a supposed Network Failure.
Conclusion
Doggy Go is an idle game that will waste a substantial amount of your time and mobile data.
Apart from YouTubers who promote the app, I didn't find any person who received the PayPal transfer or Gift Card.
I feel sorry for people who play games for hours and never receive the payment they deserve.
It's important to raise awareness that app developers are not obliged to pay users. That's the reality.
A few companies process payments as they care about their reputation on the internet. But most of them just care about collecting the ad revenue with no regard for users.
The game itself is not too bad. It has cool graphics and helps pass the time. I just think they should not offer cash incentives if they are not willing to pay.
Is There an Alternative to Doggy Go?
As far as I know, all the merging games like Doggy Go follow the same pattern regarding payments. You will probably get stuck while playing all of them!
That's the case with over 95% of "money-making" games available on Google Play.
There are much better strategies to earn a little money on the internet. For example, you can join GPT platforms and make money by completing surveys and offers.
Another great option is to sign up for usability testing sites and get paid for giving your feedback on website and apps.
Unfortunately, the earning potential of these methods are very limited, so you may not earn as much as you would like.

If you are serious about making money online, discover how you can earn a full-time income online in the section below.
Earn a Full-Time Income Online
Anyone can work remotely and earn a decent amount of money by operating an online business!
There are many strategies, but affiliate marketing is my top recommendation for most people.
The business model consists of providing helpful content and connecting readers with merchant's products via your own website.
Anyone can start with no previous knowledge or experience and eventually reach thousands of dollars per month. 
In 2015, I joined an online business training that helped me set up an affiliate site from scratch, and get massive traffic. Today, it allows me to work independently anytime, anywhere I want.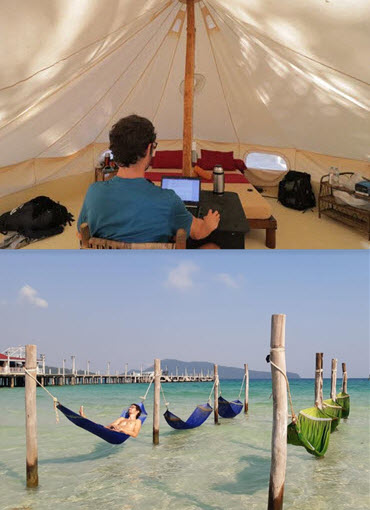 If you would like to give it a try, you can start building the foundation of your business completely for free. >> Click here to learn more!
Final Word
Thanks for taking the time to visit my blog and read my Doggy Go app review. I hope it was helpful!
If you have any questions about this game, feel free to leave us a comment below. Also, please share with us your results. Did you reach $20 and cash out?
Take care!