Welcome to my Solitaire Cachore review!
I am guessing you watched an advert saying you could win real money by playing Solitaire Cachore.
The video I have seen about this game was showing someone with piles of cash and this sales pitch:
"If you are young and need money, download and play Solitaire Cachore and make an average $25 every level!

I make $50 – $180 per day!" 
Not only that, but they also simulate the game as if players could earn hundreds of dollars quickly.
Solitaire Cashore is operated by TUYOO, which has two other similar games called Solitaire Tripeaks and Solitaire Jackpot.
Note that they didn't even bother changing "Tripeaks" for "Cashore" in the promotional video.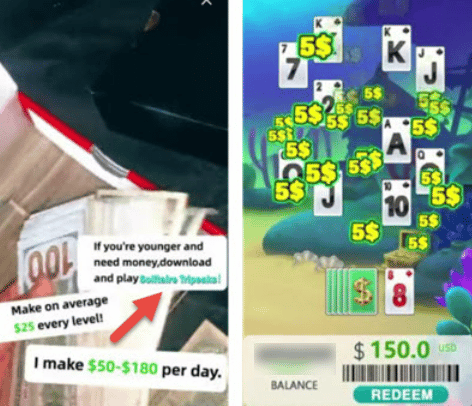 UPDATE: Solitaire Cashore was rebranded as Solitaire Bigwin on the Play Store. After installing the app, it still shows the former name.
If you are thinking about installing Solitaire Cachore to make some easy cash, I urge you to read this review until the end.
Here, I will explain how the game works and answer key questions like "Is solitaire Cashore legit?", "Does it pay or not?".
If you are searching for a proven strategy to make money online, check out my #1 recommendation. This step-by-step program helped me generate over $2K+ per month. It's newbie-friendly and free to get started! 
Solitaire Cashore Review Summary
Name:

Solitaire Cashore (Solitaire Bigwin)

Developer:

TUYOO 

Eligibility: Worldwide
Minimum Payout: $150
Price: Free
Overall Rating:

2/5
How Does Solitaire Cachore Work? 
Installation 
The Solitaire Cashore is available for free on Google Play. After installing and launching the app, they will ask permission to access files, media, and photos on your device.
Why do they need access to your personal files on your phone? Please, if you insist on playing this game, click deny!
If you already allowed such permission, change it on your phone's settings, or better, uninstall the game asap for your own safety!
How to Play Solitaire Cachore
When you start the game for the first time, it shows all the chapters at the bottom of the sea and the saying:
Let's begin our great solitaire trip, capture the mighty treasure, and win REAL CASH!
Tap anywhere to start playing Solitaire Cachore in level 1 of chapter 1. Just keep in mind that each chapter has 20 levels.
All you have to do is tap a card one higher or one lower than the hand card. For example, if the card in hand is 8, tap on either 9 or 7.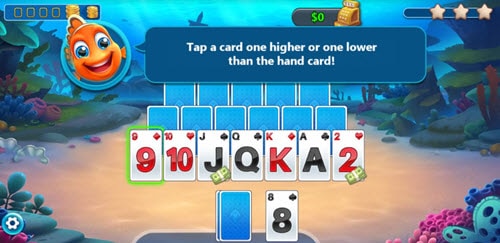 If you are not familiar with solitaire, I will make your life easier! The sequence of cards from high to low is the following: K, Q, J, 10, 9, 8, 7, 6, 5, 4, 3, 2, A.
If your face-up card doesn't meet the requirements, flip over a card from the stockpile.

If you get stuck, you can order more stockpiles by either watching a video or spending 3500 coins. Alternatively, you can spend 100 coins to use the previous face-up card.
It's very easy to complete the first level because they will point to the cards you must select, and they are all in the correct sequence.
Note that some cards have little cash icons. Whenever you select these cards, you will get virtual dollars.
Once you complete the level, these dollars will accumulate in your cash balance. According to the rules, you need to have $150 to cash out via PayPal or Amazon gift cards.
If you want to earn real money via PayPal, check this top reward site. 
Mysterious Fortune
You will unlock the board game called Mysterious Fortune when you reach level 7.
Simply roll the dice to collect coins and boosters that will help you while you are playing Solitaire Cashore.
This game will entice you to watch videos because you will need over 3 dices to complete a round or open the treasure chest.
Is Solitaire Cachore Legit? Does it Pay? 
Solitaire Cashore has the same algorithm used not only by TUYOO and many other games.
They start off giving a decent amount of cash to get you hooked. However, your earnings will diminish over time, and at some point, you will just earn pennies per level.
After $149, you will probably make $0.01 after 10 – 20 levels. At this rate, it will probably take you at least 5 months to cash out.

However, lots of people are saying they got stuck before reaching $150, so it's likely that Solitaire Cashore will never let you redeem.
One woman said once she got to $144, she had to pass 100 levels to make a $0.01. That's insane!
Do you remember when they said you would make $25 per level? Now you know that's not true!
I scrolled through many reviews on Google Play and could find a single person who received the money.
So, no. I don't think Solitaire Cashore will pay you even if you reach $150 and request the money.
Nevertheless, it may not be considered a fraud by the authorities because of the "Terms of Service", which states the following:

This reward platform is going viral! Cash out via PayPal, Visa, Gift Cards, and in-game currencies - Click here to find out how to generate an extra $10+ per day! 
"You understand that you have no right or title in the virtual in-game items or Virtual Currency."

TUYOO ONLINE (HK) LIMITED retains the right to modify, manage, control and/or eliminate Virtual Currency at its sole discretion. Prices and availability of virtual in-game goods are subject to change without notice.
In other words, they have the right to decide whether they will pay you or not.
Bear in mind the "Terms of Service" is only available via the official TUYOO website, so many people are now aware of that.

The main problem is how they are advertise these games, which is causing a lot of frustration and anger.
Claims that you can make, on average, $25 per level, and over $100 per day are false!
Pros and Cons
Pros 
Excellent graphics.
The game is fun to play and helps pass the time.
Cons
You may get stuck before reaching $150.
There is no evidence that it pays.
Misleading advertising.
The Terms and Conditions are not available inside the game.
Conclusion
Solitaire Cashore is an excellent game, except for the money-making part. Thousands of players install the game in hopes of cashing out and end up wasting an incredible amount of time!
Unfortunately, almost every user complains about getting stuck a few dollars or even cents from reaching the $150 mark.
Please understand that no game company can afford to pay hundreds of dollars for players who reach specific targets.
Even if they wanted to pay everyone, people would have to watch thousands of videos just to help the company break even. It's not a sustainable!
Earn A Full-Time Income Online
If you wish to make actual money from home, I suggest investing your time in growing an online business!
It's not complicated, but you must put in consistent work and be patient. 
The business model that I use revolves around creating helpful content and promoting products as an affiliate.
This excellent step-by-step program helped me create a lucrative site even though I had no clue about web design or internet marketing.
Today, it allows me to set my own schedule and work independently from anywhere I want.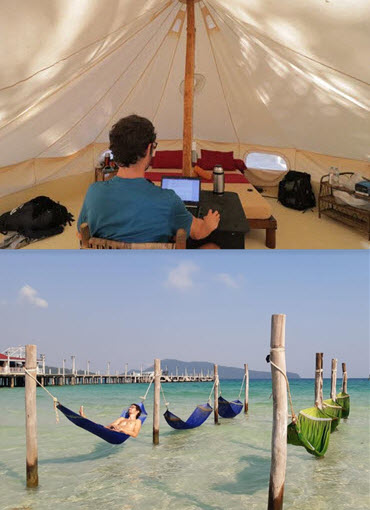 >> Check out my #1 recommendation and join now for free! <<
Final Words
Thanks for taking the time to read my Solitaire Cashore review. If you have questions or want to share your thoughts about this game, leave us a comment below.
Peace!
Read Also