Welcome to my 2048 Cards – Merge Solitaire
2048 Cards – Merge Solitaire is a simple card game where you have to merge cards with the same number to earn rewards.
When you touch two identical cards, they will form one card with double the number, and you will get coins or cash rewards.
The goal is to unlock the card number 2048 and, hopefully, withdraw the money.
2048 Cards was created by Bowling App, which also operates another addictive game called Bowling Idle. For some reason, the app is also known as 2048 Solitaire.
To my disappointment, the app is still in early access and players don't have the chance to share their experience and opinions on Google Play.
Worry not! If you have played 2048 Cards and you want to write your own review, feel free to share your thoughts in the comment section below.
Top recommendation: discover the step-by-step program that helped me reach 2,000 USD+ per month and quit my job in 2019. No special skills required! 
2048 Cards App Review
Name: 2048 Cards – Merge Solitaire (2048 Solitaire)
Developer: Bowling app
Eligibility: Worldwide
Minimum Payout: $5 (Amazon Gift Card), $200 (PayPal)
Price: Free (no in-app purchases)
Overall Rating:

2/5
How Does 2048 Cards App Work?
2048 Cards available for free on Android devices. Once you launch the game, click "Play" and you are good to go.
How to Play 2048 Cards?
Slide the card from the bottom to the top and touch with a card with the same number/colour.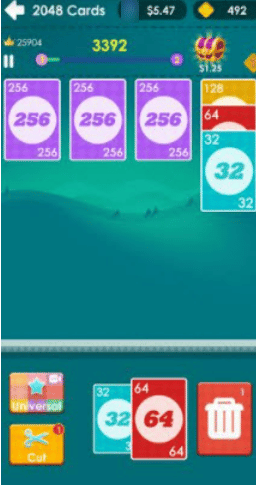 When you combine two cards of the same number, they will be replaced by one with double the number. For example, two cards 64 will form one card 128. As a result of merging cards, you will collect coins or virtual cash.
It's important to mention that you can only collect virtual cash if you watch a video. You can skip it and keep playing, but in that case, you won't get rewarded.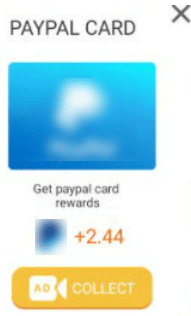 The best strategy is to always keep the numbers in the same order. For example, if you need to pull a card 64, you should place it right after the card number 128. The reason is that once you merge two 64, the new card 128 will automatically merge with one at the back to form 256.
If any card hits the limit line, the game is over. However, you can always restart the game and keep collecting rewards.
How Do You Get Paid? 
You must earn at least $200 before you withdraw your cash balance via PayPal. You can also redeem your coins for PayPal cash or a variety of gift cards. The minimum payout threshold depends on your country. In the UK, you can exchange 570,000 coins for £5 paid via PayPal or Amazon Gift Card.
Is 2048 Cards Legit? Will You Get Paid? 
I suspect that 2048 Cards works just like the other apps that I reviewed on my blog. In the beginning, it will give you a decent amount of cash, but when you get closer to $200, you will start earning just pennies at a time.
Therefore, reaching the minimum payout will certainly take way longer than you thought you would, and you may even get stick before reaching $200. This is a clever strategy to increase ad views and generate more profits.

Different games behave in different ways and it's difficult to predict that will happen if you play 2048 Cards for long enough. You may reach the minimum payout, but it doesn't mean the company will pay you.
It's important to note that virtual cash/coins have no real-world value and that the company is not obligated to convert your balance to real rewards. That's why 2048 Cards may not be considered fraud in the eyes of the law even if it doesn't pay you.
>> Check my top-rated apps that pay you instantly via PayPal.
Conclusion 
2048 Cards (aka 2048 Solitaire) is similar to other solitaire games that you can find on Google Play or App Store. The main difference is that it gives you the chance to withdraw real money. Well, at least in theory!
It's a great game to pass the time, and unless you want to collect virtual cash, you won't have to want lots of ads.
Unfortunately, you may have to play 2048 Cards for a very long time to reach $200 or the minimum number of coins. That's because the more you play, the less you will earn. Still, there is no payment guarantee after playing for weeks or months!
Earn a Full-Time Income Online
If you crave freedom, you suggest building your own online business so you can make money on your own terms.
In my opinion, there is nothing better than being able to work anytime, anywhere I want. That gave me the motivation to work hard and achieve my online goals.
Thanks to this excellent step-by-step program I joined in 2015, I created a profitable affiliate site with no previous experience. It allows me to work remotely from an affordable country and enjoy beautiful views during break time.
Sign up for free and start building your website site today with no strings attached.  >> Click here to learn more!

Final Words
Thanks for your time to read my 2048 Cards app review. I hope it was helpful!
So, did you manage to cash out? If so, did you get paid? Share your experience with us in the comment section below.
Stay safe and peace out!