Welcome to my Dropping Ball app review!
Dropping Ball has been advertised as an opportunity to win hundreds of dollars in a matter of seconds.
The advert shows green balls falling into the slots, giving anywhere between $1 and $100.
And, of course, there is a cash balance at the top implying that you can cash out hundreds of dollars via PayPal.
I lost count of how many games use virtual cash to hook players and expose them to excessive number of sponsored videos
You are reading this post as you don't want to fall victim to another time-sucking app that doesn't pay.
So, is Dropping Ball a scam or a legit application? Can you make real money?
I am here to explain how the game works and answer these crucial questions.
If you are searching for a real strategy to make money online, check out my #1 recommendation. This step-by-step program helped me generate over $1,600+ per month and quit my job. It's newbie-friendly and free to get started! 
Dropping Ball App Review 
Name: Dropping Ball
Developer: Len Fox Game
Eligibility: Worldwide
Minimum Payout Threshold: $100
Price: Free (no in-app purchases)
Overall Rating: 

1/5
What is Dropping Ball?
Dropping Ball is another Plinko-style game where players must drop balls inside the pegboard, so they fall into the slots.
Thousands of people have installed Dropping Ball because they believe in-game tokens can be converted to real money.
Well, that's because the developer is promoting it as a "money-making" app, and using the PayPal logo as bait. Here is a screenshot: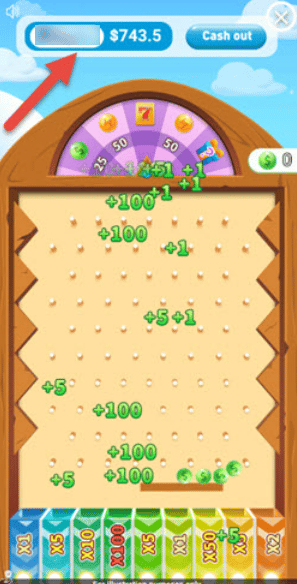 Not that right at the bottom of the video, there is a small print that says "For illustration Purposes only".
Moreover, there is absolutely no information about rewards in the app description or "Terms and Condition".
Still, many people think the dollar signs are real and that they can eventually cash out.
Dropping Ball was developed by Len Fox Game and mirrors this popular game by Shape Keeper and many other apps.
How Does Dropping Ball Work? 
Installation 
Dropping Ball is available for free on the Google Playstore. After installing the game, you can start immediately with no account.
How to Play
Dropping Ball is an addictive game, and it's hard to stop playing, especially in the beginning when green balls are abundant.

You will start the game with 50 green balls, and you can get another 50 by watching a video or spending $2 from your cash balance. Alternatively, you can wait 200 seconds to get one extra yellow ball.
Decide the place where each ball is supposed to fall and tap on the screen to drop them.
When the ball falls into a slot at the bottom, the light bulb will light up your will earn token or virtual cash rewards.
One green ball is worth $0.01, whereas one yellow ball is worth 1 token.
Keep in mind that each slot has a multiplier such as x1, x2, x10, x50, and x100. Each number in front of "x" represents the multiplier.
For example, if a green ball falls into a "x2" slot, you will earn $0.01 x 2 = $0.02.
If you light all 9 bulbs, you will play the lucky wheel for a chance to win more cash and token balls. If you hit "7", you will earn lots of green balls that will fall straight into the slots.
You can use these two helpful tools after watching a video:
Clear – Clear all obstacles for 60 seconds.
Light – Light 1 bulb.
Collecting Eggs
You can also get eggs by spinning the wheel, and if you collect all 20 eggs, they say you can win $1,000.
How Do You Get Paid? 
If you click on the cash or token balance at the top, you will find out you need to meet the following requirements:
2,000,000 tokens: Redeem 100 USD via PayPal.
100 virtual cash: Redeem 100 USD via PayPal.
Match 777 in the lucky wheel: Win 777 USD via PayPal.
100 Virtual Amazon cards: Redeem 100 USD via Amazon Gift Cards.
20 Eggs: Win 1000 USD.
Will Dropping Ball Pay You?
Many people are claiming Dropping Ball is a scam because they can never reach $100, making it impossible to cash out.

As you know, you need to spin the lucky wheel to collect more green balls and thus grow your cash balance.
The problem is that the wheel is rigged, and so the closer you get to $100, the fewer green balls you will get.
After you reach over $90, the wheel will start working hard against you, and the crying emoji will become your best friend.
As a result, you will make very little progress after spending a significant amount of time playing and watching videos.
Besides, the value of a green ball will change from $0.01 to $0.001, which is a slap in the face!
Lots of players said they stopped earning green coins and got stuck somewhere between $90 and $98.

This reward platform is going viral! Cash out via PayPal, Visa, Gift Cards, and in-game currencies - Click here to find out how to generate an extra $10+ per day! 
Apparently, you can reach $100 after playing Dropping Ball for months, but unfortunately, you will not get any money!
One person made it to $100 only to discover that the minimum payout jumped to $150.

The $1,000 prize for collecting 20 Eggs is also not real, guys! You may never collect all the eggs, and even if you do, the app developer is not obligated to pay you.
Is Dropping Ball a Scam?
The Dropping Ball app does not steal your money as most internet scams do, but it exploits your time in return for profits.
How do they do that?
Well, by inducing you to think you can make $100 or even $1,000 as long as you play the game for long enough.
The more clips you watch, the more money the app developer makes!
That wouldn't be a problem is they were not enticing users with the opportunity to make money.
The huge number of complaints gives us sound evidence that Dropping Ball is a scam. However, I hope you understand I cannot make any accusations here without solid proof.
All I can say is that you are unlikely to receive your payment, regardless of how long your play.
They act smart by advertising the game inside other apps, thus avoiding big platforms like Google or Facebook.
Besides, most of these apps operate from Asian countries, making it easy to bypass advertising regulations in other countries.
Pros and Cons
Pros
It helps pass the time.
Nice graphics and realistic mechanics.
Cons
The game itself just makes sense if you can win real money. Otherwise, it's not fun at all!
It takes a long time to reach $100.
You may get stuck before reaching the payout threshold.
There is no evidence that it pays.
Final Thoughts
The Dropping Ball app works pretty much like hundreds of other games that will never pay you.
They give you lots of "fake" cash in the beginning just to hook you up.
Eventually, you will realize they were never committed to reward players.
If you are searching for a legit and easy way to supplement your income on the internet, the best option is to join a reliable GPT site.
You won't be able to quit your job using this type of platform, but at least you know you will get rewarded for your time and effort.
Verdict: Not Recommended
Earn A Full-Time Income Online
If you wish to work remotely and earn a full-time income online, I suggest building an online business!
It doesn't require any special skills, but you must put in the work and be patient. 
My job as an online entrepreneur is to provide helpful content and promote products as an affiliate.
By attracting visitors to my website, I generate commissions and ad revenue that cover all my living expenses.
This excellent step-by-step program helped me create a website from scratch and use powerful SEO strategies to get first page Google rankings.

Today, it allows me to set work independently anytime, anywhere I want.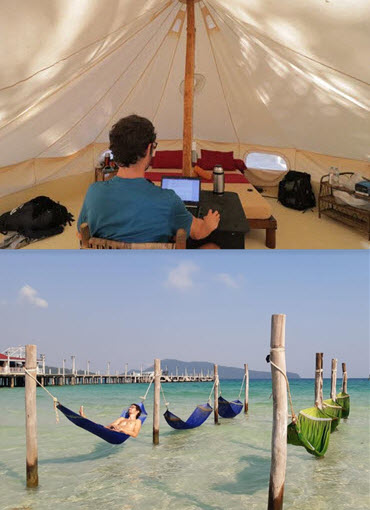 >> Check out my #1 recommendation and join now for free! <<
Final Words
Thanks for taking the time to read my Dropping Ball app review. If you played this game, feel free to leave your honest review in the comment box below. 😉
Peace!
Read Also