Welcome to my Fall Pops 3D app review!
If you play games on your phone, you may have seen a very enticing video about Fall Pops.
It shows a guy with stacks of cash in his hands, suggesting that players can earn lots of money just by merging balls.
In this unrealistic gameplay depicted by the advertising, each ball represented a specific cash amount from $2 to $64.
Whenever two identical balls merged, the game would add cash to the fictitious PayPal balance, which was growing fast.
As you can see, there seems to be no limit to what app developers can advertise on people's smartphones.
So, you may be wondering if Fall Pops 3D is a legit or a fake application. Does it pay or not?
If you are tired of playing games that never pay, check out my #1 recommendation. This step-by-step program helped me generate over $1,600+ per month. It's newbie-friendly and free to get started! 
Fall Pops 3D App Review
Name: Fall Pops
Developer: Infinity Play
Eligibility: Worldwide
Minimum Payout Threshold: $200
Price: Free (no in-app purchases)
Overall Rating: 

1/5

This reward platform is going viral! Cash out via PayPal, Visa, Gift Cards, and in-game currencies - Click here to find out how to generate an extra $10+ per day! 
What is Fall Pops 3D?
Fall Pops 3D is a mobile game where players have to merge nearby balls that have the same number. It's that simple!
The owner of this app is Infinity Play, which operates other less popular games such as Neon Cubes 4048, and Gem Sort 3D.
This company is enticing users to play Fall Pops and watch lots of videos with the expectation to earn money.
However, there is no information about rewards in the app description. Not only that, but they didn't even bother providing a "Terms of Service".
Yet, the game has a fake PayPal balance at the top and will give you virtual dollars every time you reach the target.
And, of course, they claim you can cash out at $200!
The amount of advertising Fall Pops 3D throws at you is insanely abusive, to say the least!
Clearly, only people who want to make money will continue playing this game to reach the magical $200.

How to Play Fall Pops 3D
You can play Fall Pops 3D right away after launching the game. It requires no registration or permissions of any kind!
All you have to do is swipe your finger to connect nearby balls with the same number.
You can only connect identical balls if they are touching or very close to each other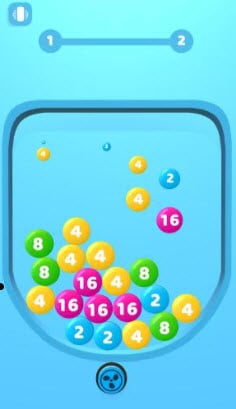 If there are not enough connections available, you can use the hairdryer button to disturb the balls inside the container.
Whenever you merge the numbers, you will form a bigger number that follows the geometric sequence: 2, 4, 8, 16, 32, 64, 128, 256…
For example, if you merge 4 balls number 2, you will get one ball number 8.
When you complete the loading bar at the top, you will get a message saying that you won money.
Now, here is the deal. If you want to collect your virtual rewards, you must watch a video first.
By doing so, you are helping the developer generates revenue.
The virtual cash will accumulate in your PayPal balance, which you can redeem via Paypal, or so they say!
Does Fall Pops 3D Pay Real Money? 

Nope! It doesn't! No matter how long you play this game for, you may never get to $200!
Fall Pops 3D will give you a decent amount of "cash" in the beginning just so you get hooked to the game.
However, they will use what I call the "carrot on a stick" tactic, which consists of decreasing your rewards as you play.
Eventually, you will be earning $0.01 per level until they stop giving you money before you reach $200.
I couldn't check user reviews on Google Play because Fall Pops is in "Early Access". However, I visited some videos on YouTube and found some people who got stuck at $199. 
It's always the same story, folks!
Some games even let you reach the minimum payout and request the payment, but they will never pay you.
So, don't expect to make any money with Fall Pops 3D. It's fake money! 
Searching for real opportunity to make $1,000+ per month? Check out my #1 recommendation and take action! 
Is Fall Pops 3D a Scam, Then? 

Unlike many internet scams that will suck your wallet, Fall Pops 3D use a different approach.
Although there is no risk of losing money, you will certainly lose your precious time.
I avoid making accusations on my blog without solid proof, which is why I cannot call Fall Pops a scam for now.
However, I found the advertising and virtual cash system very misleading.
It's important to note that without the "terms and conditions", there is no legal agreement between you and the app developer.
In other words, they can manipulate virtual earnings and ignore payments at their sole discretion.
Is There an Alternative to Fall Pops 3D? 
I have reviewed lots of merging games that claim to transfer money to user's PayPal accounts. Unfortunately, they are all too good to be true!
There are some legit apps that pay you to install and play mobile games until you reach a specific level. One of the most reputable ones is Playspot. Check out my Playspot review here. 
Just keep in mind that it takes a very long time to qualify for your first payment. You must play games for hours just to make a measly $0.50!
Therefore, I only recommended it for people who already play games regularly. In that case, the money is just a plus!
Read also
Final Thoughts
The game itself is addictive, but it gets boring if you play it for a while.
I'd avoid playing Fall Pops 3D or any other game that claims you can make stacks of money via PayPal.
You will just waste your time watching an insane number of videos.
At the end of the day, only the developer is making profits by selling advertising space, which is used to promote other misleading games.
Don't waste your time trying to find a game that pays $50 – $200. The cash reward is just an illusion. Period!
Verdict: Not Recommended 
Earn a Full-Time Income Online
The internet provides excellent opportunities for people who dream big and are prepared to put in the work.
I use a business model called affiliate marketing, which consists of promoting other people's products in return for commissions.
Building an online audience and promoting digital products is the best way to make money online.

I had no idea how to make it work until I found this excellent step-by-step program.
This platform helped me focus on the right strategies to rank on Google and get the traffic required to generate $1,600+ per month.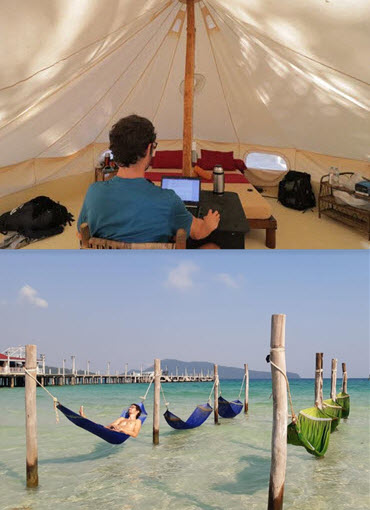 >> Check out my #1 recommendation and join now for free! <<
Final Words
Thanks for taking the time to read my Fall Pops 3D review. If you have questions or thoughts about this app, use the comment box below.
Peace!