Welcome to my Cash Solitaire app review!
In today's post, we will inspect another Shape Keeper's app called Cash Solitaire.
The company claims that you can redeem virtual currency to real cash by playing solitaire, slots, and other games.
Maybe you watched an advertising showing stacks of cash and a fictitious PayPal account with $1,200!
They even put a red button at the end saying "Get Rich". Here are some screenshots of this unrealistic advert: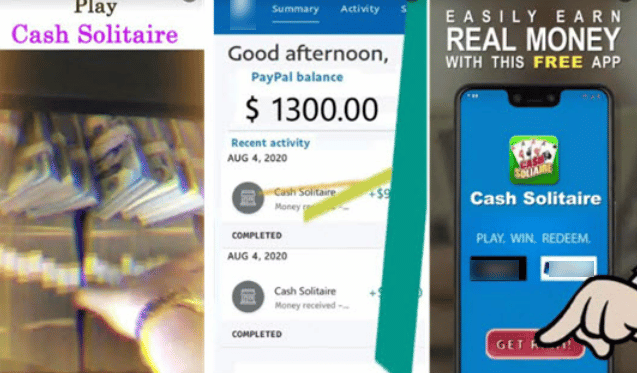 You are here because you have the gut feeling that this is too good to be true. So, is Cash Solitaire a scam or a legit app? Does it pay real money or is it fake?
Keep reading to find out, and if you want to leave your honest review, feel free to use the comment box below.
If you are sick of games that never pay, check out my #1 recommendation. This step-by-step program helped me build an online audience and generate over $1,600+ per month. It's newbie-friendly and free to get started! 
Cash Solitaire Review Summary
Name: Cash Solitaire
Company: Shape Keeper Co., Ltd
Eligibility: Legal residents of the US who are at least 17 years old
Price: Free to join (no in-app purchases)
Type: Entertainment (no financial risk)
Minimum payout: $1
Overall Rating: 2/5
What is Cash Solitaire?
Cash Solitaire is a patience card game that claims you can earn money and physical gifts such as an iPhone xs.
The company behind this application is Shape Keeper, which also operates Lucky Pusher, Plinko Master, Hyper 2048, to name just a few.
These games award virtual dollars, making people believe they can cash out at least $100 via PayPal and Gift cards.
Cash Solitaire also features a slots machine that allows you to win more virtual cash, coins, and puzzle pieces.
It's important to note that Cash Solitaire is completely free. Therefore, players are trading their time instead of risking their hard-earned money.
It's all good on the outside, but will Shape Keeper let you reach the payout threshold?
Does Cash Solitaire Pay Real Money?
The only way to investigate whether Cash Solitaire is rewarding users is by reading the user reviews on Google Play.
There, you can find hundreds of testimonials from people who took the time to play the game for long enough.
Not surprisingly, I didn't find a single person who receive any reward from this app.
Cash Solitaire is like the rest!
It starts great by giving you a decent amount of virtual cash and pieces during the first rounds. But your earnings will decrease until you get stuck between $90 – $99.
Therefore, you may never cross the $100 needed to cash out. Besides, you may never collect enough puzzle pieces to request your Amazon gift card or iPhone xs.

Shape Keeper replies to users with an automated message saying that lots of lucky players have won big rewards. But how many people are winning on a daily or monthly basis?
There is no answer to this question and no evidence of payments. So, until someone proves me wrong, I don't think Cash Solitaire pays!
Is Cash Solitaire a Scam?
I don't think Cash Solitaire would be considered a scam by the authorities. However, the way they advertise the app is probably breaking regulations in many countries.
As the company targets residents from abroad, they don't seem to get in trouble.
It's understandable why users get frustrated for not making any money, but it's important to read the official rules regarding prizes.
According to the "Terms of Service", only USA residents are eligible to win rewards. Therefore, the vast majority of players have no chance!
Also, it says virtual currency has no real value and can only be exchanged for goods at the companies' discretion. In other words, they don't need to pay anyone!
How Does Cash Solitaire Work?
Installation
The Cash Solitaire app is only available on Google Play for Android devices. It doesn't require any registration or permissions before you can start playing.
How to Play?
The goal of the Solitaire game is to build four groups of cards from low to high in the upper left corner.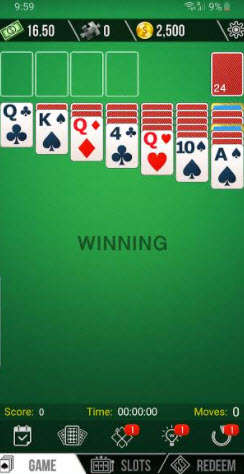 Ace is the smallest in the game and the four foundations are built up from ace to king.
If you are not familiar with cards, the right sequence is A, 2, 3, 4, 5, 6, 7, 8, 9, 10, J, Q, K.
Keep in mind that each group can only contain one suit.
There are 4 suits: spades (♠), diamonds (♦), clubs (♣), and hearts (♥).
You can move face-up cards in the columns, but they must alternate between red and black. For instance, you can only put black 9 under red 10.

This reward platform is going viral! Cash out via PayPal, Visa, Gift Cards, and in-game currencies - Click here to find out how to generate an extra $10+ per day! 
Besides, you can move sequential piles of cards between columns by tapping or dragging the deepest card.

Scoring System
When you finish a game, you will earn pointers according to your score.
>4500 (3 stars): Earn 3 pointers
3000 – 4500 (2 stars): Earn 2 pointers
<3000 (1 star): Earn 1 pointer
Every time you play solitaire, you consume one Pointer. So, if you run out of pointers, you will have to wait for 2 hours for the next opportunity to play.
Therefore, it's important to get high scores if you want to play more.
Reward System
Cash Solitaire gives you several payment options according to the type of tokens you collect during the game. Here is the complete list with all the requirements:
100 USD (PayPal): Earn 100 virtual cash.
128G iPhone xs (499 USD): Collect 100 iPhone puzzle pieces.
1 USD (PayPal): 3,000,000 coins.
3 USD (PayPal): 5,000,000 coins.
6 USD (PayPal): 10,000,000 coins.
1 USD (Amazon gift card): 25 puzzle pieces
3 USD (Amazon gift card): 25 puzzle pieces
6 USD (Amazon gift card): 25 puzzle pieces
Lucky Scratch
After facing up some special cards in the game, they will let you play the lucky scratch for a chance to win the following prizes: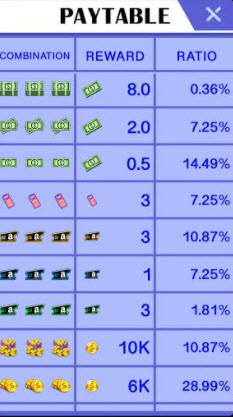 All you have to do is scratch the card and match 3 symbols. You can always watch a video to scratch another 3 symbols.
Even without any match, you will get 500 coins.
Lucky Wheel
A Lucky wheel is awarded when you finish a solitaire game. You will have the chance to collect virtual cash, puzzle pieces, and extra coins.
Slots Machine
You can also try your luck by playing the slots machine by using 4,000 coins or watching a video. Tap on the exclamation mark to discover the odds of matching each combination.
Daily Challenge
Complete challenges by playing Cash Solitaire daily and win Amazon puzzle pieces. Past challenges can be completed again at any time, but you will only get rewarded once.
What Users Are Saying
I have seen lots of 1-star reviews on Google Plan and no success story!
The main issue people complain about is that Cash Solitaire stops adding pieces and cash as they get close to redeeming rewards. So, they get stuck!
Some people manage to collect enough iPhone and Amazon card pieces, but no one seems to receive these prizes.
Pros and Cons
Pros
There is a helpful tutorial on how to play solitaire.
Solitaire is a great classic game that helps to pass the time.
Cons
You will probably stop earning virtual cash and other virtual currency as you are close to redeeming.
There is no evidence that Cash Solitaire pays.
Only US residents are eligible for prizes.
Conclusion

Cash Solitaire is a nice game to pass the time, but I don't advise playing it with the expectation to make actual money.
You may never collect enough virtual cash, coins, or pieces to claim your reward. And, even if you do, Shape Keeper can simply reject your payment request for no reason.
Well, actually, we all know the reason!
The truth is that app developers have no obligation to pay anyone, so why would they do so?
Cash Solitare is just a game that you play for fun and nothing else!
Verdict: Not Recommended
Is There an Alternative to Cash Solitaire?
YES, there is!
The only solitaire that pays everyone is Bitcoin Solitaire, which is operated by PlayGame Studios in cooperation with Bling.
This mobile game will let you redeem Bitcoin rewards as soon as you earn 1000 Bling Points.
The downside is that you may have to play for an entire year to make less than $5 worth of BTC. Well, that's why they can afford to pay for everyone and, besides, it's better than playing for free!
Now, if your top priority is to make money online, all of these mobile apps are a complete waste of time!
Earn a Full-Time Income Online
The internet gives you the opportunity to work remotely and make money on your own terms.
Why not invest your time into building an online business that will earn passive income for years to come?
It's not complicated, but you must learn how to build a solid foundation, put in the work, and be patient.
I started with absolutely no experience and was able to go from $0 to $1,600 per month!
You can do it too!
This excellent step-by-step program helped me create an affiliate site and get enough traffic to earn commissions.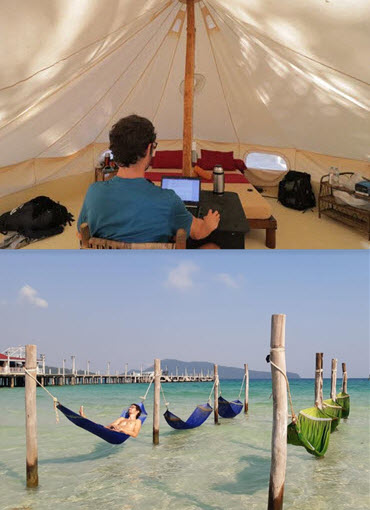 >> Check out my #1 recommendation, and join now for free! <<
Final Words
Thanks for taking the time to read my Cash Solitaire app review. If you have questions or thoughts about this app, leave us a message below.
Peace!

Related posts: