Welcome to my mGamer app review!
Are you searching for an easy way to earn game vouchers and cash from your mobile device?
I have recently discovered a popular application where you can collect coins by playing games, watching videos, taking surveys, and completing other simple tasks.
Coins can be exchanged later for a variety of game currency such as Free Fire Diamonds, PUGB UC, Call Of Duty CP, and Castle Clash Gems.
Not a fan of spending coins on games? No, problem!
You can also transfer the money to your PayPal or Paytm account (only for residents in India) and spend in the real world.
With so many scams and deceitful mobile applications, you are probably wondering if you can really trust mGamer. Is it a legit app?
Keep reading to find out!
Also, don't forget to check out the step-by-step program that helped me build an online business and generate over $1,600+ per month. It's newbie-friendly and free to get started!
mGamer App Review Summary
Name: mGamer
Company: AG PRO DEV
Website: https://mgamer.app/
Eligibility: Worldwide
Price: Free to join
Minimum payout: $0.50
Overall Rating: 3.3/5
What is mGamer?
mGame is a mobile application that allows you to complete easy tasks in return for official game currency and cash rewards. The app is available worldwide on Android devices.
As a member, you can earn coins by completing offers, taking surveys, watching videos, playing games, and referring friends.
According to the official website, mGamer has been installed over 7 million times and paid out 200,000+ USD to its members.
There are similar apps where users can redeem points for game vouchers such as EzCash and Game Station. However, mGamer is the most popular option on Google Play.
What I really like about this app is the low payout threshold. With just 2500 coins, you can collect 12 Mobile Legend Diamonds. As for PayPal payments, you just need 6700 coins to redeem $0.50.
Is mGamer Legit? Does it Pay?
Yes! The mGamer is a legitimate app, and it does pay out!
However, the company has partnered with the same survey companies and offerwalls you can find in many other reward apps.
What that means is that you will likely experience the same issues such as frequent survey disqualifications and missing coins.
If you check user reviews, you will find lots of people saying they didn't get coins despite completing the offer requirements.
This can happen for many reasons, including the fact that many advertisers are simply not willing to pay!

Unfortunately, they will never expose the true reason, so you will just have to accept their decision.
What worries about this app is that they don't provide the "Terms of Service", which means there is no legal agreement between you and the company.
In other words, they can ban your account, reject payments, and delete your coins at their sole discretion.
I am not saying they will make your life hard, but with no agreement, you can expect anything.
How Does mGamer Work?
mGames is not directly responsible for the tasks available on the platform.
Instead, it just works as a middleman between different companies and members who are willing to earn rewards.
Whenever you complete a survey or offer, mGamer gets paid by the company and shares a percentage of its profit with you.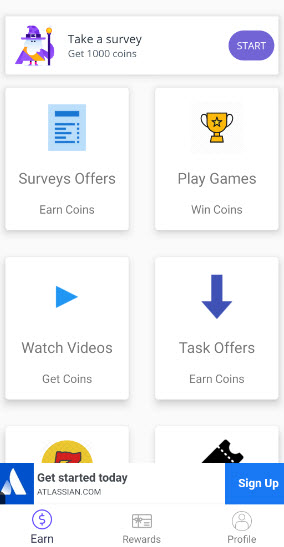 Installation and Registration
You can install the mGamer app for free on your Android device through the Google Play store.
Before you can start collecting coins, you must create an account using Facebook or mobile verification.
In addition, they ask permission to access your photos and media on your device without giving any explanation.
Choose"Deny" because you don't know mGamer's intentions towards your personal data.

Be aware that you are not allowed to do the following:
Create multiple accounts.
Use multiple devices with the same account.
Use VPN or bots.
You will earn 100 coins just for signing up!
Points System and Payments
As you already know, mGamer operates a point-based system where every task is worth a specific number of coins.
When you accumulate enough coins, tap on "rewards" and choose one of the following payment methods:
PayPal: $0.50 (6700 coins), $2 (19000 coins), $5 (43000 coins).
PUBG UC: 32 (3770 coins), 63 (7500 coins).
FreeFire Diamonds: 50 (4000 coins), 100 (8000 coins).
Mobile Legend Diamonds: 12 (2600 coins), 36 (7300 coins), 59 (11600 coins).
PUBG Lite: 96 (7550 coins).
Lords Mobile Diamonds: 31 (2500 coins), 63 (5000 coins), 126 (10000 coins).
Candy Crush Saga Gold Bars: 10 (15900 coins).
NFS Gold: 25 (5000 coins), 50 (9900 coins).
As you can see, the conversion rate between coins to real currency is not straightforward.

This reward platform is going viral! Cash out via PayPal, Visa, Gift Cards, and in-game currencies - Click here to find out how to generate an extra $10+ per day! 
Therefore, I recommend that you calculate the amount of money you will earn on each task. Simply multiply the coins by 0.5 and divide the result by 6700.
For example, 1000 coins equal to (1000 x 0.5)/6300 = $0.08.

How to Earn Coins?
There are many ways you can collect points inside mGamer. Here is a brief description of each opportunity and the number of coins you can expect to earn.
Survey Offers
mGamer has partnered with several marketing research companies that allow you to earn coins by answering surveys. You can share your opinions with any of the following survey routers:
Tap Research
TheoremReach
Yuno Survey
Pollfish Survey
Peanut Labs
Wannads Survey
Each company will ask some profiling questions prior to showing your available surveys. When you select a survey, they will also ask a few questions to check if you qualify.
Surveys are not always available depending on your country and profile. Besides, it can be hard to qualify since each survey is targeted at a specific group of people.
For instance, if an advertiser needs a survey from people who work in Government, only those who meet this requirement will be eligible to take part in the study.
But there is another problem that may discourage you from taking future surveys.
These companies can collect lots of information from you for 10 – 20 minutes and then screen you out for no apparent reason. Therefore, you will waste a lot of time!
Most surveys take anywhere between 5 -to 30 minutes and pay less than a dollar.
Read: 10 Survey Apps That Pay Cash Through PayPal
Play Games
Participate in in-game tournaments and earn coins by achieving high rankings. There are currently 3 games: Touch Piano, Fly Bird, and Fly Bird 2.
Depending on the game and rank, you will earn a specific number of coins. For example, if you reach the top 10 on Fly Bird, you will get 250 coins.
In my opinion, it's worth playing these games as the earning potential is very low!
Watch Videos
In this section, you can collect coins by watching videos. There are lots of users complaining that videos are never available, and I can relate to that. I couldn't open any video while testing mGamer!
Task Offers
This is where you can earn coins by installing apps, subscribing to free trials, signing up, and more. All you have to do is choose any task from the list and follow the instructions.
For example, a common type of offer requires that you install a mobile game and reach a specific level
There are currently six offer walls that provide sponsored tasks:
Admantium
Wannads
Adgatemedia
AyeT Studios
Adscend
AdGem
Some offers give you lots of coins, but they usually require that you make a purchase. I would avoid such offers because of the risk of not receiving the coins.
Each offer will take a different amount of time to credit. If you have been waiting for more than 48 hours, you should contact the support team from each Offer Wall.
Lucky Draw
At mGamer, you can enter three prize draws worth 100, 500, and 1000 coins.

You just have to watch videos to win free tickets, but they allow only one entry per round.
Lucky winners are selected via a random generator algorithm and the odds of winning depend on the total number of entries.
Lucky Number
Simply select one number from 1 to 10 and watch a clip to participate.
mGamer will choose a number randomly and split the prize with everyone who gets the winning number.
There are two prizes: 1K and 5K. As the number of winners ranges between 20 and 40 per round, each winner earns, on average, 30 and 160 points.
Invite Friends
Share your referral code with your friends on any social media earn 200 coins plus 10% of the coins they earn.
For example, if your friend earns 1000 coins, you will get 200 + 100 = 300 coins.
Unfortunately, there is a cap of 2500 coins per referral.
Pros and Cons
Pros
Excellent user interface.
Fast and secure payments.
You can redeem coins for several game currencies, PayPal or Paytm.
Redeem as little as 6700 coins ($0.50) via PayPal.
Cons
It doesn't provide the Terms of Service.
The video section is not always available.
It's hard to qualify for surveys.
You may not earn coins after completing offers.
Conclusion
mGamer is a legit app designed for people who want to earn game vouchers to spend on their favorite games.
If you don't want to trade your time in return for game currency, you can also cash out via PayPal and Paytm (India).
The minimum payout threshold is low, but many people struggle to collect enough coins because of frequent survey disqualifications and unpaid offers.
Unfortunately, there is no perfect platform that guarantees you will earn the points you deserve. That is because it's up to the third-party provider to approve your offers and compensate mGamer.
Verdict: Legit
Is There an Alternative to mGamer?
If your preferred payment method is a game voucher, then mGamer app is a decent option.
Now, if you prefer redeeming points for cash via PayPal and Gift cards, look no further than Prizerebel. There are four main reasons why I highly recommend this platform:
There are more offer walls and survey routers.
Generous referral program.
Solid reputation – The platform was launched in 2007.
Fast payments.
Final Words
Thanks for taking the time to read my mGamer review. If you have any question or thoughts about this app, leave us a comment below.

Peace!