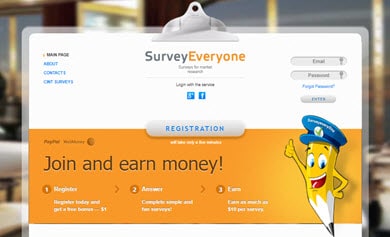 Welcome to my SurveyEveryone review!
In today's post, we will take a close look at an Americal panel called SurveyEveryone. The homepage states that you can register for free and earn as much as $10 per survey. 
It seems like a great opportunity to bring in some extra cash from home, especially now with the economy going down the drain and massive layoffs. 
You probably know there are many scams and useless sites out there. Therefore, you need to make sure you are joining a serious platform that will compensate you for your time and effort. 
So, is SurveyEveryone a legit site? Does it value your time and opinions? Check out my review before you join! 
Tired of wasting time with online surveys? Check out the step-by-step program that helped me build my own online business and reach $1,600 per month. 
SurveyEveryone Review Summary
Product Name: SurveyEveryone
Website: surveyeveryone.com
Company: Survey Everyone Group Inc.
Type: Online Surveys
LEGITIMATE
Score:

2/5
What is SurveyEveryone?
SurveyEveryone is a survey panel operated by an American company called SurveyEveryone Group Inc. It allows US residents to express their opinion with brands and earn some extra cash on the side. 
Over 48,000 panelists have joined the website since 2009, which is a small number compared to other panels and GPT sites.
However, the site works in collaboration with a leading marketing research firm called CINT, which will also invite you to take part in their studies. 
SurveyEveryone Group also operates SurveyNetwork.co.uk, a survey panel exclusively available to UK residents. 
Is SurveyEveryone Legit and Safe? 
Yes! SurveyEveryone is 100% legit and follows professional guidance from ESOMAR and MRA. Therefore, you can expect the company will respect principles that will protect your personal data.
However, that doesn't mean you will have a great experience using this panel. I will take more about that later.
How Does SurveyEveryone Work? 
Registration 
First, click on "Register" and sign up using your email address. Then, click on the confirmation link sent to your email address to activate your account.
Next, log in and complete your profile so that SurveyEveryone can match you with relevant surveys. You will earn a bonus of $1 after answering some profiling questions.
Completing Surveys
SurveyEveryone will send you survey invitations to your email whenever a new study matches your profile. You can also search for available surveys in the "Survey" section of the member's area.
Before you can start the actual survey, you must answer some qualification questions.

It can be hard to qualify, and you may spend 20 – 40 minutes just to find a survey that matches your profile.
The company will select candidates based on their specific demographics, purchasing habits, lifestyle, and other characteristics. For example, an airline company may just want the opinion of someone who flies often.
Sometimes, you may spend over 10 minutes answering specific questions only to receive a message that you are not a good match.
SurveyEveryone may also screen you out halfway and even at the end of the survey without giving you any explanation. As a result, you won't get paid regardless of how long you spent answering the questions.
This usually happens when panelists rush through the survey or don't pass the quality checks. If they suspect you are not telling the truth or just ticking the boxes without reading the questions, you are out.
Most of the time, though, it looks as though they want to disqualify panelists only to avoid payments. You read everything, give you honest opinions, and get "punished" anyway.
When questioned, these companies usually claim that they reached the quota before you completed the survey.
Unfortunately, people will never know what's really going on behind the curtains.
How Much Money Can You Make? 
With SurveyEveryone, you may receive lots of survey invitations daily, but it's hard to make a decent amount of money.
The reason is that most studies pay $1 or less and take over 20 minutes to complete. Not to mention you can waste a lot of time due to frequent survey disqualifications. 
One woman who left a review on Survey Police said she probably spent 50 hours just to make a measly $15!
The main problem is that SurveyEveryone only let panelists cash out once they reach $20. So, giving up means abdicating all the work you have already put into it. 
You want to get paid, but you don't want to waste more time with such an abusive disqualification system.

It's not nice to be in this trap!
SurveyEveryone claims you can earn up to $10 per survey, which is not a realistic figure. 
Well, after joining hundreds of sites, and never saw any online survey worth $10. The highest-paying survey site is Prolific Academic, which pays $6.50 per survey! 
You can get paid over $10 if you take part in focus groups or one-on-one interviews by phone. I don't think you can find these types of opportunities at SurveyEveryone.com.
How Do You Get Paid? 
You can only request payment via PayPal once you reach $20, which is too high in my opinion.

This reward platform is going viral! Cash out via PayPal, Visa, Gift Cards, and in-game currencies - Click here to find out how to generate an extra $10+ per day! 
Most people have no idea how hard it is to accumulate $20, and therefore, they tend to give up on their earnings. 

Pros and Cons
Pros 
It's free to join.
No point system.
You can cash out via PayPal.
There are lots of survey invitations.
Cons
The minimum withdrawal too high.
You will likely waste a lot of time due to frequent disqualification.
Survey invites don't mention the survey length.
Conclusion 
SurveyEveryone is a legit survey panel, but I don't think it's a great choice for making money online. The main reason I don't recommend SurveyEveryone is that the minimum payout threshold is $20, so it takes a very long time to cash out.
There are many survey opportunities, but you must be prepared to waste a lot of time due to frequent survey disqualifications. You may also get screened out halfway through the survey with no money to show for it.
Ideally, you should be able to cash out with $5 or less so that in case you want to give up, you don't need to stick with the company for a long time. In the next section, you will find better alternatives to SurveyEveryone so that you make the most out of your spare time.
Verdict: Legit – Not Recommended
Better Alternatives to SurveyEveryone
There are better survey sites where you can make more money and cash out faster. Here are my top recommendations:
Prizerebel – This excellent GPT site lets you cash out $5.
Prolific – It's probably the best survey site as they pay you at least $6.50 and never screen you out!
Survey Junkie – A highly reputable survey platform with over 10 million members. You can redeem your points for a $5 PayPal payment.
Some people earn over $200 per month by completing surveys, but they are probably spending 3 hours or more every single day to reach this income level.
Now, you could earn 5 and even 10 times more by using the same business model that I use! Keep reading to find out.
Earn a Full-Time Income Online
Completing surveys can help with the bills, but they undervalue your time as you will make less than the minimum wage.
You can earn a lot more money by providing content to the internet and use a proven business model called affiliate marketing.
That's what I do! I am glad that I decided to stop taking surveys and invest my time into growing my own online business!
In 2015, I joined this excellent step-by-step program that helped me create an authority website and make $1,600/mo in advertising and affiliate commissions.
The good news is that they currently have a free starter membership to test the waters.
Final Words
Thanks for taking the time to read my SurveyEveryone review. If you have any questions, let me know in the commend box below.
Peace out!