Welcome to my Hyper 2048 app review!
I have recently watched an ad promoting another Shape Keeper's game called Hyper 2048. It claims you make real money and shows a fictitious PayPal balance of $1230. Just have a look at the screenshot.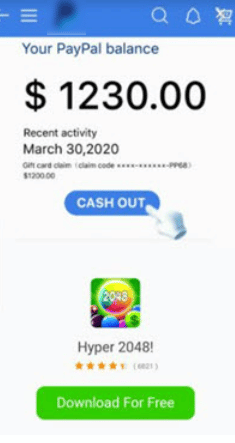 You will see these types of adverts being used by many other game developers, especially those based in Hong Kong. Instead of points, they give virtual currency as they know the dollar signs will attract a large audience. 
So, is Hyper 2048 a real money maker? Is it a scam or a legit app? Check my review before it's too late! 
If you are sick of apps that don't pay, don't forget to check out my top recommendation. This program helped me build my own internet business and earn $1,600 per month working from home. 
Hyper 2048 App Review
Name: Hyper 2048
Developer: Shape Keeper
Availability: Worldwide
Minimum payout: $100
Price: 100% free to play
Similar apps: Balls Merge, 2048 Balls 3D
Overall Rating:

2/5
What is Hyper 2048?
Hyper 2048 is another addictive game where players have to merge balls in order to form bigger numbers. There are many similar games on the Playstore such as the infamous Balls Merge.  
The app is operated by Shape Keeper, which is known for other popular "money" games such as Plinko Master, Lucky Money, and Lucky Pusher.
All of these apps are advertised as a way to make hundreds and thousands of dollars, even though no user seems to get paid. 
How Does Hyper 2048 Work? 
Elibibility
You can download and play Hyper 2048 for free from any country. However, the Terms and Conditions state that only US residents over 17 years of age are eligible to win rewards.
How to Play
Simply drop the balls and try to hit the ones with the same number. When two identical balls merge, they are replaced by another one with a number that is the double. For example, two balls number 4 form one with the number 8. 
Hyper 2048 is not about merging balls until the number 2048. Instead, you must complete missions to unlock the gate underneath and free all the balls from the container. 
For example, on the fifth mission, you must form 2 balls number 128 by merging two balls 64.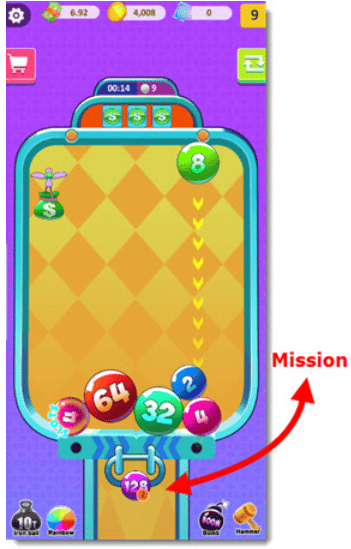 The downside of Hyper 2048 is that when you drop the first 40 balls, you must wait for 2 minutes until you get an extra ball. Alternatively, you can get 40 balls by watching a short video, which is not always ready. 
Take advantage of different tools to complete missions faster. 
Iron Ball: 

it destroys a lot of balls at once. 

Rainbow ball:

 it merges with any ball. 

Bomb: 

it kills 5 balls randomly. 

Hammer:

 eliminate the target ball. 
Whenever you pass the mission, the luck wheel will spin automatically and you will have the chance to win $1, tools, and other perks. 
Sometimes, merging specific balls will trigger the slots, which will give you extra balls and other rewards. 

Cash Rewards
As you merge the balls, you will earn coins and virtual cash rewards that will accumulate in two separate balances.
You need 2,000,000 coins or $100 (virtual cash) to cash out 2 USD and 100 USD, respectively. There is also a $1000 prize if you collect 30 types of decorations and a $100 prize if you collect 100 Paypal cards.
According to the app developer. your rewards will be processed within 7 business days.
You may also want to check out these popular app reviews:
Is Hyper 2048 Legit? Does it Pay?
Hyper 2048 works just like hundreds of other games that claim you can cash out once you have enough tokens or virtual cash.
However, the algorithm is designed to give you fewer and fewer rewards as you get closer to $100. As a result, you will likely get stuck before you hit the goal, preventing you from cashing out.
One player said he passed 100 levels without making a single cent, and he is not alone. Hordes of people also report getting stuck on a certain amount and not being able to cash out.
Another user said Hyper 2048 will not let him collect the last coin so he can finally cash out 2 USD. He is stuck at 1,999,999!

It's a clever system that entices users to play games for a very long time and watch hundreds of videos with no payment guarantees.
What most people don't realize is that the company is not obligated to pay users, which is why Hyper 2048 is not technically a scam.
This is implicit in their "Terms and Use" page, which states the following:

You have no property interest, right or title in or to any such Tokens and Coins. Any Tokens and Coins balance shown in your account does not constitute a real-world balance or reflect any stored value, but instead constitutes a measurement of the extent of your license. Shape Keeper Co., LTD may, at any time, expire free or promotional Tokens and Coins given to you. 
Shape Keeper replied to many complaints using the same automated message saying that lots of lucky players have already earned big rewards. However, there is no evidence of payments. 
Pros and Cons
Pros
It's a nice and challenging game.
100% free.
Cons
You have to watch lots of ads to keep playing.
You will probably get stuck before reaching $100 or 2 million coins.
There is no evidence of payments.
Conclusion
Hyper 2048 is a very addictive merging game. However, I don't recommend anyone to play it with the expectation of making money. 

This reward platform is going viral! Cash out via PayPal, Visa, Gift Cards, and in-game currencies - Click here to find out how to generate an extra $10+ per day! 
If there is any chance of winning cash rewards from Hyper 2048, then it must be incredibly low! 
Lots of people get distressed when they stop earning virtual cash and get stuck before reaching the $100 mark. It's very frustrating, but unfortunately, that's how most of these games operate. 

If you want to play games in return for actual money, it's better to complete app offers using a GPT site. With Prizerebel, you can earn points for installing the game and reaching a specific level.
I've received hundreds of PayPal payments with no issues during the last 3 years! 
Earn a Full-Time Income Online
You can make a decent amount of money online if you are prepared to learn and put into practice effective internet marketing strategies.
I am glad that invested my time and energy into building my own online business. Today, it allows me to work from home and not depend on the job market to pay my bills. 
From personal experience, it's crucial to join a structured training program where you can get immediate support. 
I started my affiliate site by following this excellent online business program, which has been turning newbies into a successful entrepreneur for 15 years! 
The good news is that they have free starter membership to test the waters.
Final Words
Thanks for taking the time to read my Hyper 2048 review! So, how was your experience with this game? Please, let us know your thoughts in the comment box below.
Stay safe and peace out!