Welcome to my Rolling Luck app review!
I was browsing the Play Store when I found another slots game operated by Shape Keeper.
The developer promises that you will get the same experience as if you were playing the real slot machine.
The part is that you don't have to risk your hard-earned money since pressing the spin button is completely free!
Who doesn't want to earn free money, risk-free? It seems like a dream come true for many people who find themselves living paycheck after paycheck.
The problem with the so-called money games is that they usually get you to watch hundreds of videos and don't transfer any funds to your account.
Therefore, you have to be careful and do your due diligence to avoid advertising traps disguised of casual games. Otherwise, you can waste a significant amount of time unnecessarily!
So, can you make real money with Rolling Luck? Is it legit or another fake application? Let's find out!
Before you leave, discover the step-by-step program that helped me reach $2,000+ per month from my laptop, and quit my day job. No special skills required!
Rolling Luck App Review 
Name: Rolling Luck – Win Real Money Slots Game & Get Paid
Developer: Shape Keeper Ltd
Eligibility: Worldwide (+18)
Type: Entertainment with no financial risk
Prize: Free (no in-app purchases)
Payout Threshold: $10
Overall rating: 1/5

This reward platform is going viral! Cash out via PayPal, Visa, Gift Cards, and in-game currencies - Click here to find out how to generate an extra $10+ per day! 
What Is Rolling Luck? 
Rolling Luck is another free slot game developed by a Hong Kong corporation called Shape Keeper.
They also operate other similar applications, such as Cash Carnival and Jackpot Carnival.
The application features a 5-reel slot machine that allows you to collect virtual dollars just by spinning.
Players are thrilled by the possibility of cashing out via PayPal once they reach $100.
All you have to do is tap the "Spin" button and collect rewards according to the combination of symbols that appear in the slots.
Although the company advertises Rolling Luck as an opportunity to make real money, the Terms of Service states that tokens and coins have no monetary value. 
That means you have no right to any payouts, since the company doesn't owe you anything. This is not a good sign for players who can't wait to get their money.
How Does Rolling Luck Work? 

Installation 
Rolling Luck is available on Google Play and anyone over 17 years old is eligible for rewards regardless of their country.
The app is free to play and doesn't require registration.
How to Play Rolling Luck? 
The game is all about pressing the spin button to activate the 5-reel slot machine and crossing your finger. Hold the button for automatic spins.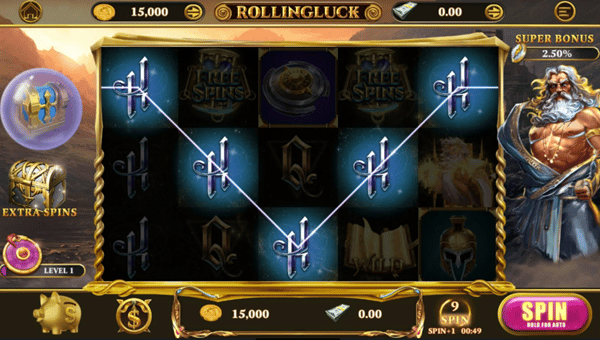 I found gameplay tedious because the wheels spin for a very long time. Some take more than a minute!
Not to mention that you will have to watch a ton of adverts. So, you have to be VERY patient!
Rolling Luck will give you virtual dollars and coins whenever the symbols are arranged along win lines.
You may get the chance to multiply your earnings by watching a short video. Otherwise, just "tap collect" to skip it!
There are 3 special symbols:
Money – this symbol appears on reels 2, 3 and 4 only. If the money appears on 3 columns, you will get dollar rewards.
Free Spins – it appears on reels 2,3 and 4 only. 3 Columns with Free Spins symbols get you 8 free spins. During this period, the odds of winning are multiplied.
Bonus – each bonus symbol charges Zeus and activates the bonus game after charging to 100%. 3 reels with Bonus can activate the Bonus game directly.
Wild – It substitutes any other symbol except Money. Bonus and Free Spins. Wild symbols can get you 50000 coins.
From time to time, you will find the lucky box. Open it by pressing the button and watch the video to claim the prize.
You start the game with only 10 spins, but a new one is added to your account every minute for free. If you run out of spin, you can watch the advert to get an extra 10 spins.
Rolling Luck features a Lucky Wheel that allows you to earn extra cash, coins and spins. Every day you will get 2 free spins!

Cash Out Requirements
You need to reach $100 to cash out via PayPal or Amazon gift cards. You can also convert 20 Million coins into a $2 Amazon Gift Card.
Once you meet the payout threshold, open your coin or cash wallet and submit your payment request.
Is Rolling Luck Legit? Does it Pay? 
Rolling Luck will let you accumulate 20 million coins and redeem the $2 Amazon gift card.
But when it comes to the $10 Amazon voucher or the $100 PayPal reward, forget about it!
You will get a decent amount of cash in the first few days, but the amount of cash will reduce drastically over time.
Eventually, you will receive $0.01 – $0.02 per day, which is ridiculous!
One player said he got to $89 after playing Rolling Luck for four weeks. But after the next weeks, he could only make it to $92.12.
At this rate, he would have to play for months with no guarantee the developer will let him reach $100! They will probably stop paying and never let you cash out!

I read many reviews on Google Play and couldn't find anyone who redeemed $100.
Another user reported he collected enough coins for the $10 Amazon voucher, but the company didn't send him the prize.
So, it seems they are just willing to pay a maximum of $2 at a time.
Conclusion 
Rolling Luck is a boring game that requires patience to redeem the $2 Amazon Gift card.
It takes a very long time, and you will waste a significant amount of data by watching countless videos!
After months of playing this tedious game, you will realize you cannot reach $100 and cash out.
And even if you do, the company doesn't guarantee your payout because it doesn't owe you any money.
As one person said, you are much better off recycling cans because at least you know you will get paid!
But there is a much better option for those who want to make real money online.
I highly recommend a platform called Prizerebel, where you get paid for completing simple tasks like surveys and offers.
Verdict: Not Recommended
Final Words
Thanks for reading my Rolling Luck app review.
Contribute to this website by sharing with us your experience with this game. Did you get stuck as well? How about the Amazon gift card? Did you get it?
Peace!