Welcome to my Jackpot Carnival app review!
I found a slots game through a video ad while playing one of those fake money games.
It showed a woman with a massive pile of cash on her shoulder. At the top of the screen, the advert said she earned all this money playing Jackpot Carnival.
Then, another girl appeared with lots of dollar bills in her hands and the rhetorical question: Why Work?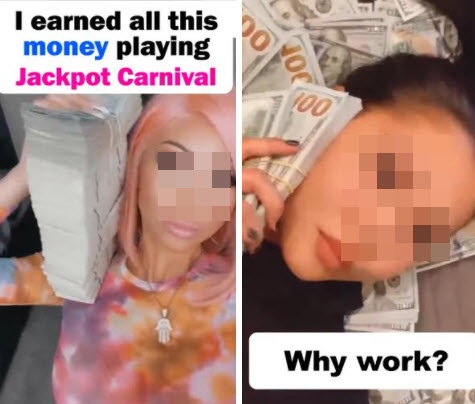 With so many businesses going bankrupt these days, more and more people are losing their jobs and falling for scams and advertising traps.
So, can you win real cash rewards by playing Jackpot Carnival? Is it a legit?
Don't forget to discover the step-by-step program that helped me grow an online business and make $1,600+ per month. Free membership available! 
Jackpot Carnival App Review
Name: Jackpot Carnival
Developer: Shape Keeper Ltd
Eligibility: Legal residents of any country +18
Prize: Free (no in-app purchases)
Payout threshold: $100
Overall rating: 

1/5
What is Jackpot Carnival Carnival?

This reward platform is going viral! Cash out via PayPal, Visa, Gift Cards, and in-game currencies - Click here to find out how to generate an extra $10+ per day! 
Jackpot Carnival is another slots game that doesn't cost you a penny!
You can play for free, meaning there is no risk to lose your hard-earned money while you are trying your luck. It's very similar to an app I reviewed recently called Lucky Farm Slot. 
According to the app description, you can have fun and easily win tons of rewards. 
The application is operated by Shape Keeper, a company that owns many other games such as Pusher Mania, Cashman Blast, and this popular slots game!
How Does Jackpot Carnival Work? 
Installation and Permissions
Jackpot Carnival can be installed for free on Google Play, just like most Android games.
It's important to mention that as soon as you install the app, the developer has access to files on your phone, including your personal pictures and videos. Crazy, right?
What's even crazier is that he can modify and even delete contents of your SD card.
So, be careful because even though Jackpot Carnival doesn't ask permissions, they assume you agree with them from the get-go!

How to Play Jackpot Carnival?
Jackpot Carnival features a 5-reel slot machine which players set to motion by pressing the "spin" button. The game provides a spin every minute, but it never lets you accumulate over 10.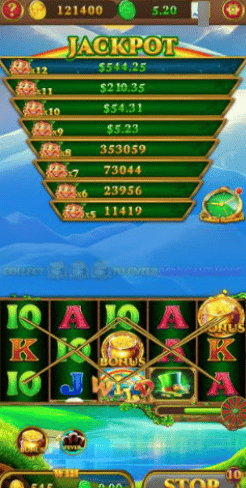 Once the reels stop spinning, the symbols may organize into a specific payline for a win. At Jackpot Carnival, there are 25 of these winning lines, as you can see in the image below: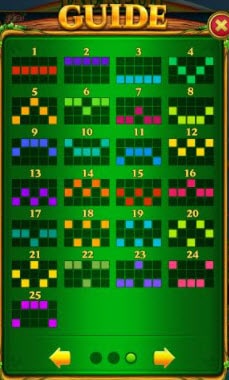 Many people like 5-reel slots because they have more chances of hitting a decent reward.
At the top, they show you the number of leprechaun symbols you must get in the grid to win the Jackpot.
For example, if you collect 12 of them, you will win the biggest prize of over $544. Needless to say, you have to be extremely lucky to win this one!
In addition, there many other rewards types such as bonus, fever, coin and formed line. In fever mode, you can collect pints to increase the number of slot rows.
The odds of winning each prize are stated in the Terms of Service, and if you want to know more details, check the Lucky Carnival's guide inside.
How do You Get Paid? 
Lucky Carnival claims you can redeem tokens and coins for cash via PayPal and Amazon gift cards.
There is a minimum payout threshold set for each virtual item and payment type. Besides, the number of payouts is limited and fixed at developer's sole discretion. 
You can supposedly cash out using one of the payment options below:
$1 Amazon gift card: 50M tokens
$2 PayPal: 25M tokens
$5 PayPal: 65M tokens
$10 PayPal: 85M tokens
$100 PayPal: 100 coins (virtual dollars)

Is Jackpot Carnival Legit? Does it Pay?  
If you are familiar with "money" games, you won't be surprised to find that Jackpot Carnival makes it impossible to cash out.
They control the amount of virtual dollars you earn, and you will probably get stuck before reaching $100.
Google Play is full of reviews from players who stopped winning cash when they hit around $90! I coudn't find a single person who won a jackpot or accumulated enough coin or tokens to request payment.
At some point, they just provide tokens, but the problem is that you need at least 25 million tokens to withdraw a measly $2. It will probably take months to reach the target!
The TOS page provides the odds of winning, but if the results were random, people would not get stuck. Instead, they would keep earning and eventually meet the cashout requirement. Unfortunately, that doesn't seem the case!
If you check the Terms and Conditions, it says Coins and Tokens does not store any monetary value. Besides, Lucky Carnival can not only determine the exchange rate but also expire virtual rewards.
Based on my experience and user reviews, I strongly believe Lucky Carnival won't transfer any funds to your PayPal account.
Conclusion
Some people enjoy playing Jackpot Carnival, but the cash prizes stop when you are close to $100.

I would stay clear from Jackpot Carnival. The main reason is that Shape Keeper controls the amount of money you earn to prevent you from cashing out.
Although spinning doesn't cost you a penny, the developer is making profits though advertising. As a result, you are wasting time and internet data!
Is There an Alternative to Jackpot Carnival? 
Free games don't generate enough ad revenue to pay hundreds of dollars, unless they are organizing giveaways with either weekly or monthly prizes.
For example, Play & Earn and Givvy are legit sweepstake apps that truly pay! However, the probability of winning is too low, and it takes more than a month to accumulate $0.29 worth of points.
Earn a Full-Time Income Online
Have you ever thought about working from home and benefiting from all the freedom that it entails?
Well, I did back in 2015 and put in practice everything I need to make it work. Today, I generate enough money to cover all my living and travel expenses without a soul-crushing job.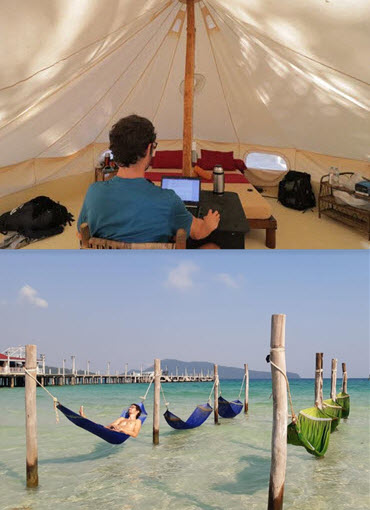 One of the most powerful strategies is to build an online business and use content marketing to attract your audience.
I have been using this method successfully over the last 6 years thanks to this excellent step-by-step program. 
The platform has a free starter membership so you can get started risk-free. If you have any question about it, please let me know in the comment box below.
Final Words
Thanks for reading my Jackpot Carnival app review. So, what are your thoughts about this game? Did you collect enough cash or tokens? Let us know in the comment box below!
Peace!