Welcome to my Lucky Farm Slot app review!
The company behind Lucky Farm Slot advertises its application as an opportunity to win big cash rewards and a Playstation 5.
It features a slot machine with 5 reel that gives the chance to win coins, virtual cash, and diamonds.
Those who are oblivious to the pitfalls of the so-called "money games" end up wasting a lot of time.
I tested Lucky Farm Slot and read lots of user testimonials to see whether it's a legit or a fake app. So, check my full review below before losing your sleep, trying to cash out!
Recommended: This step-by-step program helped me grow an online asset and make  $1,600+ per month. It's free to join!
Lucky Farm Slot App Review 
Name: Lucky Farm Slot
Developer: Game Lone Ranger
Eligibility: Worldwide (age: +18)
Price: Free
Payout threshold: $300
Overall rating:

1/5
What is Lucky Farm Slot?
Lucky Farm Slot is an Android game where you trigger the 5-reel slot to accumulate virtual items and hopefully withdraw real money.
All you have to do is tap "Spin" and get cross your finger. If the symbols align according to the pay table, you will receive coins or money cases.
Although Lucky Farm Slot has been rated 4 stars, lots of people are publishing negative reviews on Google Play.

This reward platform is going viral! Cash out via PayPal, Visa, Gift Cards, and in-game currencies - Click here to find out how to generate an extra $10+ per day! 
The developer also operates Bear Dice, and Lion Dice, two games that supposedly reward users for playing.
How Does Lucky Farm Slot Work?
Installation  
Lucky Farm Slot is available for download on Google Play. Once you install and launch the game you can play it immediately.
Just be aware that the company can access your media and files for as long as the app is installed in your device.
I find it very disturbing they can read, change and even delete anything stored in your USB. It's very risky to grant these permissions to an overseas company you know nothing about!
How to Play Lucky Farm Slot? 
Select the amount of coins you want to bet and press the spin button. Your goal is to land a winning combination of symbols on one or more paylines to collect the reward.
Lucky Farm Slot has 50 paylines as you can see in the screenshot below:
The lines can run horizontally, diagonally, or may even perform a zigzag.

As for the Payouts, tap the question mark and check all the game rules and pay tables. You will also be informed about free games, money case feature and scatter symbols.
Depending on the payline, you will have the chance to open the chest and win virtual dollars or gems.
There is always an option to double up by tapping "Claim x2" and watching a short clip.
By playing Lucky Farm Slot, you will also unlock scratchers, and a classic 3-reel slot machine to win more rewards.
Grand Prize
In this section, you can supposedly win big prizes if you you collect 10 puzzle pieces by playing the lucky spin and watching videos.
The activity is valid for a specific period, and you can redeem puzzles for the following items:
Samsung Galaxy S20, Switch, TF Lipstick, iRobot, Surface Pro, Doir Lipstick, Samsung Galaxy Watch 3, Louis Vitton bag, and a Sony 55 inch TV.
Invite
Lucky Farm Slot also claims that you will withdraw $1 immediately after you invite 2 friends. The app doesn't give more details, so I assume there is no other requirement.
Well, I don't think they would offer such high referral commission.
How Do You Get Paid? 
You can supposedly activate the Cash app or PayPal payout once you reach $300. You can also redeem a $50 Amazon Gift Card once you accumulate 50 M diamonds.

Is Lucky Farm Slot Legit? Does it Pay? 
Based on my experience with other fake "money" games and many testimonials, I don't think Lucky Farm Slot pays.
It seems promising in the beginning, but when you hit $270, it stops paying and you cannot cash out since the minimum requirement is $300.
You will probably play over 4 hours and watch an insane number videos only to realize it's impossible to redeem.
It's very frustrating, especially for people who are struggling and to support their families. They could be spending their time more productively to supplement their income. Click here for my top recommendation! 
Instead, they are watching videos only to make generate profits for app developers.
It's important to understand games like Lucky Farm Slot have no obligation to reward players.
Usually, there is a statement in the Terms of Service saying that tokens are not real currency. But the problem is that Lucky Farm Slot doesn't even provide the User Agreement!
Conclusion 
Don't expect to win money or expensive products by playing Lucky Farm Slot.

The slots may not be rigged, but it doesn't matter because they manipulate the amount of cash you earn.
They pay you less and less until your cash balance freezes before reaching $300. It's so frustrating, to say the least!
Make no mistake. Even if you hit the target, there is no payment guarantee. Besides, it will take forever to accumulate 50 million diamonds to redeem the gift card. So, don't waste your time!
Verdict: Not Recommended
Earn a Full-Time Income Online
Millions of people all over the world are searching for legit and effective work-at-home opportunities. Unfortunately, many of them fall victim to fraudulent schemes that steal their time and money.
One of the best ways to generate a full-time income online is to become a content creator.
In 2015, this excellent step-by-step program helped me create a website and rank on the first page of Google.
I still use the same strategies to work from my laptop and cover all my living expenses, even while travelling!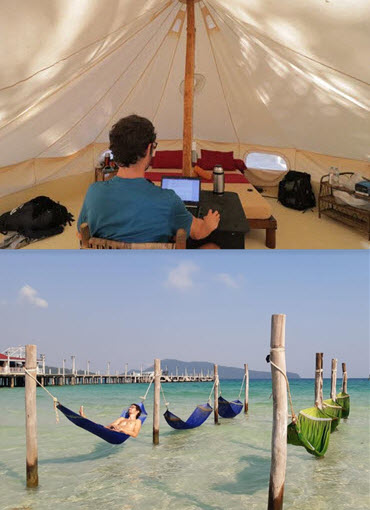 If this lifestyle appeals to you, click here to learn more!
Final Words
I hope my Lucky Farm Slot app review was helpful! So, how do you feel about this game? Did you get any money? Tell us in the comment box below!
Peace!