Welcome to my Gold Unicorn App Review!
Lots of people get hooked by games that promise to give free money.
They entice users with big cash rewards, so they watch a staggering amount of advertising!
Although these so-called "money games" are free, they drain your time, internet data and even your soul.
In today's post, I am going to expose Gold Unicorn, which features scratch cards, classic slots, lucky spin, and lucky knife.
Can you really make money with this app? Is it legit or fake? Time is of the essence, so keep reading to find out before it's too late!
Recommended: This step-by-step program helped me grow an online business and make  $1,600+ per month. Free membership available! 
Gold Unicorn App Review 
Name: Gold Unicorn – Big Win
Developer: Coin Team
Eligibility: Worldwide (age: +18)
Prize: Free
Payout threshold:
Overall rating:

1/5
What is Gold Unicorn?
Gold Unicorn is an Android app where you can play arcade games to win big prizes. Well, at least that's what they say!
Users can scratch cards, throw knives, and spin to accumulate tokens and virtual dollars.
There is no in-app purchase, but of course, you will be forced to watch videos for the chance to play multiple times.
How Does Gold Unicorn Work?
Installation and Registration
Gold Unicorn is available worldwide and for free on Google Play. You can play the games after a quick login with your Facebook account.
Permissions
Before installing any application on your device, always check the permissions, you are giving to the developer.
Once you install Gold Unicorn, you are granting access to your device and app history, your location, phone status, identity, and wi-fi connection,
What's even more disturbing is the fact that the app can read, modify and even delete content stored in your USB.
That's why I never keep these apps on my phone after testing them!
Playing Gold Unicorn Games
As I mentioned, the app features 4 games:

Scratch Cards
Gold Unicorn gives you 50 scratchers per day.
Just slide your finger to scratch the card to reveal six symbols. If you match 3 of them, you will win the cash prize worth up to $50.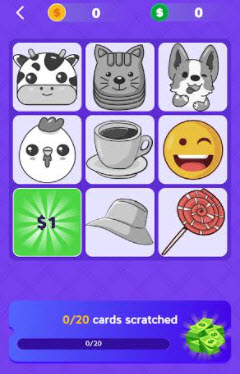 The app provides no information about the odds of winning, which is a bummer!
After the third card, you must tap the "more cash" button and watch the video to keep playing.
You may get $1 or just a few cents, even if you don't match the symbols. Next, you can watch more advertising in order to double up the reward.
Classic Slots
Press the play button to pull the lever and activate the slot machine. If you match 3 symbols, you will get coins or virtual dollars.
After playing three times for free, you can keep playing by either watching videos or spending 500 coins.
Luck Spin
This game is like the slot machine, except you will spin the wheel to collect coins and virtual dollars.
However, winning $3 or $10 is much harder than landing on smaller amounts of cash and coins. So, it's obviously rigged!
Happy Knife
In my opinion, this is the best game since you earn cash based on your performance.

Throw the knives into the logs to destroy them. The objects keep turning at different speeds and you need to hit the cash symbols to win cents of the dollar.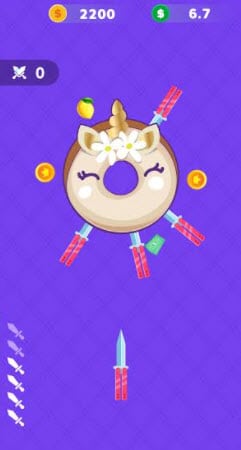 It's very challenging because you cannot hit another knife. If you run out of knives, watch a video or pay 500 coins to try again.
Here is another popular knife throwing game! 
How do You Get Paid?
Although the ad says you can cash out any time, the truth is that you need at least $50 to redeem via PayPal. As for coins, I don't think you can convert them into cash rewards.

This reward platform is going viral! Cash out via PayPal, Visa, Gift Cards, and in-game currencies - Click here to find out how to generate an extra $10+ per day! 
Is Gold Unicorn Legit? Does it Pay?

No, it doesn't! Just like hundreds of games, Gold Unicorn was programmed to pay less and less to prevent players from reaching the minimum cashout amount.
Many users complain the app stops giving cash once they are very close to cash out.
One player reported she played Gold Unicorn for 3 days in a row, but got stuck at $49.96.
Another person said he made it to $50 and cashed out. However, after 10 days of waiting, the transaction failed.
I checked the Terms of Service but couldn't find anything relevant about the rewards. So, I assume the developer is not serious about processing payments.
Some people consider Gold Unicorn is scam and wished it was banned from the Play Store.
However, I cannot make any accusations without compelling proof. Even though it doesn't pay, only the authorities of each country can make the last judgement after careful investigation.
Conclusion
Most people are playing Gold Unicorn games because of the cash prizes. However, people get stuck and cannot withdraw any money to PayPal.
Now that you know the dark side, I believe your motivation to play those games has waned!
Scratching cards no longer excite you, but at least throwing knives can help you pass the time.
The problem is the excessive amount of advertising and the fact that you are giving permission to access every file on your device. This is scary because they don't tell you why they are so invasive!
I don't think it's worth taking the risk, even if you were able to cash out.
Verdict: Not Recommended
Earn a Full-Time Income Online
Millions of people are trying to find a legit work-at-home opportunity. Unfortunately, many of them are deceived by unscrupulous marketers trying to sell the idea of easy money.
One of the best ways to earn money via PayPal is to create quality content and promote products as an affiliate.
I have been using this business model successfully for the last 6 years thanks to this excellent step-by-step program. 
It helped me create a website and attract thousands of visitors per day using simple yet powerful SEO techniques.
I still use the same strategies to work from my laptop and benefit from time and location freedom!
If this lifestyle appeals to you, click here to learn more!

Final Words
Thanks for reading my Gold Unicorn app review. So, what is your honest opinion about it? Did you cash out? Kindly share your thoughts in the comment box to help others out!
Peace!