Welcome to my Lucky Knife 2 review!
I was testing one of those "money" games when an advertising about Lucky Knife 2 appeared on my phone.
They were trying to convince me I could win not only cash but also an iPhone 11.
After reviewing countless apps that never pay, I cringed, but gave it the benefit of the doubt.
In this review, I will show you what will probably happen if you play Lucky Knife 2 for long enough. Does it pay or is it just another fake app?
Before you leave, check out the step-by-step program that helped me reach $1,600+ per month from my laptop. Sign up for free with no strings attached.  
Lucky Knife 2 App Review
Name: Lucky Knife 2
Developer: Fitness Dev Team
Eligibility: Worldwide
Minimum Payout: £7.72
Price: Free (no in-app purchases)
Overall Rating: 

2/5
How Does Lucky Knife 2 Work? 
Installation 
Lucky Knife 2 is available for free on Google Play and doesn't require any registration. After loading, tap "Play" and start the game!
I recommend you read the "Terms of Use" before playing, though. The reason is that it contains lots of information about safety, account, rights, and obligations.
How to Play Lucky Knife 2? 
Simply throw all the knives in the rotary object to break it and pass the level. You should hit the cash notes and apples around the object while also avoiding the other knives. If you hit another knife, you will lose one life.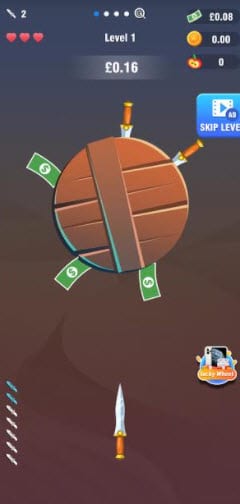 Every time you hit a cash note, you will earn anywhere between £0.01 and £0.04. You will also collect apples, which can only be used to unlock different knives in the game.
The game is divided into rounds of 5 levels. Once finish the Boss Fight, you can collect your cash reward. Besides, you can tap on "Win Your iPhone" and spin the lucky wheel twice for a chance to win iPhone 11 and AirPods pieces.
According to the rules, you can redeem an iPhone 11 or an AirPods once you collect 100 puzzle pieces.
If you tap on the cash balance at the top, you will find more opportunities to earn cash by playing the slot machine and the scratch cards. If you match 3 symbols, you will win the prize stated on the card. However, they don't tell you the odds of winning.
Lucky Knife 2 is a nice game with excellent graphics, but it will show you an insane amount of advertising. They will interrupt your gameplay all the time, which is very annoying!
How do You Get Paid? 
Lucky Knife 2 has a very low payout threshold compared to most games. If you tap on the PayPal icon on the initial page, it says you can cash out via PayPal once you reach £7.72. Be aware that if you delete the game, it will clear your cash balance.
Is Lucky Knife 2 Legit? Does it Pay? 
You are probably playing Lucky Knife 2 because you want to withdraw the money and win an iPhone!
Well, unfortunately, there is no evidence the company is processing payments and giving away prizes. I was searching for any positive testimonial on Google Play and could not find any success story.
Once players are very close to hit the target, the game stops giving cash and iPhone pieces. So, you may never reach the minimum requirement to cash out.

Despite a lack of evidence that Lucky Knife 2 is rewarding players, I have no proof that it's a scam. However, it's safe to assume that your chances of winning actual money are virtually nil.
Is There an Alternative to Lucky Knife 2? 
Yes, there is a very similar knife throwing game that will transfer REAL Bitcoin to your Coinbase account. So, it's 100% legit! The game is called Bitcoin Food Fight, and it's operated by Bling.
Unfortunately, the earning potential of this game is appalling! Many players are earning a measly $0.01 worth of BTC per day, which is discouraging to say the least.
If you want to make money by playing mobile games, I highly recommend Prizerebel. This platform will give you points for installing games and reaching specific levels. Then, you can redeem points for cash via Paypal and Gift cards.
Conclusion
Lucky Knife 2 is a nice game, but you should not expect to an iPhone or cash rewards. The app displays an insane number of videos, which will consume a significant amount of data.
If you still want to play it, turn off your Wi-Fi or mobile data so you can get rid of them. When you play offline, you will not collect virtual cash or puzzle pieces, which are worthless anyway.
Earn a Full-Time Income Online!
If you are searching for an opportunity to make money online, I recommend a business model called affiliate marketing.
You can make thousands of dollars per month by creating helpful content and promoting other people's products.
Thanks to this excellent step-by-step program, I created affiliate site from scratch and learned the proper strategies to build a huge online audience. The website is now covering all my living expenses while travelling around South East Asia!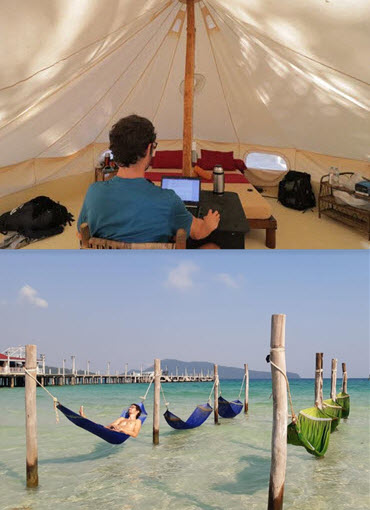 Success doesn't happen overnight, but the work you put in today will have long-lasting results.

>> Sign up for free and start building your online business here! 
Final Words
Thanks for visiting my blog and reading my Lucky Knife 2 app review. I hope it was helpful! If you would like to leave us your honest review, feel free to use the comment box below!
Peace! 

This reward platform is going viral! Cash out via PayPal, Visa, Gift Cards, and in-game currencies - Click here to find out how to generate an extra $10+ per day!