Toss'em all is a casual ring toss game that has been installed over 1 million times on Google Play.
The reason so many people are playing Toss'em all is that the advertiser is promoting it an opportunity to make lots of money!
In one of their adverts, a person shows off stacks of money inside a box with the saying:
Make on average $25 every level! 

I make $50 – $180 per day. 
But it doesn't stop there! The video continues with a woman saying that she is making $2 million a week! WOW!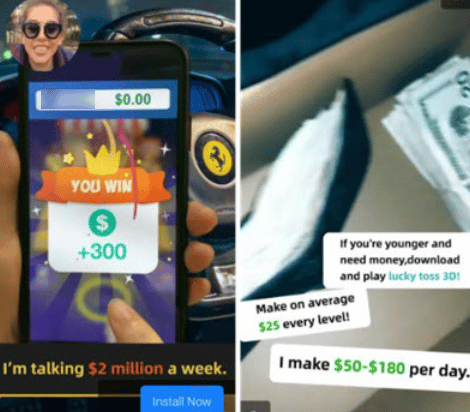 It seems there is no limit to how developers promote their get-rich-quick opportunities to people.
You are reading this review because you are wondering if you can really make some money with Toss'em all. Is it a scam or a legit app? Can you transfer $200 to your PayPal account?
Before you leave, check out the step-by-step program that helped me reach $1,600+ per month from my laptop and quit my job. 
Toss'em all App Review
Developer: Bright Geeks
Eligibility: Worldwide (+18)
Minimum Payout: $200
Price: Free (no in-app purchases)
Overall Rating:

1/5
What is Toss'em all?
Toss'em all is an Android game where you have to toss rings around objects to collect virtual cash and puzzle pieces.
You can supposedly cash out via PayPal, but not until accumulating $200. Also, Toss'em all claims that if you collect 10 puzzle prizes, you can win an iPhone 11, Gucci Bag, and many other expensive products.
The game was developed by Bright Geeks and is almost identical to this popular ring tossing game by MiniJoy.
How Does Toss'em all Work?
Installation
Toss'em all is available for free on the Google Play store. After launching the app, the app will ask permission to manage phone calls and access your device's location. It's better to stay on the safe side and deny such permissions. You can still play the game even if you tap "Deny".
How to Play Toss'em all?
Toss'em all is a very simple game to play! You just have to tap on the object to throw the ring around it. It's much easier than Lucky Toss 3D where you have to control the height and direction of each ring.
In my opinion, Toss'em all is a very boring game because it's not challenging enough. The ring will always fall in the right place if you tap on the object.
There are different objects including a round green coin and puzzle pieces representing specific prizes such as an iPhone 11.

Every time you throw a ring around a green coin, you will get a specific amount of virtual cash, which will accumulate in your account. In addition, you can win prizes by collecting 10 puzzle pieces.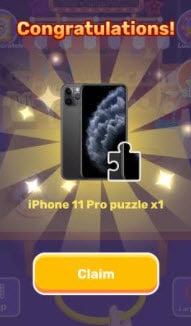 Once finish the level, select a chest, watch a 30-second video, and collect more rewards.
To collect more puzzle pieces, watch videos using the bubble of puzzles, play the lucky wheel, and the lucky scratch.
Coins cannot be exchanged for cash or anything inside the game. So, they are useless!
Sick of apps that don't pay? Check out my top recommendation! 
Payment Rules
You can request your payment once you have $200. Toss'em all claims they will confirm your withdrawal within 10 working days and process the payment to your PayPal account.
According to the rules, there is a limit to the amount of money all users can withdraw in a given day. Therefore, payments are made on a first come first served basis.

The downside is that Toss'em all doesn't say what is your position on the queue. In other words, they don't want to tell you when you will get paid.
As you will see later, they are not obligated to pay you, so they can use this limitation as an excuse to ignore your withdrawal request.
Does Toss'em all Pay Real Money?
I cannot give you a definitive answer to this question. However, based on hundreds of user reviews and my experience with other similar games, you are unlikely to get paid. 
Toss'em all works like many other games! Your cash balance will thrive, but as you get close to $200, you will start earning pennies. It takes forever, and there is no guarantee you will ever reach the minimum payout.
Besides, lots of people claim they never collect the 10th puzzle piece required to win the prize. One person said he got to level 508 and still has only 9 iPhone pieces. All he gets now are worthless coins!

No one seems to receive cash or prizes for playing this game regardless of how many levels they complete.
Is Toss'em all a Scam?
This is a delicate issue because if you check the User Licence Agreement, it says the following:
We reserve the absolute right, at our sole discretion, to manage, regulate, control or eliminate virtual items as we deem fit. 

You have no right, title or interest to any such virtual items appearing or originating in the services. 
Therefore, they can manipulate your virtual cash and deny any payment without breaking any laws. That's why I cannot call it a scam even though it ticks many boxes.
If they are rewarding people, they should be more transparent about it and tell users the odds of winning. Otherwise, they should stop promoting the app as an opportunity to win lots of money.
Conclusion
I don't recommend Toss'em all to anyone since it's incredibly tedious and frustrating! There is enough evidence to suggest that you will get stuck before collecting $200 or 10 puzzle pieces. The company has no obligation to reward anyone.
Their marketing material is outrageous as it entices users to play the game with the expectation to become rich. However, no one seems to get paid!
Toss'em all is an app that should be reviewed by consumer protection agencies in every country

Earn a Full-Time Income Online
If you want to make a substantial amount of money online and achieve time and location freedom, here is my advice: Build your own online business and take advantage of the digital economy!
Thanks to this excellent step-by-step program, I created an affiliate website that allows me to work remotely just by publishing helpful content.
If you want to succeed using the same business model that I use, you need to learn the proper strategies to rank on Google and build your online audience.
It takes time, but it's one of the best strategies to generate thousands of dollars per month and change your life!

This reward platform is going viral! Cash out via PayPal, Visa, Gift Cards, and in-game currencies - Click here to find out how to generate an extra $10+ per day! 
Final Words
Thank you for taking the time to read my Toss'em all app review. If you have questions or thoughts about it, just leave us a comment below.

Also, check out some cool related articles: