Welcome to my Word Serene review!
I just came across another game that makes you think you can make easy money just by connecting letters and forming words.
Word Serene has been promoted as an opportunity to receive multiple $100 payouts!
One of their adverts shows a fictitious PayPal balance with $300 and lots of dollar notes falling from the top. Have you seen it?
You don't want to fall trap of an app willing to exploit your time and personal data in return for fake cash. So, is Word Serene a scam or a legit game? Does it pay or not?
Before you leave, check out the step-by-step program that helped me reach $1,600+ per month from my laptop and quit my job. No special skills required! 
Word Serene Review Summary
Name: Word Serene
Developer: Happrix
Eligibility: Worldwide
Price: Free (no in-app purchases)
Payout threshold: $100
Overall Rating: 2/5
What is Word Serene?
Word Serene is a new word puzzle game where you have to unlock words by swiping the letters on the circle.
It's almost identical to Wordy Word, Word Relax, Word Peace, just to name a few!
Every time you guess all the words in the puzzle, you will pass the level and earn some virtual cash.
However, you can only cash out once you reach the minimum payout threshold of $100.
In addition, you will earn coins after passing a couple of levels. You can use coins to buy hints when you feel stuck.
Word Serene has over 9,000 levels, which means you can play it for months and years!
Is Word Serene Legit? Does it Pay? 
The possibility to earn $100 just by playing a mobile game is utterly unrealistic! 
I read lots of reviews o Google Play and didn't find anyone who received the money.
In the beginning, you will earn over $1 per level, but the higher the level, the less reward you will get!
As you move closer to $100, you will just earn pennies until you may eventually get stuck.
The minimum payout threshold is a bait to get you to watch an insane number of videos and generate revenue for the app developer.
If you check the terms and conditions, it says:
"Virtual items do not have an equivalent value in real cash and do not act as substitute for real word money. Neither Happrix nor any other person has any obligation to exchange virtual items for anything of value. "
In other words, the company has no obligation to pay you! So, why would they give you $100?
If Word Serene paid everyone who reached $100, it would be the perfect solution for financial freedom.
Nevertheless, I don't think I can call it a scam since there is no legal agreement regarding payments.

The major problem is how they advertise the game. If they cannot prove they are processing payments, then they should not be allowed to promote the app as an opportunity to make money.
That would be considered false advertising!
How Does Word Serene Work? 
Word Serene is available for free on Google Play. Once you launch the game, they will show you a quick tutorial.
All you have to do is swipe the letter in the circle to form words.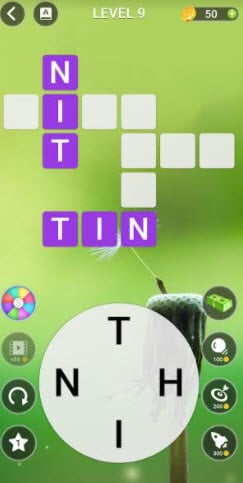 Whenever you solve the entire crossword puzzle, you will level up and earn virtual cash. Besides, you will get 50 – 100 coins after completing 4 levels.
It's important to note that each round consumes 1 life. You can get another 2 lives by either watching a clip or spending 200 coins.
Word Serene is very easy in the beginning when there are only 3-letter words. But as you achieve higher levels, you will play with just 4 and even 5 letters.
When you feel stuck, you can use 3 different tools that will help you complete the puzzle:
Rocket (300 coins): Reveal 5 letters.
Darts (200 coins): Reveal 1 letter anywhere you choose.
Bulb (100 coins): Reveal 1 random letter.
If you want to collect more coins, you can watch videos or spin the wheel.
You can also earn gifts by completing daily challenges such as passing 12 levels, using 2 rockets, finding 120 words, and more!
Read more on 65 Game Apps That Supposedly Pay You Real Money

How do You Get Paid? 
When you tap on your cash balance, it says you need to have $100 to exchange for an Amazon gift card or cash out through PayPal.
Unfortunately, they don't tell us how many levels we need to complete in order to reach $100.
That's why most people give up when they suspect the game's algorithm is programmed to pay less and less!
Is There an Alternative to Word Serene? 
You should not trust any mobile game offering hundreds of dollars via PayPal!
Most app developers, especially from Hong Kong, make it impossible to achieve the payout threshold.

This reward platform is going viral! Cash out via PayPal, Visa, Gift Cards, and in-game currencies - Click here to find out how to generate an extra $10+ per day! 
As far as I know, the only word puzzle game that rewards users is CryptoWord by Vweeter Limited.
However, I only recommend it if you already play this kind of game for fun. The earning potential is so low that it's not even worth playing for money!

GPT sites provide the best way to make money by playing games on your phone. You just have to install the game and meet the requirement. Check out my top-rated GPT platform here! 
Pros and Cons
Pros
9,000+ levels.
It's great for the brain and helps to pass the time.
It improves your vocabulary.
Beautiful graphics and relaxing music.
Cons
You will probably get stuck before $100, just like hundreds of other players. 

There is no evidence that it pays!
Video are not always available where you try to collect more coins.
Conclusion
Don't play Word Serene with the expectation to make actual money, or you will bitterly regret it!
The large number of complaints on Google Play is a good sign that the company is not eager to share their profits.
I wouldn't call Word Serene a scam without solid proof. However, their marketing strategy should be reviewed carefully by competent authorities.
Earn a Full-Time Income Online
Instead of playing games like Word Serene or CryptoWord, why not invest your time into your own online business?
By creating a site and ranking helpful content, you can earn hundreds and even thousands of dollars in affiliate commissions!
This excellent program showed me step-by-step how to build an authority site from scratch and reach top positions on Google.
Today, it allows me to work remotely and make money on my own terms.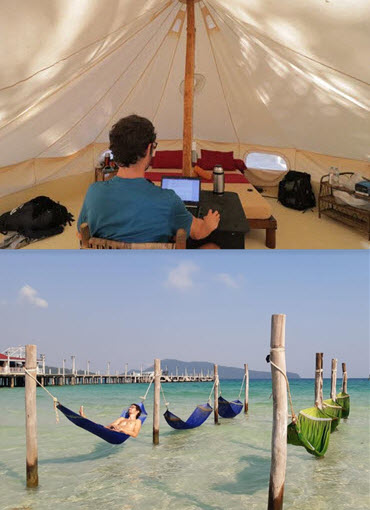 If you want to get started on the right foot, check out my #1 recommendation, and get started for free!
Final Words
Thanks for taking the time to read my Word Serene App review. If you would like to share your results from using this app, feel free to use the comment section below. Did you reach $100? I would be surprised if you did!
Peace!