Welcome to my Jelly Fun app Review!
When I first heard about Jully Fun, I thought it was one of those fake "Money" games that never pay.
Welcome to my Jelly Fun app Review!
When I first heard about Jully Fun, I thought it was one of those fake "Money" games that never pay.
It turns out this is another reward app that gives you gold coins for watching videos, installing apps, and more!
After you collect enough coins, you can supposedly exchange them for cash via PayPal or Paytm. Or you can redeem points for UC cash and Free Fire diamonds.
It seems like a great opportunity until we remember Google Play is jam-packed with greedy developers.
So, can you really make money with Jelly Fun? Is it a scam or a legit app? Keep reading to find out!
Also, don't forget to check out the step-by-step program that helped me build an online business and generate over $1,600+ per month. It's newbie-friendly and free to get started!
Jelly Fun App Review Summary
Name: Jelly Fun
Developer: Mendyy Inc
Eligibility: Worldwide
Price: Free (no in-app purchases)
Payout threshold: 10 Rs (Paytm) or $1 (PayPal)
Overall Rating: 2/5
What is Jelly Fun?
Jelly Fun is an Android application that allows you to earn coins mostly for watching videos.
There is a specific category for this purpose, but you will also watch them when you spin the wheel and scratch cards.
You can collect more coins by downloading apps. However, opportunities are scarce, and the links direct users to weird sites. 
Jelly Fun has been installed over 100,000 times and rated 3.7 stars. In the next section, you will learn all the different ways to collect coins.
How Does Jelly Fun Work? 
Installation and Registration 
Jelly Fun is available only for Android devices. After installing the app on Google Play and launching it, you must sign up using your Google account,
How to Earn Coin? 
In the dashboard, you will find 7 categories:
1. Offerwall
Right off the bat, I was disappointed with this first option as I couldn't see any traditional offerwall such as Offertoro, and Personaly.
Instead, Jelly Fun provides their own list of offers such as installing apps and signing up to survey sites.
The problem is that the links are directing to a site called Trending.com, which has nothing to do with those tasks.
As a result, I couldn't earn any coins from this category!

If you want to get paid for completing offers, you can't go wrong with my top-rated GPT site!
2. Watch Video
In this section, you will find a list of videos.
Tap on "Watch Video" and wait for a few seconds to collect 1 coin. 
Sometimes, you will get a message saying it's not available. This is a common issue, and the only thing you can do is try again later.
Most clips are promoting games that claim you can win a ton of money. Don't fall for such false advertising because even if they wanted, app developers could not afford to pay everyone.
3. Read news
I couldn't use this category since it was completely empty for me. This is one of the most popular apps that pay you for reading the news.
4. Download app
This section is giving you the opportunity to download apps and earn 30 – 50 coins.
When you click on the "Install" button, they will direct you to unreliable websites with a green button "Download app and get a bonus".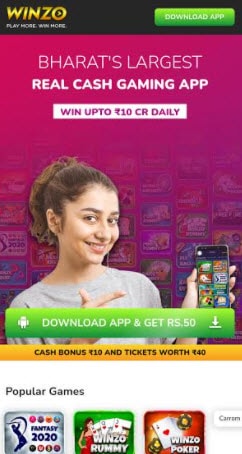 Some people complain they didn't get coins after installing the app.
I didn't proceed because I didn't trust the site. Besides, I would never install an application that is unavailable on Google Play for security reasons.

5. Scratch card
Watch a video and scratch the card for a chance to win anywhere between 1 and 4 coins.
There are 250 cards per day, which means you can earn lots of coins in this section.
6. Spin the wheel
Spin the wheel for a chance to win 1 – 10 coins. You will always have to watch a video after each spin.
The problem is that they fail to load frequently, preventing you from collecting coins.

This reward platform is going viral! Cash out via PayPal, Visa, Gift Cards, and in-game currencies - Click here to find out how to generate an extra $10+ per day! 
I suspect Jelly Fun is blocking them on purpose just so you don't get credited. What do you think?

7. Take part in the weekly contest
Jelly Fun gives you a chance to win 500 Rs paid through Paytm.
To take part in the contest, you must follow them on Instagram, like all photos, and comment with your Paytm number.
There is no more information about the contest, but we can assume Jelly Fun selects the winner at random.
How Do You Get Paid? 
You can redeem your coins by tapping on your coin balance right at the top. There are four payment options at your disposal.
Paytm: 10 Rs (1000 coins)
PayPal: $1 (7500 coins)
GUBG: 8 UC (1000 coins)
Free Fire: 50 Diamonds (5000 coins)
Is Jelly Fun Legit? Does it Pay? 
Jelly Fun is not a reliable opportunity to make money online. I have no proof it's a scam, but based on lots of user reviews, they will probably ignore your payment. 
If you check the reviews on Google Play, you will find lots of disappointed users who didn't get paid.
It's a shame how these apps operate! They offer people the chance to win money as long as they collect enough points or tokens.
As a result, people get hooked and start watching lots of sponsored videos!
However, the company can deny your payment simply because coins have no monetary value.
In other words, people are trading their precious time just for a slim chance to earn money.
Pros and Cons
Pros
Cons
Low pay.
You may not receive the payment.
There are too many ads!
It takes a long time to cash out.
It consumes lots of internet data.
The Videos are not always available when you try to earn coins.
Videos fail to load frequently while users are playing the wheel.
Conclusion 
In my opinion, Jelly Fun is a complete waste of your time and internet data! 
It will make you watch an incredible number of videos that generate revenue for the developer.
However, most users complain their coins are still spending after many days since they requested the payment.
Even if Jelly Fun pays you, I don't think it's even worth using it. The reason is that the amount of money you will earn may not even cover your internet data expenses.
So, by not using Jelly Fun, you may not only save time but also money. Think about it!
Verdict: Not Recommended
Final Words
Thank you for taking the time to read my Jelly Fun review. If you would like to share your experience using this app, leave us a comment below!

Peace!