Welcome to my Word Cash app review!
There is an incredible number of mobile games on both Google Play and App Store claiming you can win real money.
One of them is Word Cash, which gives virtual dollars whenever you find all the words in the puzzle.
If you are familiar with this type of app, you know they have systems in place to prevent users from cashing out.
You are here because you don't want to pass hundreds of levels, only to discover they will not let you cash out.
So, is Word cash a legit or another fake money-making app? Check out my review and discover the truth!
Also, don't forget to check out the step-by-step program that helped me build an online business and generate over $1,600+ per month. It's newbie-friendly and free to get started!
Word Cash Review Summary
Name: Word Cash
Developer: Puzzle Free Game
Eligibility: Worldwide
Price: Free (no in-app purchases)
Payout threshold: $150
Overall Rating: 1/5
What is Word Cash?
Word Cash is a puzzle word game for Android devices similar to dozens of other apps such as Scrolling Words, and Word Relax.
Some of them just give you points, while others entice you with virtual cash that can be withdrawn to PayPal. That's precisely how Word Cash operates!
Word Cash is owned and operated by a company based in Hong Kong called Puzzle Free Game.
Puzzle games helps to exercise the brain and pass the time. But as you will see, playing with the expectation to make money may cause you unnecessary stress and anger. 
How Does Word Cash App Work?
Installation
After installing Word Cash on Google Play, you can start by pressing the "Level 1" button. You don't need to sign up or allow any unreasonable permissions.
How to Play?
When the game starts, you will see several tiles containing one letter each. Your job is to swipe your finger to connect letters that form hidden words.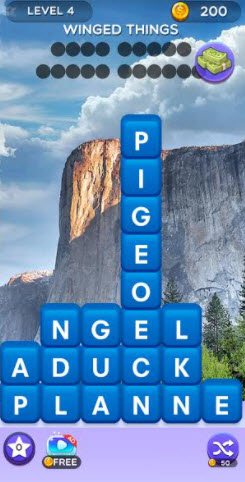 Then, the blocks will be eliminated, causing those at the top to fall and rearrange the puzzle.
Each level represents a specific topic. For example, on the second round, there are terms about breakfast like bread, eggs, etc. Sorry for the spoiler! 😛
You should continue to find words until there is no other left on your screen. After completing the level, you will win virtual cash rewards. More on that later!

If you are stuck, use the shuffle button to rearrange the remaining tiles. This tool costs 50 coins, which you can get by watching videos.
Also, Word Cash displays adverts every 2 or 3 levels, which is how the app developer is making profits.
Cash Reward
When you pass the level, you will receive virtual dollars, which will accumulate in your account. However, they say you need at least $150 to cash out.
Does Word Cash Pay Real Money?
Based on lots of reports and my involvement with many other similar games, I strongly believe Word Cash does not pay. There is absolutely no evidence of that!
If you check the reviews on Google Play, you will find an insane number of complaints about this game.
Everyone seems to get stuck before reaching $150. As a result, no one can request the payment since they do not meet the minimum payout threshold.
The reward goes from $10, $8, and $5 to just $0.02 for every 10 levels or more!
In other words, the algorithm may never let you withdraw the money regardless of how many rounds you complete.
Some people also reported that Word Cash deleted their earning when they were very close to cashing out!
Keep in mind that the app's "terms and conditions" doesn't state the possibility of winning cash. On the contrary, they claim Tokens and Coins does not reflect real currency value.

While you are playing Word Cash, you will watch lots of adverts that entice you to play other games for money. These videos are very misleading and should not be taken seriously.
Is Word Cash Legit?
In my opinion, Word Cash is cheating people out of time by preventing them from reaching $150.
The developer claims you can withdraw the money via PayPal, but they don't reveal the number of levels required to hit the target.
So, after playing for weeks and unlocking thousands of words, they may eventually stop giving virtual cash.
If this is not a scam, then I urge the developers to explain what it REALLY takes to cash out. Please clarify how long we are supposed to play and how many individuals are getting paid each month.

This reward platform is going viral! Cash out via PayPal, Visa, Gift Cards, and in-game currencies - Click here to find out how to generate an extra $10+ per day! 
Is There an Alternative to Word Cash? 
CryptoWord is the only word puzzle game that pays everyone, but the earning potential is ridiculously low!

To give you an idea, you must form 100 words of 5 letters in order to make a measly 0.01 USD.
So, is it worth it considering you will waste lots of time and internet data? Well, if you already play these types of games for fun, why not earn a few cents while doing so?
From my experience, the best way to get paid by playing games is to join a reliable GPT site and complete offers.
Most of them require that you install a game on your device and reach a specific level.
The great thing about these platforms is that they provide other simple tasks to boost your earnings.
Conclusion 
Word Cash will make you watch many hours of videos in return for useless virtual dollars. It's a total waste of time if you are just playing with the expectation to win money!
The game says you can redeem $150, but it may never let you reach this amount. I have seen no one who did it.
It literally feels like chasing a carrot on a stick!
I want to remind you that there is no legal agreement between you and the company regarding payments. So, unfortunately, you are at a big disadvantage.
Verdict: Not Recommended
Earn a Full-Time Income Online
There are many ways you can bring in some each money from home. However, if you wish to quit your job and make a living online, I suggest that you become an affiliate marketer.
By writing helpful content, you will attract visitors from all over the world and generate life-changing commissions.
This is the same business model that generates me $1,600+ per month!
Now, because of strong competition, you must learn the proper strategies to rank high on Google and maintain your position. That's why I recommend investing in quality education as I did.
This excellent step-by-step program helped me set up a WordPress site, get traffic, and make affiliate sales. It requires a lot of commitment, but the freedom that it provides makes it worthwhile.
>> Join for free now and start building a solid foundation today!
Final Words
Thanks for reading my Word Cash app review. I hope it was informative enough for you. If you have any questions or thoughts about it, leave us a comment below.
Peace!
Read more: