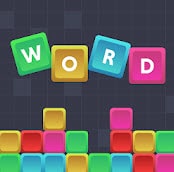 Welcome to my CryptoWord app review!
In today's post, we will take a close look at CryptoWord, which is a puzzle game that claims you can win bitcoin as you find words.
Millions of people are playing similar games with the expectation to withdraw $100 or even $200 via PayPal.
However, that is completely unrealistic as the developers could never afford to pay every user. Besides, they are not obligated to pay anyone, so why would they give up on large sums of money?
I am here to answer some key questions you might have. Is CryptoWord legit? Does it pay? How much money can you earn?
If you are sick of apps that pay little to no money, check out my #1 recommendation. This is the same program that helped me reach $1,600 per month and quit my job in 2019. 
CryptoWord App Review
Name: CryptoWord
Developer: Vweeter Limited
Eligibility: Worldwide
Minimum Payout: 100 satoshis (0.01 USD)
Overall Rating:

3/5
What is CryptoWord?
CryptoWord is an addictive word search game where you have to connect letters to form as many words as possible.
As you play the game, you will accumulate satoshi, which can be transferred to your Coinbase account.
The game was developed by Vweeter Limited, which also owns other crypto-earnings apps such as CryptoPop and Pop Stellar.
Is CryptoWord Legit? Does it Pay? 
CryptoWord is 100% legit, and it does pay! I have seen lots of reviews from players who managed to cash out with no issues. The main problem is that earning potential is incredibly low. I will talk more about that later.
How does CryptoWord Work? 
Installation
CryptoWord is available for free on Google Play store. Before you start playing, you should add your wallet by signing up with your Facebook, Google, or phone number.
Then, enter your Coinbase email and tap "Save account info" so that you can receive BTC.
How to Play? 
Swipe your fingers horizontally, vertically, and diagonally to form words of at least 3 letters.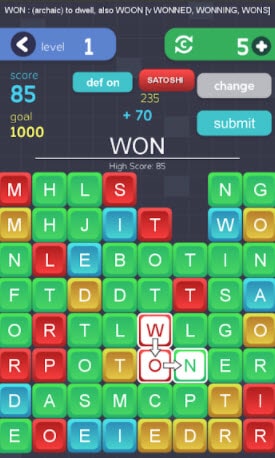 The bigger the word, the higher score you will get. For example, 3-letter words will give you 45 pts, whereas 4-letter words will award you 80 pts.
Keep in mind that different block colors have different score points:
Green blocks: 5 pts

Red blocks: 10 pts

Yellow blocks: 15 pts

Blue blocks:20 pts

Pink blicks: 25 pts
The goal is to beat the score to get to the next level by eliminating as many blocks as possible. Depending on how many blocks are left, you will get a nice bonus.
When you are stuck, try using the change coin to change the letter into a random new one.
Unlike other games, CryptoWord will not show you video ads while you are playing. However, they will almost always display ads when you start a level or when you enter your wallet.
What I like about the game is that it shows you the meaning of each word at the top, which helps you improve your vocabulary.
How Much Money Can You Earn? 
You will get 1 satoshi (= 0.00000001 BTC) when you score at least 145 points per word. This usually happens when you form 5-letter words, which is not that easy!
As of writing, 1 satoshi is worth 0.00011371 USD, which means that you must discover 100 words to make a measly 0.01 USD. Let that sink in for a moment!
Don't forget that you will have to watch lots of 30-second videos while playing CryptoWord. As a result, the amount of Bitcoin you will earn may not even cover the costs of running those ads on your phone.
Referral Program
Share CryptoWord with your friends and earn 20% of all their satoshi. Simply open your wallet and click on the share button.
How do You Get Paid? 
Once you have 100 satoshis, you can open your wallet and click the "claim" button. The payment is usually processed immediately to your Coinbase account.
Keep in mind that you can only claim satoshi once every 3 days. 
Pros and Cons
Pros
It's a fun and challenging game.
Earn free BTC while playing.
It improves your vocabulary.
There are lots of positive reviews on Google Play.
Fast payments.
Cons
You only earn satoshi when you form words of 5 letters.

The earning potential is very low.

There are too many ads.

It takes a long time to get 100 satoshis.
Conclusion
CryptoWord is one of the few word puzzle games that pay. Unlike other misleading apps, they won't stop giving you rewards as you get closer to reaching the minimum payout threshold.
Sadly, it takes a very long time to earn 100 satoshi, which is worth a measly $0.01. However, if you already play these types of games for fun, a few cents is better than nothing!
The main problem is that the game will consume a lot of internet data due to an accessive amount of advertising. Therefore, you may actually lose money unless you are using public wifi.
In my opinion, people should only play CryptoWord for fun because the cash reward is almost negligible.
Earn a Full-Time Income Online
If you are serious about making money online, I suggest that you invest your time and energy on strategies that can help you reach a full-time income online. In my opinion, affiliate marketing is the best option for most people!
With proper training and mindset, you can make $1000s/month by providing helpful content and ranking content on Google.
In 2015, I joined an excellent step-by-step program that helped me build this type of online business with no previous experience.
They have a free starter membership where you can test drive the course, tools, and community with no strings attached. >> Click here for full details!
Final Words
Thanks for taking the time to read my CryptoWord app review. So, what are your thoughts about this game? Do you like it? have you received the satoshis in your Coinbase account?
Take care!