Welcome to my Dice Master 3D app review!
Dice Master 3D is another board game that awards you virtual dollars and coins just by rolling the dice.
Once you collect enough rewards, you can supposedly withdraw the money via PayPal or Amazon vouchers. They go as far as to say you can become a millionaire! 
I have seen the same story a thousand times, and I can tell you that only those sell the idea of becoming a millionaire have the chance to become millionaires.
Dice Master 3D is operated by Shape Keeper Ltd, which is the same company that created Plinko Master, Lucky Money, and other "money" games.
You are searching for more information as you don't want to waste time rolling dices for nothing. So, will Dice Master pay you? Is it a scam or a legit app?
Before you leave, discover the step-by-step program that helped me reach $1,600 per month from my laptop. It's free to get started and 100% newbie-friendly!
Dice Master 3D App Review
Developer: Shape Keeper Ltd
Eligibility: Worldwide
Minimum Payout: $100
Price: Free (no in-app purchases)
Overall Rating: 2/5
How Does Dice Master 3D Work?
Installation
Dice Master 3D is available on Google Play for Android devices. After installing the app, the game will launch instantly, but you will have to log in using Facebook before you can cash out.
By logging in, you will be able to play Dice Master 3D on multiple devices and back up your game process. In addition, you will get 30 extra dices.
How to Play
You will start with 50 dices, and every time you roll, they will add another one after 15 minutes. They will always stop adding new dices once there are 50.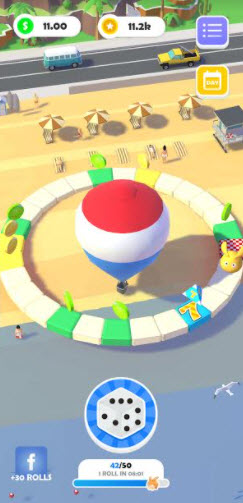 Just tap on the dice to move the yellow bunny around the 3D board according to the numbers you get on the dice.
As you move clockwise, you can land on three different spots:
Green: Earn virtual cash.
Yellow: Earn coins.
Number 7: Play the slot machine for a chance to win cash and coins. If you match 777, you will win $1000. Of course!
Every time you win coins or cash, Dice master 3D also gives you the opportunity to multiply your earnings by 1.3, and 5. But first, you will have to watch a video ad as usual.
Once you give a complete turn around the board, the reward spots will be rearranged and you will play the slot machine.
Check-in Bonus
Dice Master 3D will give you some coin bonuses for checking in daily. If you check in on 7 consecutive days, you will get the following bonuses:
1st day: 10K coins
2nd day: 200K coins
3rd day: 400K coins
4th day: 600K coins
5th day: 800K coins
6th day: 1m coins
7th day: 1.2m coins
You may think this a hell lot of coins and that you are making a great achievement, but you are not.
The reason is that you will need 2 Billion coins to cash out a measly $2 via Amazon gift card. So, it will take ages to reach the payout requirement.

How do You Get Paid? 
Dice master 3D claims that you can cash out via PayPal or Amazon gift card once your cash balance reaches $100. To request your payment, click the menu and then "Cash out".
You can also convert 2 Billion (Yes, BILLION) coins to $2 Amazon gift card in the "Redeem Reward" section.
It says your PayPal or Amazon gift card will be sent within 7 business days.
Does Dice Master 3D Pay You Money? 
If you check the user review on the Google Play store, you will find lots of disappointed players who couldn't reach $100. In fact, I didn't see anyone who received the money!
It's just a waste of time like every other game! You will start making a decent amount of cash and get to $90 within a few days.
However, your earnings will drop drastically and you may get stuck somewhere between $95 – $99. For example, one person reported she got stuck at $95 even though she played for 3 months!
Some people managed to collect enough tokens and request the $2 Gift Card, but they have been waiting for more than a month! So, there is no hope at this point.
It's mind-blowing how these app developers can entice so many people to play their games. Not only that, but they hook players for weeks and even months with the supposed opportunity to cash out.
Unfortunately, it's not a win-win situation here because while you earn worthless coins and tokens, the developer is making real money from ad views.
Is Dice Master 3D a Scam? 

I cannot claim Dice Master 3D is a scam without presenting any proof here on my blog. However, there's is strong evidence that it doesn't pay.
According to the "Terms and Conditions" token and coins have no monetary value. Besides, Shape Keepers has the right to decide whether they will pay you or not.
In other words, there is no legal agreement that the company let you collect $100 and pay you. That's why I believe they will not be sued for operating as they do.
The main problem is how they advertise the game. In many countries, that would probably be considered false advertising, but as they are operating from Hong Kong, maybe that's not a big issue for them.
Pros and Cons

This reward platform is going viral! Cash out via PayPal, Visa, Gift Cards, and in-game currencies - Click here to find out how to generate an extra $10+ per day! 
Pros
The 3D graphics are neat.
Cons
The dice and slot machine are not fair.
The game will stop awarding cash and you will get stuck around $95 – $99.
It takes a long time to collect 2 Billion coins.
Users who cashed out didn't receive the gift cards.
There are a lot of ads.
Conclusion 

Thousands of people are playing Dice Master 3D not because the game is cool, but because of the cash reward.
Indeed, rolling the dice hundreds of times only makes sense when you know there is a real opportunity to make $100.
Unfortunately, no one seems to get paid after playing for months You will likely waste your time! 
The best way to make money by playing games is by completing offers from apps like Bidcash or GPT sites like Prizerebel. Still, it can be a frustrating experience due to failure in tracking your gameplay.
Verdict: Not Recommended 
Earn a Full-Time Income Online
If you want to work remotely and generate an alternative source of income from home, I suggest building your own online business.
This excellent program will show you step-by-step how to create an affiliate site, build an online audience, and start making life-changing commissions.
After going through the same training and taking massive action, my site now covers all my living expenses and allows me to work whenever and wherever I want.
You can do the same! Sign up for free and start your online business today with no strings attached. >> Click here to learn more! 
Final Words
Thanks for taking the time to read my Dice Master 3D app review. I hope it was helpful! So, what do you think about this game? How was your experience? Share your experience with us in the comment box below.
Take care!
Read Also