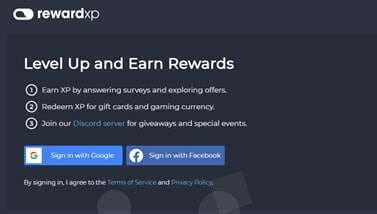 GPT sites have become a significant source of income for individuals, especially now during this pandemic.
The reason is that anyone can join for free and complete simple tasks that don't require any previous experience.
RewardXP is a "get-paid-to" site that awards points (XP) for taking surveys, completing offers, and watching videos.
I found a couple members recommending this platform on Reddit, so I signed up and put it to test.
You are probably wondering if RewardXP is legitimate or another scam. Does it pay and if so, how much money can you earn?
Before you leave, don't forget to check out the step-by-step program that helped me build an online asset and generate over $1,600+ per month. Click here and get started now!
RewardXP Review Summary
Name: RewardXP
Website: rewardxp.com
Eligibility: Worldwide
Price: Free to join
Payout Threshold: $5
Overall Rating: 3.7/5
What is RewardXP? 
RewardXP is a reward platform that provides the opportunity to complete simple tasks in return digital currency called XP.
Once you reach the minimum cash out requirement, you can request a payment though PayPal, gift cards, and even bitcoin.
As a member, will collect points by taking surveys, discovering new games, completing offers, watching videos, and more!
The cool thing about this site is that it works on PC and mobile devices. So, you can earn XP anytime, anywhere you want!
Is RewardXP Legit? Does it Pay?
Yes, it is! Rest assured RewardXP is a legitimate and safe website. There are lots of positive reviews on the internet and everyone seems to get paid with no issues.
Beware that you may not receive points after completing some offers. There are many reasons companies fail to track them, so make sure you always take a screenshot of the page to prove that you completed all the tasks.
How Does RewardXP Work? 
Sign Up
The registration is free and straightforward! You can become a member by signing in with your Google or Facebook account.
But first, I recommend you have a look at the "Terms of Use" to avoid breaking any rules.
For example, you cannot create duplicate accounts or use VPN (proxy) to access offers from other countries.
Also, you are not allowed to join RewardXP if you are at under 13 years old. If you are a minor where you live, you still need consent from your parents or guardian.
>> Check out the #1 rated GPT site!
XP & Rewards
RewardXP has a point-based system where 10,000 points = 1 USD.  Once you collect enough XP, you can cash out using the following payment methods:

PayPal ($5): 50,000 XP
Amazon Gift Cards ($5): 50,000 XP
Bitcoin ($20): 220,000 XP
Visa Prepaid ($5): 50,000 XP
Roblox (50): 10,000 XP
Riot Points ($10): 100,000 XP
Discord Nitro (1 month): 50,000 XP
Steam ($5): 50,000 XP
Reward Link ($5): 50,000 XP
Nintendo eShop ($10): 100,000 XP
Earn XP 
RewardXP connects you with the best offer walls and survey routers to help you maximize your earnings.
Once you log in, open the "Earn" section and browse the tasks available inside each thirf-party platforms.
Dynata: Get 7,500 XP for taking part in marketing research studies. You can only answer 10 surveys per day.
AdGem: Collect points mostly for trying the latest products, services, and apps.
AdGateRewards: Sign up to panels, answer quizzes, take Yuno surveys, and more.
Adscend Media: Complete offers, install applications, and more.
OfferToro: Play games, register to free sites, and subscribe to trials, and fill up surveys.
CPX Research: Earn more points by sharing your opinions about products and services. Most opportunities are worth between 4,000 – 10,000 XP.
Hideout.tv: Earn unlimited XP by watching content in categories such as travel, gaming, and music. As the earning potential very low, wouldn't bother wasting time and internet data with this video platform.
YourSurveys: You must reach 100,000 XP to unlock this survey provider.
RXP Surveys: This the customized gateway where you will find the highest paying marketing studies. Access this router by becoming a Silver member.
All tasks worth at least 25,000 XP* are set as "Pending Review" for 30 days, and may only be claimed after the reviewing period is over.
You can reduce your waiting time once you leveling up to Ruby. More on levels later!
Invite Your Friends
Share your referral link with anyone and get 5% to 15% of their redeemed earnings. The person will start with a generous bonus of 5000 XP ($0.50) if they sign up using your link.
Access your unique URL and invitation stats via your profile page.
Recommended read: TOP 100 GPT Sites to Make Money Online
How Much Money Can You Earn With RewardXP?
Unfortunately, most tasks don't pay well, so you will have to settle for less than the minimum wage in most cases.
Completing surveys is a very time-consuming and low-paid activity!
The reason is that they disqualify you frequently after answering tedious questions for 5 and even 10 minutes. Not to mention survey errors and mysterious screen outs.
Depending on your country and profile, you can bring in over $100 per month just by taking surveys.
Many tasks take little time to complete, but you may have to provide your contact details or subscribe using your credit card.
The compensation varies greatly between different offers. However, you should not expect to earn more than $2 each.

Those that pay above this amount usually require that you make a purchase, squeezing your profit margin.
Level Up
After you collect a specific number of Lifetime XP, you will level up and unlock features that will boost your earnings. Here is the complete list with the requirements and bonuses: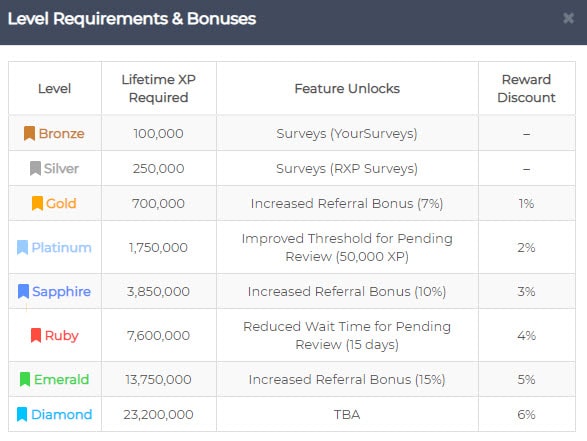 Pros and Cons
Pros
There are several payment options, including PayPal and Visa Prepaid.
The minimum cash-out amount is not so high.
Level up and receive nice bonuses and perks.
Maximize your earnings by unlocking high paying surveys from RXP Surveys.
Earn $0.50 if you log in using an affiliate link.
Quick signup.
Cons
There is a limit of 10 surveys per day when you complete surveys from Dynata and YourSurveys.
YourSurveys and RXP Surveys are only available after you level up.
The referral program is not very profitable.

This reward platform is going viral! Cash out via PayPal, Visa, Gift Cards, and in-game currencies - Click here to find out how to generate an extra $10+ per day! 
Conclusion 
RewardXP is a legit platform that will help you earn a little extra money from home or on the go.
I like the wide selection of payment options and the low payout threshold. It means that you don't need to wait for ages to cash out.

RewardXP offers a decent rate of pay compared to other GPT sites, but the referral program falls very short.
Another downside is that you can only access YourSurveys and RXP Surveys once you become a bronze and silver member, respectively.
Verdict: Legit
Similar GPT Sites: 
Earn a Full-Time Income Online
Sites like RewardXP are great for pocket money, but you could earn a lot more by building your own online business!
I'm glad I put in the time and effort into creating an affiliate site and ranking articles on Google.
Today, it allows me to work remotely and generate a job-replacing income while traveling the world. It's all about freedom!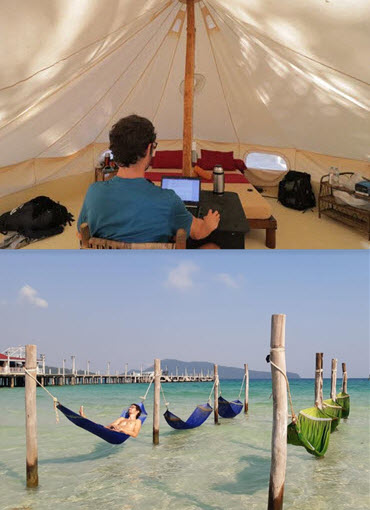 With simple steps, you can create a website in just 1 or 2 hours. However, there is a lot you need to learn in order to attract enough visitors to your online business.
The competition is harsh, which is why I highly recommend you invest in quality education and mentorship.
Learn from people who walked the way and avoid trial and errors!
This excellent program helped me create an affiliate site from scratch and generate $1,600+ per month.
The good news is that you can sign up for free and get started today with no strings attached!
Final Words
Thanks for taking the time to read my RewardXP review. If you have questions or thoughts about it, leave us a message below.
Peace!