Welcome to my Lucky Box app review!
Lots of people are earning money just by playing games on their smartphones. It seems too good to be true, but there are legit apps and sites that pay!
I have recently discovered Lucky Box which, at first glance, seems very similar to Mistplay and a few other game apps.
The app will show a list of games and give you coins based on the amount of time you play. Then, you can supposedly redeem coins for PayPal cash, Google Play, and Amazon vouchers.
Unfortunately, lots of users complain that Lucky Box doesn't let them cash out. So, is Lucky Box a scam? Does it pay or not? Check out my review to find out!
Before you leave, don't forget to check out the step-by-step program that helped me build an online business and generate over $1,600+ per month. Click here and get started for free!
Lucky Box App Review 
Name: Lucky Box
Developer: Lucky Lucky Box
Type: Get paid to play games
Payout Threshold: $10 or $100 depending on your country
Price: Free
Overall Rating:

1/5 
What is Lucky Box?
Lucky Box is a mobile app where you can supposedly make money by installing and playing sponsored games.
The app has been installed over 100,000 times on Google Play and rated 4 stars. Despite the excellent rating, you will find an insane number of complaints from users who cannot cash out.
I will explain why so many people are disappointed with Lucky Box. First, let me show you how this app works.
How Does Lucky Box Work? 
Game developers advertise on the Lucky Box platform and pay a fee whenever someone installs and plays their games.
In turn, Lucky Box supposedly shares a slice of their profits with users who are trying the game.
Once you launch the app, you will receive a bonus of $5. However, can only cash out once you accumulate $10 or the equivalent of 100K coins.
In the dashboard, you will see a list of games and a "Play & Earn" button. All you have to do is click on that button, install the game on Google Play, and start playing.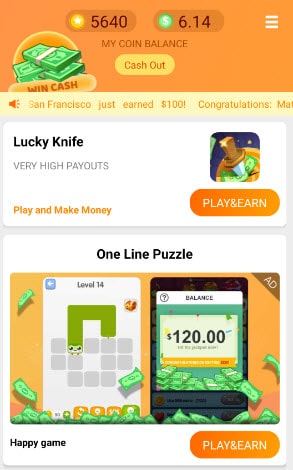 Lucky Box will track your play time and award coins based on how long you play the game.
Keep in mind that the coins/minute ratio will always decrease as you play. Besides, here is a cap on the number of coins that you can earn per game.
Therefore, it's just a matter of time before Lucky Box will stop awarding coins for a particular game.
It's also important to mention that in-game points/currency do not reflect on the number of coins you will earn on Lucky Box. So, unfortunately, better performance will not help you maximize your earnings.
Don't Trust Money Games!
Many sponsored games on Lucky Box will give you lots of virtual cash, which you can supposedly withdraw via PayPal once you reach $100 – $200.
Don't get caught up with games like Fish Blast or Dream Home as you won't get paid a dime!

Daily Rewards
If you tap on "Win cash" icon, you discover a list of daily tasks and the opportunity to earn coins or virtual cash worth up to $1.
For example, you will get regarded for logging in, passing 10 levels in any game, playing 3 games and more!
 How Do You Get Paid?
If you are lucky enough to collect enough coins or virtual cash, tap on "Cash out" and choose your payment method.
Once you have $10 (virtual cash) or 100K coins, you can redeem $10 via PayPal, Amazon or Google Plau gift cards. Depending on your country, the minimum payout is $100.
Is Lucky Box Legit? Does it Pay? 
As I mentioned earlier, lots of users are complaining there cannot make any money.
Lucky Box is just like most "make money" games. They credit your account until you reach a certain amount, and then, they stop paying and you cannot cash out.
There are many people claiming they got stuck at $97.99 and $98.99. Other users reported passing the $10 mark, but the app kept saying they didn't.



After reading lots of reviews on Google Play, I coudn't find anyone who received the payment.
Nevertheless, I cannot claim Lucky Box is a scam because they assume you agree with the terms of serice, which states the following:
The user heareby agree that virtual items in the account (in-game virtual currency, gold coins, props, etc.) are owned by us. 

We have the right to dispose of user account data and all other relevant information. 
In other words, Lucky Box is not obligated to pay anyone as they own all your virtual currency and coins.
Best Lucky Box Alternatives
Yes, there are two similar apps that will likely pay you to try games on your phone:
Mistplay – Only available in the US, the UK, Canada, Singapore, and European countries.
PlaySpot – Available worldwide, but the minimum payout is $20.
A company called JustDice has launched multiple clones apps on Google Play such as Cash Alarm, Coin Pop, and FitPlay. However, they only seem to pay a small percentage of users.

This reward platform is going viral! Cash out via PayPal, Visa, Gift Cards, and in-game currencies - Click here to find out how to generate an extra $10+ per day! 
In my opinion, the most reliable platform for completing game offers is Prizerebel. The site has an incredible selection of offer walls and survey routers that will help you maximize your earnings.

Conclusion 
I coudn't find any evidence that Lucky Box is rewarding players. All I can see are complaints after complaints from users who got stuck or denied payment.
Lots of people are just filling up the developer's pockets with no compensation for their time.
I don't think it's worth taking the risk considering there are better alternative out there!
You can make a lot more money by using a reliable GPT site. I've already cashed out hundreds of times using Prizerebel with no issues!
Earn a Full-Time Income Online
If you want to earn a full-time income online, I suggest that you ged rid of game apps and build your own online business.
Thanks to this excellent step-by-step program, I created an affiliate site that is covering all my living expenses.
My job is to provide quality content, rank articles on Google and promote related services in return for commissions.
It take time to build trust and get high rankings. However, this is one of the best strategies to generate residual income online and eventually achieve time and location freedom!
Final Words
Thank you for taking the time to read my Lucky Box app review. I hope it helps you make an informed decision. If you have questions or thoughts about it, just leave us a comment below.
Peace!