Welcome to my Golden Luck app review!
Over 100,000 people have already downloaded Golden Luck in hopes to win great prizes. According to the company, the more you play, the more your chances of winning.
Inside the platform, you can try your luck with games such as the lucky wheel, random dice, scratchers, and slots.
You will collect virtual dollars and tokens redeemable for cash via PayPal and Amazon gift cards. They make it seem easy to accumulate wealth out of thin air.
I lost count of how many apps like Golden Luck I reviewed on my website. Unfortunately, most of them are a complete waste of time since they never let users reach the minimum cash-out amount.
So, does Golden Luck provide a genuine opportunity to earn money? Is it legit or fake?
Before you leave, don't forget to check out the step-by-step program that helped me build an online business and generate over $1,600+ per month. Click here and get started for free!
Golden Luck App Review
Name: Golden Luck
Developer: Nie Kai
Payout Threshold: $50
Price: Free
Overall Rating:

1/5 
How Does Golden Luck Work? 
Golden Luck works as an advertising machine (aka money machine) for app developers. It displays lots of videos while you are playing games and collecting virtual rewards.
Installation
The app is available for Android users all over the world. You can download it on Google Play and start playing the games for free with no need for prior registration.
Rewards
You will accumulate virtual dollars, coins, Amazon cards, fruits, Lucky (777), and even Phone puzzle pieces while playing games. However, you can only cash out once you collect enough tokens.
Here are the current payout thresholds for each prize:
10 puzzle pieces = Samsung Galaxy S20
5 Million Gems = $50 (PayPal)
100 Dollar = $100 (PayPal)
100 Amazon Cards = $500 (Amazon Gift Card)
150 Lucky (777) = $1,000 (Amazon Gift Card)
200 Fruits = $10,000 (Gift)
Note that Golden Luck doesn't let you redeem coins for cash rewards. You can only use this type of token only to use the slots machine.
Tired of greedy apps? Check out my #1 recommendation.
Scratch Cards
Every day, Golden Luck provides 20 free scratchers, and multiple chances to win coins and virtual dollars.
The downside is that they don't the prize you are supposed to get for matching 3 symbols.
So, you just have to accept whatever comes, which is usually not more than a few coins. Remember, you will need 5 million of them before you can redeem $50.
Keep in mind you must watch a video to unlock more cards every 2 or 3 scratchers.
Dice
In this classic board game, press the "Roll" button to move your pin according to the number on the dice. You will collect coins, cash, and Amazon cards along the way.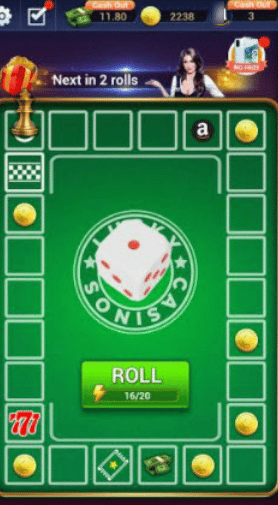 In the first round, my pin landed on every winning spot like magic. That's enough reason for anyone to suspect the dice is rigged.

Slots
Each spin in the slot machine costs 1000 coins. Match a combination of symbols and win different tokens such as fruits, gems, Amazon cards, and virtual dollars.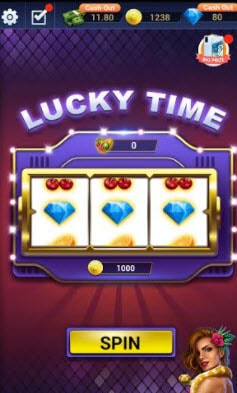 You can still play the slots if you run out of coins as long as you watch a clip, which is not always available.
Lucky Wheel
Spin the wheel for a chance to win coins, virtual cash, and Amazon cards. After playing 3 times, Golden Luck will lock the wheel for 1 hour, forcing you to watch more videos to keep on spinning.
Lucky Spin
Here is where you can collect not only cash and coins but also puzzle pieces to win a Samsung Galaxy S20. Press the button in the center and watch a video to play.
Is Golden Luck Legit? Does it Pay? 
Golden Luck doesn't provide a legal agreement between users and developers. That means they can manipulate earnings, reject payments, and terminate accounts at their sole discretion.
Even if they had a "Terms of Service", they would probably state tokens don't reflect real-world currency, and that you have no right to payouts.
I was checking the reviews on Google Play and realized that Golden Luck operates just like most "lucky" apps.
Once you get close to $100 or the minimum, they will stop giving more rewards and you will probably get stuck.
Many people report this issue. Here are two reviews that I took from Google Play:


Despite a large number of negative reviews, I cannot claim Golden Luck is a scam just because no one seems to get paid.

It's important to note that the company doesn't promise you will win any prize. They want you to play with the expectation to earn money even though the chances might be 1 in a million.
The BEST Golden Luck Alternative
I've been reviewing apps like Golden Luck for a couple of years, so I know how difficult it is to find one that actually pays.
Lucky Time is perhaps the only option that is converting coins to actual money. However, it's unfortunate that the company makes it hard for users to cash out multiple times.
Many people could redeem $5 – $10 three and even four times, but then, they increase the minimum payout to $50.
Others receive a message of network error when trying to log in and cannot use the app anymore!

This reward platform is going viral! Cash out via PayPal, Visa, Gift Cards, and in-game currencies - Click here to find out how to generate an extra $10+ per day! 
Daily Raffle is another legit application where you can collect free tickets for a chance to win $125, $250, and $1000. The downside is that the chances of winnings are very slim!

Pros and Cons
Pros
Cons
No one seems to win any cash reward.
No "Terms of Service."
The odds of winning are unknown.
Scratch cards don't state the actual prize.
There are too many ads.
The videos are not always available when you are trying to spin the wheel and unlock scratchers.
Conclusion 
In my opinion, Golden Luck is a complete waste of your time and internet data!
The company doesn't reveal the odds of winning, so you need a lot more than luck to make money.
Based on lots of reviews, you may stop earning tokens when you are very close to cash out or claim your prize.
Therefore, you will spend many hours watching videos only to make developers get richer!
They say games are designed for fun, but I believe very few people would play Golden Luck without the cash incentive.
If you value your time, avoid Golden Luck, and focus on strategies that put real money in your pocket.
Verdict: Not Recommended
Earn a Full-Time Income Online
If you wish to make hundreds and even thousands of dollars per month, I suggest that you become a content creator.
By writing helpful articles, you will attract web visitors and receive commissions when people click on your links and purchase related products.
Today, my online revenue covers all my living costs and I am able to work independently from anywhere I want.
If you are interested in learning more about this business model, follow this excellent step-by-step program.
The first 10 lessons are completely free and don't even need to enter your credit card details.
It takes time to build trust, get high rankings, and traffic. However, this is one of the best strategies to generate residual income online and achieve remarkable freedom.
Final Words
Thank you for taking the time to read my Golden Luck app review. I hope it was informative! If you have questions or thoughts about it, leave us a comment below.
Peace!