Welcome to my Word Bakery 2021 Pro review!
I have recently installed Word Bakery 2021 Pro, a game that supposedly awards cash and gifts such as the iPhone 12.
It's almost identical to this popular word puzzle app and many other similar games on Google Play.
As you connect letter to form hidden words, you will earn virtual cash redeemable via PayPal, Amazon, and Sephora gift cards. I am talking about hundreds and even thousands of dollars! 
Lots of people get hooked by the possibility of winning easy money and end up playing Word Bakery 2021 for many hours. But does it actually pay? Is it fake or legit?
Keep reading to understand the pitfalls and avoid frustration!
Before you leave, discover the step-by-step program that helped me reach $1,600+ per month online and quit my job. No special skills required! Click here and sign up for free!
Word Bakery 2021 Pro App Review
Name: Word Bakery 2021 Pro
Company: MaruMaru LLC
Eligibility: Worldwide
Price: Free
Overall Rating:

1/5
What is Word Bakery 2021 Pro?
Word Bakery 2021 Pro is a word puzzle game in which players unlock words by connecting letters on the cake. Complete the level by guessing all the words and you will activate the Luck Spin for a chance to win virtual dollars.
There are three cash balances assigned to different payment methods, such as PayPal, Amazon and Sephora vouchers. You can only cash out once you meet specific requirements that we will discuss later.
MaruMaru LLC operates other 4 "money" games: Puzzle Collections, Dice Master, Merge Plane, Shooting Up and Word Search.
How Does Word Bakery 2021 Pro Work?
Installation and Permissions
People can download and install Word Bakery 2021 Pro on Google Play and enjoy instantly.
Although it doesn't ask for any permissions, be aware you are granting the app access to media, photos and files on your device.
In other words, it can read, change and even delete content in your USB storage. Crazy, right? If you still want to play the game despite the risks, keep reading.
How to Play? 
Swipe your finger to link the letters and unlock the secret words.
It's very easy to complete levels in the beginning when words comprise 3 or 2 letters. However, the real challenge starts when longer words are added to the puzzle.
For example, at round 12, Work Bakery will add another letter to the "recipe".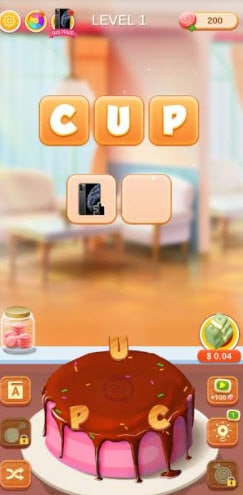 Collecting Rewards
It pays a few cents whenever you unlock a word. Not only that, it gives coins, lucky spins, and cash (linked to gift cards) after completing each level.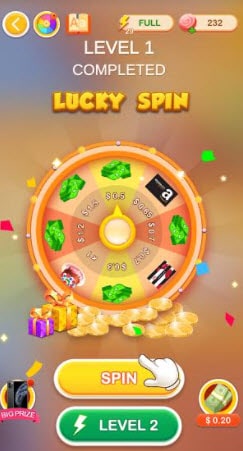 You must tap the Spin button and watch the video to activate the wheel. But often, the ads are unavailable and you cannot play to collect your reward. It's very frustrating!
Sometimes, Word Bakery 2021 gives awards puzzle pieces for winning big prizes like iPhones, iPads, Apple Watches, and more.
You can collect more fragments by watching sponsored videos in the " Bubble of Puzzles", or playing another Lucky Spin.
As for coins, they can only buy you hints when you feel stuck.
How do You Get Paid?
Once you meet the cashout requirement, open the cash balance and select one of the three payment methods:
PayPal – $200
Amazon – $1,000
Sephora – $1000
Keep in mind that each option is tied to a unique balance. That means you cannot redeem an Amazon Gift card using the money in your "PayPal" balance.
Is Word Bakery 2021 Legit? Does it Pay? 
No, it doesn't. The company will not pay you $200, let alone $1,000! Also, forget about winning the iPhone or other big prize just by forming words and watching videos.
Word Bakery 2021 Pro behaves like countless games on Google Play. At first, it gives you a decent amount of cash to give you the impression that it will be easy to cash out. But the close you get to your target, the less you will earn.
I don't know if you will eventually get stuck, but meeting the requirement doesn't mean you will receive the payment.

It's also worth mentioning that MaruMaru provides early access to the game. Therefore, users cannot share their results and opinions in the review section.
That's not good news, since reviews are extremely important to raise awareness and make informed decisions.
Is There an Alternative to
Word Bakery 2021 Pro?
Despite the large number of word puzzle games on Google Play, Words Words Words is probably the only similar game that pays.
Created by WIRN Games, the app organizes genuine sweepstakes twice a week. Users can also convert tickets to cash and withdraw the money via PayPal.

This reward platform is going viral! Cash out via PayPal, Visa, Gift Cards, and in-game currencies - Click here to find out how to generate an extra $10+ per day! 
Unfortunately, millions of players are competing for the prize, so the odds of winning are too low.
CryptoWord is another legit game about connecting letters to form words. It transfers Btc to your Coinbase account almost instantly, but unlocking 100 words earns you a measly $0.01! 

Conclusion
Word Bakery 2021 is a nice game for killing time, but the cash is fake and cannot be transferred to PayPal or gift cards.
The app entices players with eye-catching prizes of $200 and $1,000. I wish they were real, but the fact is that the developer is not obligated to pay anyone.
Besides, the money generated from advertising does not cover such generous cash incentives.
To sum up, playing Word Bakery 2021 with the expectation of earning money is a complete waste of time and internet data. 
My Top Recommendation
Thanks to this excellent step-by-step program, I created a profitable website with no marketing or technical skills.
It allows me to work anytime, anywhere I want as long as have access to internet connection.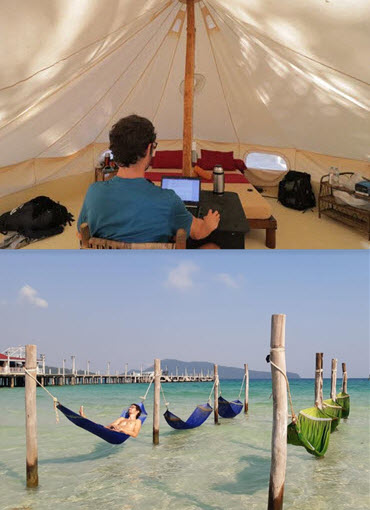 Keep in mind it takes time to grow this type of business and reap the fruits of consistent effort.
But the question is: Are you willing to sacrifice today in order to make a decent income online and enjoy freedom? 
If your answer is yes, then create your free account today and take massive action!
Final Word
Thanks for reading my Word Bakery 2021 app review and I hope it was helpful. If you have questions or thoughts about this application, leave us a message below.
Peace!