Welcome to my Lucky Carnival app review!
I've recently watched an ad claiming you can make real money by playing Lucky Carnival.
The video shows a guy saying to his wife he made $60 from the comfort of his bed.
I am sure you are skeptical and wondering if this is a real or fake application! After all, if it was that easy, nobody would struggle to pay their bills anymore.
In this review, you will find detailed information about Lucky Carnival and whether the company will transfer $1,000 to your PayPal account! 
Don't forget to discover the step-by-step program that helped me grow an online business and make $1,600+ per month. Free membership available! 
Lucky Carnival App Review
Name: Lucky Carnival
Developer: Game Pro Team
Eligibility: Worldwide (age: +18)
Prize: Free
Payout threshold: $100 (Gift Cards) or $1,000 (PayPal)
Overall rating: 

1/5
What is Lucky Carnival?
Lucky Carnival is another merge game where you connect chips with the same number to win rewards. It follows the same concept of 2248 Link, Fall Pops 3D and many other 2048 games!
By merging number, you will earn diamonds that can be redeemed for gift cards worth $100. The current options are Amazon, Google Play, Playstation, Xbox, and iTunes.
Besides, you will get virtual dollars (PayPal cards) once you combine specific chips or open gifts.
Just remember the money accumulated in your account can only be withdrawn if you reach $1,000! 
How Does Lucky Carnival Work? 
Installation and Permissions
You can download Lucky Carnival for free on Google Play just like any other Android game.
Regarding permissions, it's important to note the developer will have access to photos, media and files on your phone.
They can read and even delete things from your device as they assume you granted permission.
Need proof? Click "view details" below Permissions and you will find this: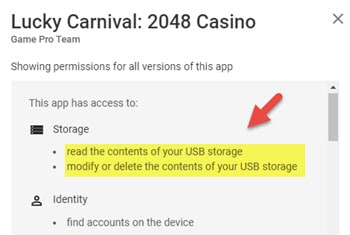 How to Play Lucky Carnival?
Slide your finger to draw the line connecting all the chips with the same number. Connect as many numbers as possible horizontally, vertically, and diagonally.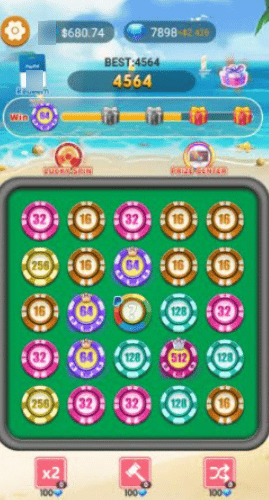 Next, all the chips will merge into one that follows the geometrical sequence: 2 – 4 – 8 – 16 – 32 – 64 – 128 – 256 – 512 – 1024 – 2k – 4k…

As you are drawing the lines, Lucky Carnival gives you diamonds depending on your performance. Currently, a diamond is worth approximately $0.0003.
The progress bar fills up and eventually hits the gift symbols. That's when you get the chance to get stage rewards after selecting the card and watching a video.
You can win either diamonds or virtual Paypal cards.
Another way to collect virtual dollars is to connect a chip that has the PayPal icon on the side.
This "special" ship connects with any number! And of course, you must always tap the "Collect" button and endure the annoying ad.
Prize Center
As if all the dollar bills were not enticing enough, Lucky Carnival gives you puzzle pieces so you can win iPhones, Laptops, TVs and other big prizes.
To get random puzzle fragments, play the Lucky Spin game or use "Bubble or Puzzles" inside the prize center.
Again, the developer will make you watch more adverts to make profits!
How do You Get Paid? 
Simply tap the Redeem, select the amount, and follow the instructions. Remember, you must accumulate at least $1,000 to withdraw the money via PayPal.
You can also trade 325,500 diamonds for a $100 Amazon, Google Play, and other gif cards.
Now, you are probably wondering – Does Lucky Carnival earn enough ad revenue to pay $100 and even $1,000 to every player? Keep reading to find out!

Is Lucky Carnival Legit? Does it Pay?  
No, it doesn't! Rest assured you won't receive the money regardless of how long you play!
The first cash rewards are big and you will accumulate over $500 within a short time. For example, Lucky Carnival gave me $285.88 right from the get-go.
However, it drops the value of PayPal cards gradually, making it nearly impossible to cash out.
Afte playing the game for hours, many players eventually give up because they realise they may never reach $1,000.
Yes, they can stop giving cash because according to the TOS, Lucky Carnival has the absolute right to manage, control, modify, and regulate virtual items.

This reward platform is going viral! Cash out via PayPal, Visa, Gift Cards, and in-game currencies - Click here to find out how to generate an extra $10+ per day! 
But even if game lets you earn enough to cash out, the funds won't be transferred your PayPal account.
Make no mistake. The only person making actual money is the developer by displaying ads for thousands of people.

Conclusion
I enjoy playing games like Lucky Carnival when I feel bored and have no internet on my phone.
However, I don't like the fact they are giving virtual dollars just to make people play more and watch more ads.
It's important to understand that games don't generate enough revenue to let everyone win hundreds of dollars.
Some apps like Givvy offer smaller cash prizes, which is why they can afford to pay out.
But in my opinion, Lucky Carnival is not serious about rewarding players! So, skip it if you want to save time and internet data.
Verdict: Not Recommended 
Earn a Full-Time Income Online
Millions of people wished they could work remotely to benefit from time and location freedom!
One of the most powerful strategies is called content marketing. In short, it consists of providing helpful information to your audience and promoting products that you trust.
I have been using this business model successfully for the past 6 years, which is why I still recommend it to this date.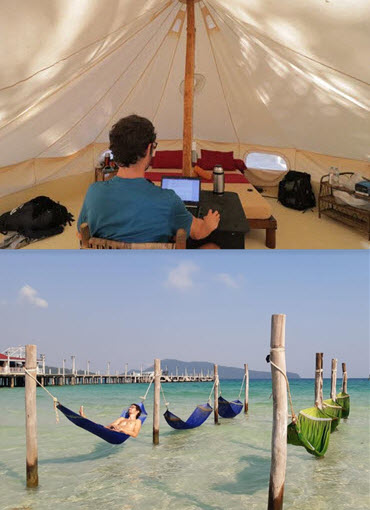 This excellent step-by-step program will help you create a website and attract thousands of visitors per day using powerful SEO techniques.
If this lifestyle appeals to you, click here to learn more!
Final Words
Thanks for reading my Lucky Carnival app review. So, what are your thoughts about it? Did you reach $1,000? Let us know in the comment box.
Peace!