Welcome to my 2248 Link – Connect Puzzle app review!
You may have seen a video enticing you to play 2248 Link – Connect Puzzle in exchange for real legit money. It sounds like a modern fairy tale! First, they show you a guy making this bold claim: "Make $600 in 3 hours today"!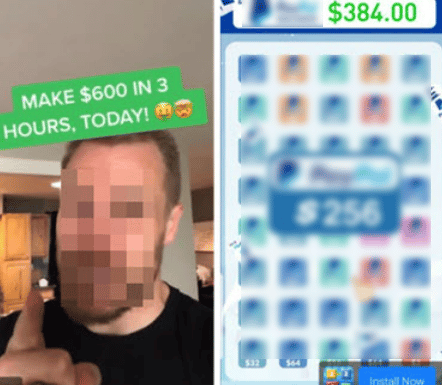 Then, there is a very unrealistic game simulation, which consists of connecting squares and earning hundreds of dollars in a matter of seconds!
Each block had a PayPal symbol and a specific amount of cash ranging from $8 to $128. Whenever the person connected all the blocks with the same value, the money was added to the PayPal balance at the top.
It seems too good to be true! But the app has already been installed over 1 million times, which means there are a lot of people out there who still have high hopes.
So, is 2248 Link – Connect Puzzle a scam or legit application? Will they pay you? Check my review as it can save you a lot of time and sanity down the road.
Sick of apps that do not pay? This step-by-step program helped me build my own online business and generate $1,600+ per month. It's free to join!
2248 Link – Connect Puzzle App Review
Full Name: 2248 Link – Connect Puzzle
Developer: Aiono Studio
Eligibility: Worldwide
Price: Free (no in-app purchases)
Overall Rating: 

1/5
What is 2248 Link – Connect Puzzle?
2248 Link is an addictive puzzle game where you must swipe to connect blocks with the same number. It was formerly called Blockscapes, but the developer is still advertising it using the old name.
Unlike the ad suggests, each block has a number without the dollar sign. The game gives you virtual dollars occasionally, but only after merging blocks and watching a short video.
There are lots of merging games on the Play Store that also entice players with the possibility of earning easy money. 2249 Link is very similar to Pops Connect and Fall Pops 3D. 
How Does 2248 Link – Connect Puzzle Work?
Installation
You can install 2248 Link on the Play Store and start the game without registration or permissions. After launching the game, you will get a daily check in bonus of $13.
How to Play?
It's super easy! Swipe you finger over at least 2 squares with the same number to connect and merge them. The more blocks you connect at once, the more points you will earn. You can connect horizontally, vertically and diagonally.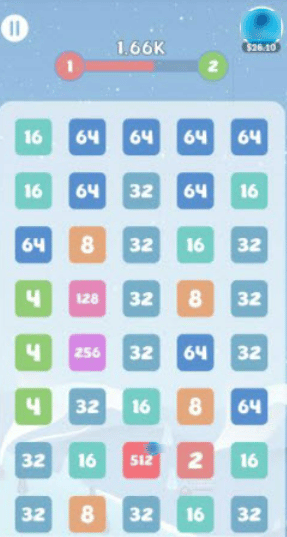 Once you link the numbers, they will merge into a single block with double the number. For example, connecting 3 blocks "32" will generate 1 block "64".
It follows the geometrical sequence: 2, 4, 8, 16, 32, 64, 128, 256, 512, 1024. After the "1024" comes the "2248" instead of traditional 2048. Then, the block will disappear!
You will always receive a virtual cash prize after merging the numbers, but only if you tap Claim (they spell it CLAM 🤣) and watch a sponsored video.
What annoys me about 2248 Link – Connect Puzzle is that even if you tap "No Thanks", they show you an advert. Seriously, you will spend more time watching videos than playing the actual game.

It's not only irritating, but these videos consume a significant amount of internet data and battery from your device.
Another downside is that the block disappears when you unlock the last number "2248". I wish it could grow to higher numbers.
How Do You Get Paid? 
When you get your first daily check in bonus, you will see the PayPal logo and the information that you need to have 500 USD to cash out.
If you are brave and lucky enough to reach this amount, open your cash balance and choose either PayPal or Amazon gift card. Then, insert your details and request your payment!
Now, I would like to address the most important question:
Does 2248 Link – Connect Puzzle Pay?
The developers promote 2248 Link – Connect Puzzle as an opportunity to earn hundreds of dollars in just a few hours. However, here are some red flags that suggest you will never get paid:
Unrealistic payouts – How can the developer pay $500 to every player if the only service they provide is ad space for other companies? They could never afford it!
Early Access – The app is still in development even though it has been installed over 1,000,000 times and is making profits at full speed. As a result, users are not allowed to publish reviews on Google Play, and those who want to read them have to search on alternative sites like this one.
No Terms of Service – Any reward app should provide a legal agreement with the rules and other important information regarding user's account and payments. Without this document, it's difficult to believe in real payouts.
I haven't played 2248 Link – Connect Puzzle long enough to know exactly how it will behave. However, years of experience tells me they will make it very hard for you to reach $500 and cash out.
At first, you will get over $10 after every video, but eventually, your earnings will drop to just a few cents. It's all designed to make you watch more and more ads!
Those who persist will probably get stuck before accumulating $500 or will spend months waiting for a payment that will never come.
Searching for a proven method to make $1,000+ per month? Check out my #1 recommendation and take your first steps today! 

Is 2248 Link – Connect Puzzle a scam, then? 
Many users will be furious and call it a scam when they realize the company will not transfer the money to PayPal. Nevertheless, I hope you understand I cannot accuse this app of anything without showing the proof.
Conclusion
2248 Link – Connect Puzzle is an addictive number merging game that does not pay you a dime, let alone $500. It will just make you watch hundreds of videos to help the owner maximize his advertising revenue.
If you need money, don't waste your time playing a game that doesn't guarantee payouts. Otherwise, it will be a very disappointing experience.

This reward platform is going viral! Cash out via PayPal, Visa, Gift Cards, and in-game currencies - Click here to find out how to generate an extra $10+ per day! 
Earn a Full-Time Income Online
Earning hundreds of dollars takes a lot more than just playing games on your mobile device. With proper training, mindset and work ethic, you can build an alternative source of income and eventually quit your job as I did! 

If you want to achieve time and location freedom, I suggest you build a website and take advantage of the digital economy. It's not complicated, but you must work hard to provide helpful content and treat it as an actual business. Click here to get free step-by-step training from my top recommendation!
Final Words
Thanks for reading my 2248 Link – Connect Puzzle app review.
If you played this game and you want to share your results, feel free to leave us your honest review in the comment section below.
Peace!