Welcome to my Crypto Connect 3 app review!
If you want to get paid for playing puzzle games, you have a much better chance if the company rewards in cryptocurrencies.
Apps that overuse the PayPal logo and claim you can cash out $100 – $500 will never pay you. I know this because I test mobile game daily, so it has become second nature to me! This is the type of game you should avoid! 
In today's post, I will show you everything you need to know about Crypto Connect 3, a futuristic puzzle game that supposedly pays PHT (Phoneum token). Does it pay? Is it a legit or fake?
Wanna make a serious online income? This step-by-step program helped me build my own online business and generate $1,600+ per month. It's free to join!
Crypto Connect 3 App Review
Full Name: Crypto Connect 3
Developer: Phoneum
Eligibility: Worldwide
Price: Free until level 100
Overall Rating:

3/5
What is Crypto Connect 3? 
Crypto Connect 3 is a decent match-3 puzzle game that allows you to earn the Phoneum (PHT) cryptocurrency, which is listed on the Probit Exchange.
The company behind this app is Tortola VG1110, which is also owner of the Phoneum ecosystem and 4 other apps: Crypto Cards, Crypto Treasures, Cloud Earning PHT, and Crypto Planet.
With Crypto Connect 3, all you have to do is complete specific missions by connecting identical items. After completing each level, the game will add PHT to your balance based on your performance. However, you can only withdraw the crypto once you complete all 100 levels!
How Does Crypto Connect 3 Work?
Installation and Registration
Crypto Connect 3 is only available for Android devices, and it's 100% free to play. However, to restart the game and earn more PHT per level, you must get the premium membership for £3.39.
After installing the app on the Play Store and launching the game, they will ask you to register using your Google or Facebook account. Then, tap and on the "Play Button" to get started.
How to Play? 
First, you will see a roadmap with all the 100 levels. Select the first one and take note of the goal. Before playing, you can get some boosters like the special coins and the mix bombs to help you complete the level.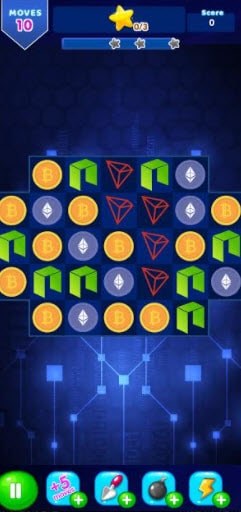 The first mission consists of collecting only 1 star. That's so easy!
Just connect 3 or more of the same coin by swiping your finger horizontally, vertically or diagonally. As a result, they will be destroyed, opening spaces for more coins that fall from the top.
As you connect the coins, the blue bar will load and eventually hit the star symbol. You will earn 10 PHT per star. Considering that each level has a maximum of 3 stars, you can earn up to 30 PHT per level.
Crypto Connect 3 will ask you to complete each mission within the deadline or by using a few moves. Otherwise, the game is over and you must either start over or watch a video to get extra moves.
You can use some tools to destroy items and get extra moves. However, they cost star coins, which you can collect by watching videos or purchasing with actual money. I don't recommend the last option because you may end up at a loss.

Premium Membership
Unfortunately, Crypto Connect 3 is over when you complete 100 levels. However, those who upgrade to premium for £3.39 (approx. $5) can reset the game, earn 3 times more PHT per level, and benefit from instant rewards. If you don't pay, you can no longer play, which is a bummer!
Now, you are probably wondering if it's worth upgrading so you can earn more Phoneum. Before I give you the answer, I need to explain how much money you will earn and whether you will get paid.
How Much Money Can You Earn? 
You already know that you can earn 10 – 30 PHT per level and complete up to 100 levels. That means you will get anywhere between 10,000 and 30,000 PHT when you finish the game.
The current Phoneum price according to CoinMarketCap is $0.000185. Therefore, the income potential is $1.85 – $5.55 depending on your performance. 
If you upgrade, Crypto Connect 3 will let you restart the game and earn 3 times more PHT per level. So, by investing almost $5, there is an opportunity to make an extra $5.55 – $16.65.
How do You Get Paid? 
Crypto Connect 3 will transfer the crypto to your Phoneum wallet, which you can get for free using the ProBit exchange. Then, you can trade PHT for up to 500 different coins, including BTC and ETH.
Usually, the company will process the payment within 36 hours after you submit your withdraw request.
Is Crypto Connect 3 Legit? Does it Pay? 
Yes. Crypto Connect 3 is legitimate, and it does pay out. I have seen many positive reviews on Google Play from players who received the coins with no issues. But not everyone has a smooth experience!
There can be delays and you may have to contact the company at [email protected] to request the payment you deserve.

Pros and Cons
Pros
Excellent mechanics.
It does pay out.
There are not many ads.
Cons
There are only 100 levels.
The free membership doesn't let you reset the game and earn more PHT.
Low earning potential.
Some people report payment delays.
It's showing ads from fake money games.
Is There an Alternative to Crypto Connect 3? 
Sure! There are similar games that will transfer BTC to your Coinbase wallet such as Bitcoin Blocks, Bitcoin Blast, and CryptoRize.
Unfortunately, they pay much less than Crypto Connect 3. Honestly, I don't even think it's worth spending your internet data just for the sake of earning BTC.

This reward platform is going viral! Cash out via PayPal, Visa, Gift Cards, and in-game currencies - Click here to find out how to generate an extra $10+ per day! 
Conclusion
Crypto Connect 3 is a fun and challenging game, but I wish there were more levels available for free. Many players received the coins, while others had to contact the company to report missing payment..

It seems like most users get paid, but there are no guarantees! That's why I would never spend my hard-earned money on the premium membership. I don't think it's worth the risk.
Although BTC has gone to the roof, I still prefer money in the bank rather than crypto in a digital wallet. The main reason is that cryptocurrencies still face barriers, and many countries have not legalized it yet.
The amount of money worth of PHT that you will get from playing Crypto Connect 3 is very low, but anyway, it's better than nothing. 
Earn a Full-Time Income Online
If you dream of making enough online revenue to quit your job and benefit from the flexibility of remote working, I suggest that you build an online business.
In 2015, I discovered this excellent step-by-step program that helped me set up and scale a successful affiliate site. The best thing about it is the freedom of working whenever and wherever I want.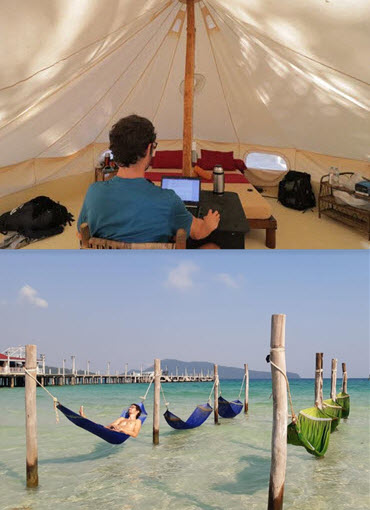 You can also benefit from the digital economy by providing valuable content to the internet. You don't need to be an expert, just be willing to help others and apply the right strategies to get web traffic.
>> Click here for full details! 
Final Words
Thanks for your time to read my Crypto Connect 3 app review. I hope it helps! If you have any thoughts or questions about this app, let us know in the comments box below.
Peace!