Welcome to my Money Garden app review!
The number of idle and puzzle games that claim to pay cash via PayPal is growing by the day. At some point, I believe the developers will run out of ideas for naming their next money-making app!
I discovered Money Garden after watching one of those over-hyped ads, which said I could make $50 just by merging and growing virtual trees.
It immediately reminded me of another game I tested recently called Merge Money.
They are very similar, except that Money Garden gives you virtual items that you can supposedly exchange for a $200 gift card and even an iPhone.
Over 100,000 people all over the world have installed Money Garden in hopes to earn an extra income. But is anyone getting paid? Is it a scam or a legit application? My mission with this review is to save your time and headache!
RECOMMENDED: Check out the step-by-step program that helped me grow an online business and generate $1,600+ per month. No special skills required! 
Money Garden Review
Name: Money Garden
Developer: Big Money Game
Eligibility: Worldwide
Price: Free
Overall Rating:

1/5
What is Merge Money? 
Money Garden is an addictive idle game in which players have to merge same level trees to unlock higher levels and earn rewards. There are probably hundreds of games with the same mechanics such as the popular Cutie garden.
Whenever you merge trees, you have the chance to win virtual PayPal cards and pink gems. Then, you can supposedly withdraw the money via PayPal and Gift cards once you reach the payout threshold. In addition, Money Garden claim you can collect puzzle pieces to win an iPhone 12 by playing the Lucky Spin.
Money Garden is 100% free to play, but you will watch lots of sponsored videos if you want to collect the virtual dollars. Usually, those videos will entice you to install deceitful money-games that never pay a dime!
How Does Money Garden Work? 
Installation 
Money Garden is available for Android devices, and you don't need to create any account. Just open the game, collect your daily bonus, and you are good to go.
How to Play Money Garden? 
It's very simple! Here is a brief step-by-step tutorial:
Purchase the plant pot and tap on the gift to open it. It will generate a specific amount of cash per second, which doesn't add up to your virtual PayPal balance. You can only use the "tree money" to buy more pots in the game.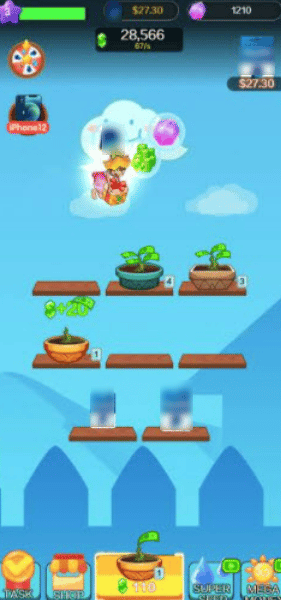 Merge the trees by dragging the pot to another one of the same level. Then, buy more pots whenever spaces are available.
After merging the tree, you may receive virtual PayPal cards. To collect the money, you gave to tap the button and watch a short video.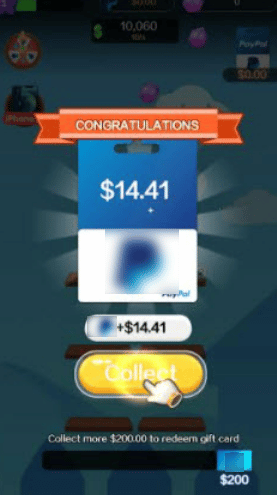 Whenever you unlock a new level tree, you will earn gemstones that can be exchanged for gift cards. Higher-level trees earn more cash per second, and therefore, are more expensive.

After a while, you will be able to get more pot spaces, but only after watching a video as usual. Buy more pots and keep merging until level 40.
Click on the cloud to win a mysterious reward. Always use the Super Speed or Mega Money tools to help your trees generate more cash.
Lucky Spin
Money Garden has 2 kinds of lucky spins. One has the Spinning Wheel and the other one has an iPhone 12 icon.
The first one allows you to win cash, PayPal cards, gemstones, Super Speed and Mega Money. The other Lucky Spin is where you can collect puzzle pieces for a chance to win an iPhone 12.
How do You Get Paid?
Cash Balance
When you open your cash balance, Money Garden gives you seven cash out options. It starts with $200 and goes all the way up to $1000. So, you can only redeem $200 or more.
Redeem Gems 
Exchange gems for cash reward paid through PayPal, Amazon, Google Play, iTunes and Playstation and Xbox gift cards. For example, you need 980,000 gems to get an Amazon voucher worth $5.
Earn iPhone 12
You can supposedly win an iPhone 12 once you collect 100 puzzle pieces using the Lucky Spin section.
Is Merge Garden Legit? Will They Pay You?

No, I don't think Merge Garden is rewarding players. Here are a few red flags that suggest you may never win any money, gift card or iPhone:
Unrealistic payouts – Game developers cannot afford to pay $200 for everyone just for watching playing and watching their videos.
Early Access – Users cannot publish reviews on Google Play because the app is still considered "incomplete".
No Terms of Service – Companies that actually pay always ask user to agree with their TOS.
That being said, I have no proof that the app is legit or scam. Therefore, I cannot make any accusations here on my blog. What I can tell you is that your chances of receiving the money or iPhone are extremely low.
Conclusion
Money Garden is a great game to pass the time, but I do not advise you to play with the expectation to earn money. The reason is that you may just frustrate yourself after watching hundreds of videos!
I reviewed lots of idle games that claim to transfer hundreds of dollars to people's PayPal account. Unfortunately, the cash never seems to leave the developer's corporate accounts. Here is another game that does not pay out.

This reward platform is going viral! Cash out via PayPal, Visa, Gift Cards, and in-game currencies - Click here to find out how to generate an extra $10+ per day! 
There are usually two outcomes when you play these types of money-games: The app will either make it impossible to reach the cashout limit or ignore your payment request.

Earn a Full-Time Income Online
Here is how I build my digital "Money Tree" to earn REAL CASH…
I create helpful content for this website and attract thousands of people searching for information on Google. Then, the site generates revenue through affiliate marketing and advertising.
You don't need any special skills to create this type of online business and make it highly profitable. However, there are many things you need to learn to outrank your competition and reach your money goals.
Thanks to this excellent step-by-step program, I created a site that ranks high on search engines and allows me to work remotely.
You can join for free and start your first 10 lessons today!
Final Words
Thanks for reading my Money Garden app review. I hope it was helpful! So, what is your opinion about this game? Did you cash out? Kindly share your experience in the comment box below!
Peace!